COPD Awareness Night
---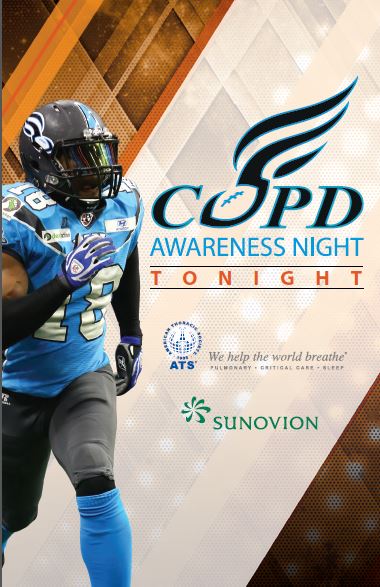 Chronic obstructive pulmonary disease (COPD) is a serious, progressive disease, which includes chronic bronchitis, emphysema, or both, that robs people of their ability to breathe. While not reversible, COPD can be treated and its destructive impact on health slowed, especially when diagnosed early.
The American Thoracic Society is a medical society devoted to fighting respiratory disease, critical illness, and sleep disorders through research, education, and advocacy. Patient education is an integral part of the Society's mission, and the Society welcomes this opportunity to promote COPD awareness and offer Philadelphia Soul fans a brief questionnaire.
Our partner for this event is Sunovion Pharmaceuticals, Inc. www.sunovion.com. These days, more people in the United States are living with respiratory diseases. Sunovion is committed to improving their daily lives and helping to minimize the impact of their condition on their everyday activities.
Here are some resources that we hope are helpful. For more information about COPD or any lung disease, critical illness or sleep disorder – visit the ATS website devoted to patient resources.
Additionally, Sunovion has a patient education site for COPD that can be found here.

Additional Resources: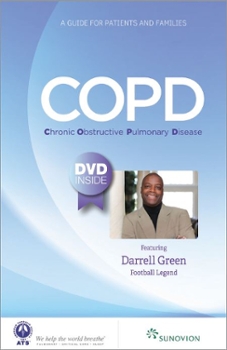 "COPD: A Guide for Patients and Families"- A video and guidebook to educate patients about chronic obstructive pulmonary disease (COPD) and how it can be managed. "COPD: A Guide for Patients and Families" was produced in collaboration with Sunovion Pharmaceuticals Inc. This educational program includes a patient guidebook and 15-minute DVD highlighting the stories of three COPD patients and Darrell Green, a former NFL professional football player and Hall of Fame inductee who, along with his wife, Jewell, cared for a family member with COPD.  Download a copy of the Guidebook, or order a copy of the book and video here.

Nov 6-12 — COPD
PAR Partner — Jean Rommes (EFFORTS -Emphysema Foundation)
ATS Leader — Carolyn Rochester, MD
ATS/ERS COPD Guidelines for Patients: http://www.thoracic.org/clinical/copd-guidelines/resources/copdpatient.pdf
Breathing in America:
The ATS book, Breathing in America: Diseases, Progress, and Hope compilation briefly describes respiratory diseases and the progress that is being made in the quest to find their cures. Click here for the chapter on COPD.
 
ATS Patient Information:
ATS Foundation Research Program:
The ATS Foundation provides "seed funding" for young investigators who seek cures and treatment for pulmonary diseases, critical care illnesses, and sleep disorders. This funding has transformed their professional lives, launching careers dedicated to scientific discovery and better patient care. To learn more about the impact of the program or make a donation, click here.
Last Reviewed: April 2016