ATS Advocates for Research Funding and Clean Air
This week, the ATS Research Advocacy Committee, chaired by Landon King, MD, traveled to Capitol Hill to advocate in support of health research and services funding at the NIH, CDC, VA and for the protection of clean air standards. The committee arrived on Capitol Hill just two days before the final House votes on the FY2011 spending bill, which includes a 5 percent cut for NIH and a 17 percentcut to CDC. Their message was simple -- to call on all members of Congress to oppose the cuts to the NIH and CDC budgets and maintain clean air standards to protect public health. Ten committee members from MD, KY, MS, NC, IL, MI, PA and CA participated in over 25 meetings with Senate and House offices. The visits included personal meetings with several members of Congress including Reps. Dutch Ruppersberger (D-MD), David Price (D-NC) and Gregg Harper (R-MS) and Sen. Barbara Boxer (D-CA).
Dr. Kingsaid, " With the 2011 spending bill on the House floor, this was a particularly important week for our committee to be on the Hill. Our key message was that our biomedical research investment into lung diseases such as COPD, lung cancer and tuberculosis that affect millions around the world must be sustained, not cut back at this time. We are on the brink of developing new tools to diagnose, treat and prevent these and many other diseases, and we simply can't cut short this potential to save lives." Committee members participating in the Hill Day included Rajesh Bhagat, MD, Marc Peters-Golden, MD, Roberto Machado, MD, Julie Ledford, MD, Gerald Supinski, MD, James Brown, MD.\, Naftali Kaminski, MD, Elizabeth Wagner, MD, and PAR member Rino Aldrighetti, president of the Pulmonary Hypertension Association.
BUDGET
House Passage of 2011 Spending Bill Expected Tonight; Cuts to NIH and CDC
The House is expected to pass the FY2011 spending bill sometime late tonight, following final debate and votes on about 129 amendments. In total, over 550 amendments to the bill will be voted on. An amendment sponsored by Reps. Markey (D-MA) and Schakowsky (D-IL) that would have restored NIH funding back to FY2010 funding levels was offered but ruled out of order because funding offsets came from a different spending area. Included among these amendments yet to be voted on is one sponsored by Rep. Rehberg (D-MT) to defund the healthcare reform law. It is expected that this amendment will pass along party lines. The bill would cut $60 billion from current federal program spending including the following proposed program cuts:
A 5 percent cut to the NIH over the FY2010 funding level
A 17 percentcut to CDC
A 16 percent cut to the EPA
Next Steps
Action now moves to the Senate. In order to keep the government in operation, the Congress must either pass the FY2011 spending measure before the current temporary measure expires on March 4 or pass another short-term measure if they pass this deadline. With the Senate in recess for the President's Day holiday this coming week, negotiating a compromise on 2011 spending between the House and Senate in advance of this deadline presents a challenge. The House leadership has indicated that they will not accept a temporary or one-year spending measure at current funding levels, so the possibility of a government shutdown is also real.
President Obama Unveils 2012 Budget
Also this week, President Obama released his proposed budget for FY2012, kicking off the FY2012 appropriations process. The budget provides $79.9 billion for the Dept. of Health and Human Services (HHS), which is a slight increase over the FY2010 funding level for the Department. The President has prioritized biomedical research in the budget and proposes to provide a $1.045 billion increase for the NIH in FY2012, from $30.784 billion to $31.829 billion, a 3.4 percentincrease.
Within NIH, Alzheimer's and autism disease research are singled out as specific priorities.
Among other health priorities in the President's budget are a two-year fix for the Medicare physician payment formula. This proposal would maintain current payment levels for 2 years, offsetting this cost by cuts in other Medicare program areas, but it does not provide a permanent Medicare sustainable growth rate formula fix.
Under the President's budget, funding for tobacco control at CDC gets a large increase of over 48 percent. Most of this funding will come from the healthcare reform law's Prevention and Public Health Fund, which includes support for tobacco cessation and other public health interventions to reduce tobacco use through community-based programs.
The President's budget also proposes cuts in some program areas of importance to the ATS including the CDC and VA and some program eliminations. Specifically, the budget proposes the following reductions or eliminations:
A significant $579 million cut to the CDC, bringing funding down from $6.3 billion to $5.8 billion
A $1.308 billion cut to the EPA, with most of the cuts coming from water-related programs.
A $72 million cut for the VA Research program, bringing funding down from the FY2010 level of $581 million to $509 million.
Elimination of the CDC's asthma program -- the program will be merged with the lead and healthy homes program to create a new Healthy Environment program. Overall funding for asthma, lead and healthy homes will be reduced by 50 percent.
Elimination of the children's hospitals graduate medical education program (FY2010 funding at $200 million)
The President's FY2012 budget also proposes to create a new Comprehensive Chronic Disease Prevention Program (CCDPP) by combining CDC heart disease and stroke, diabetes, cancer, arthritis and other conditions, health promotion and certain school health programs into one competitive grant program.
The release of the President's budget is the first step in the appropriations (funding) process for FY2012. The next step will be taken in the House of Representatives, where Appropriations subcommittees will hold hearings on budget areas, such as Labor-Health and Human Services, and begin drafting spending bills. Hearings may take place as soon as March and the subcommittees will begin drafting bills in May.
Below are several charts of funding levels for NIH and CDC programs, the EPA, USAID's TB program and the VA Research program. You will note that there is no column for proposed FY2011 funding levels for individual programs because the proposed House FY2011 has only released overall agency budgets without specific program details and the Senate has not yet proposed a bill.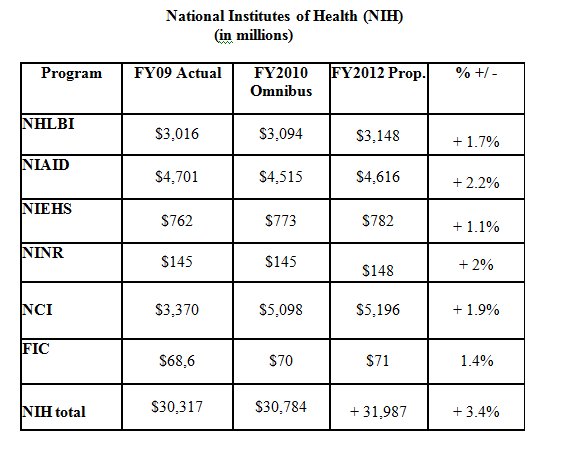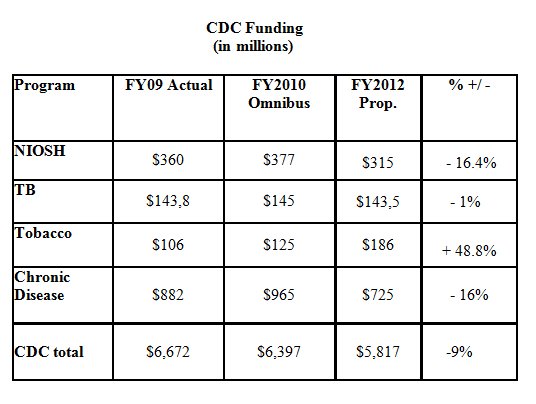 ---
The Washington Letter is written by the American Thoracic Society government relations office and emailed to all ATS members living in the United States. The letter keeps clinicians, scientists, and patients abreast of legislative, judicial, and regulatory issues in pulmonary, critical care, and sleep medicine. Each week's edition is archived on the ATS Web site, www.thoracic.org. If you have any questions or one more information about becoming involved in advocacy, please contact the ATS Washington office at 202-296-9770.