Neonatal and Developing Lung
---
Co-Chairs: Henry J. Rozycki, MD, Virginia Commonwealth University, Richmond, VA and Lawrence Nogee, MD, Johns Hopkins Childrens Center, Baltimore, MD.
The goal of the Neonatal and Developing Lung Interest Group is to provide a focal point within the larger meeting for neonatal lung scientists and clinicians. The group's objectives are as follows:
To create networking opportunities for basic and clinical scientists in developmental biology, injury and repair, physiology and clinical/translational research
To present state-of-the-art presentations on important topics in neonatal pulmonology  
To support both clinical and basic research in neonatal lung science
---
2018 ATS International Conference - San Diego, CA
Neonatal & Developing Lung Interest Group (NDLIG) Meeting - Tuesday, May 22nd - 5pm to 7pm
Location: Manchester Grand Hyatt - Seaport Ballroom C (2ndLevel Seaport Tower)  

Please join us for the 4th Annual Meeting of the Neonatal and Developing Lung Interest Group, sponsored by the ATS Respiratory Cell and Molecular Biology and the Pediatric Assemblies. Our invited speaker for the evening will be Anna-Karina Perl, Ph.D. of the Cincinnati Children's Hospital. She will be giving a talk titled, "Alveolarization and the Role of Epithelial Mesenchymal Crosstalk."
We will also be awarding certificates and $250 honoraria to four Fellows or Early Stage Investigators whose abstracts are selected as the best in our field from the 2018 ATS Conference.
For further details regarding our Interest Group Meeting, please click here to see our flyer.
Archives
---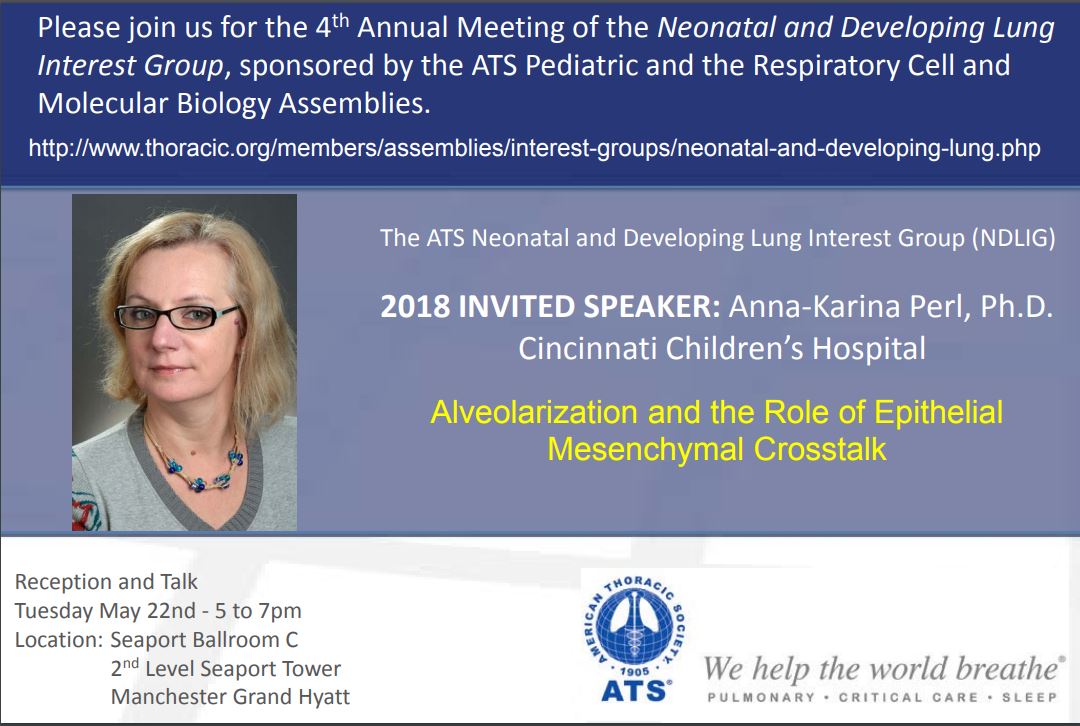 Last Reviewed: March 2018