Application for Fellows to attend the ATS Hill Day
---
Every year, Thoracic Society Chapters support American Thoracic Society advocacy by participating in the annual Hill Day in Washington, D.C., where 30 to 40 ATS representatives meet with legislators to discuss issues pertinent to the practice of pulmonary, critical care, and sleep medicine, including support for research funding for related diseases. In past years, Hill Day participants met with members of Congress to advocate funding of NIH and domestic and global TB control programs, as well as oppose legislation to exempt cigars from FDA regulation.
The ATS is now accepting applications for TWO fellows to participate in ATS Hill Day 2017. Fellows will be chosen to participate in the annual Hill Day in Washington, D.C. on Tuesday, March 28 to Wednesday, March 29, 2017. As with other Hill Day participants, travel, hotel and meal expenses will be covered by the ATS. Note: Fellows would accompany the representative from their ATS chapter to Hill Day, they are not replacing that individual.
Role of Fellows at Hill Day
This is an active program! Your participation will mirror that of other ATS representatives who are attending the ATS Hill Day. There will be a conference call approximately a week before Hill Day where initial briefing information will be provided by staff in the ATS Washington, D.C. office about the issues we will be presenting on the Hill, and there will be an opportunity to ask questions. You will travel to Washington, D.C. for a briefing dinner on Tuesday, March 28 during which ATS representatives will learn more about the issues they will be presenting to legislators the following day. Packets with additional briefing information and group assignments will be distributed. Hill Day will begin with a departure to the Hill as early as 8 a.m. Expect a full day of appointments on the Hill with your group of four to six ATS representatives. Appointments with legislators typically last about 20 minutes each, and you would likely be the lead on one or two of them, depending on your legislative district. There is a de-briefing dinner Thursday evening. Learn more about the annual ATS Hill Day.
Criteria:
To apply for the 2017 Hill Day Fellowship, an applicant should:
Be an active ATS member.
Be a member of their state Thoracic Society Chapter.
Have a current fellowship in a state or region with a Thoracic Society Chapter.
Not an ATS member already? Fellows can join today as a trainee, with their first year of membership free!
To apply for this program:
Complete the application
Submit a recommendation from a Thoracic Society Chapter leader in your state
Deadlines: Completed applications should be submitted ATS by Sunday, Jan. 22, 2017.
Questions? Contact May Ling Brantman, manager, Member Services and Chapter Relations, at chapters@thoracic.org or 212-315-8633.  We look forward to receiving your applications!
---
Congratulations to the 2016 ATS Hill Day Fellow winner, Pavan Bhatraju, MD!
Together with twelve of our chapter representatives, and other ATS members and staff, Dr. Bhatraju lobbied on the Hill for a variety of issues such as NIH and TB funding. Read more about his experience:
What did you expect?
I was a little bit unsure what to expect. I was interested in interacting with lawmakers, seeing their knowledge of the issues, and observing how they evaluate bills to support or oppose.
What challenges did you face?
This year many of the issues we advocated for such as FDA oversight of tobacco products and NIH funding, had bipartisan support. Most congressional staffers were supportive of our efforts. However, many brought up the issue of limited financial resources. They would argue, "If we increase funds to the NIH then we have to cut somewhere else." I struggled to understand the pot of money that is available for health initiatives and how reducing appropriations to a binary decision is the only way.
What happened when you gave the first pitch?
I took the lead advocating for our issues with the congressional office from my district. While the staffer was very knowledgeable, she was ardent that the research on the health effects of electronic cigarettes was lacking on and the FDA should not have the same regulatory authority as with traditional tobacco products. I wasn't sure how to react. The research will take years to complete. However we were not advocating to ban e-cigarettes but to regulate them and inform the public about potential health effects. We had a great conversation about regulation versus prohibition, and looked at similar products in the past that were later found to be dangerous. It was exactly what I had hoped for in a policy debate and reinforced the importance of our voice on Capitol Hill. I'm not sure if I convinced the staffer to completely change her position, but it was a great start in this direction and one I hope to continue when the Congressman comes to his district.
How are ATS advocacy issues important to you?
The NIH has been at the forefront of scientific discoveries that have been translated into clinical advances that now enable our patients to live longer and healthier lives. From a personal standpoint, as a fellow trying to find my footing in research, the NIH has clearly demonstrated the importance they place on supporting early career investigators. Through loan repayment programs, mentored career awards and pilot funding, the NIH offers multiple avenues of assistance.
What advice would you give for future fellows?
Enjoy the experience. While at first you may be nervous meeting with legislators and staffers, remember you have the unique experience of directly taking care of patients. This experience and knowledge is remarkably influential when talking to policy makers. I would emphasize to future fellows who participate in Hill Day to really view advocacy as a forum to discuss your patients' needs and what you are seeing every day as a health care provider.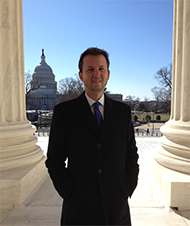 '
Fellow Jonathan Richards, MD
Louisiana Thoracic Society, 2014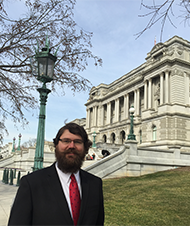 Fellow Brian Parker, MD
Louisiana Thoracic Society, 2015
Last Reviewed: August 2016