Application for Fellows to attend the ATS Hill Day
---
Every year, Thoracic Society Chapters support American Thoracic Society advocacy by participating in the annual Hill Day in Washington, D.C., where 30 to 40 ATS representatives meet with legislators to discuss issues pertinent to the practice of pulmonary, critical care, and sleep medicine, including support for research funding for related diseases. In past years, Hill Day participants met with members of Congress to advocate funding of NIH and domestic and global TB control programs, as well as oppose legislation to exempt cigars from FDA regulation.
The ATS is now accepting applications for FOUR fellows to participate in ATS Hill Day 2018. Fellows will be chosen to participate in the annual Hill Day in Washington, D.C. on Wednesday, March 21 to Thursday, March 22, 2018. As with other Hill Day participants, travel, hotel and meal expenses will be covered by the ATS. Note: Fellows would accompany the representative from their ATS chapter to Hill Day, they are not replacing that individual.
Role of Fellows at Hill Day
This is an active program! Your participation will mirror that of other ATS representatives who are attending the ATS Hill Day. There will be a conference call approximately a week before Hill Day where initial briefing information will be provided by staff in the ATS Washington, D.C. office about the issues we will be presenting on the Hill, and there will be an opportunity to ask questions. You will travel to Washington, D.C. for a briefing dinner on Tuesday, March 28 during which ATS representatives will learn more about the issues they will be presenting to legislators the following day. Packets with additional briefing information and group assignments will be distributed. Hill Day will begin with a departure to the Hill as early as 8 a.m. Expect a full day of appointments on the Hill with your group of four to six ATS representatives. Appointments with legislators typically last about 20 minutes each, and you would likely be the lead on one or two of them, depending on your legislative district. There is a de-briefing dinner Thursday evening. Learn more about the annual ATS Hill Day.
Criteria:
To apply for the 2018 Hill Day Fellowship, an applicant should:
Be an active ATS member.
Be a member of their state Thoracic Society Chapter.
Have a current fellowship in a state or region with a Thoracic Society Chapter.
Not an ATS member already? Fellows can join today as a trainee, with their first year of membership free!
To apply for this program:
Complete the application
Submit a recommendation from a Thoracic Society Chapter leader in your state
Deadlines: Completed applications should be submitted ATS by Friday, Jan. 5, 2018.
Questions? Contact May Ling Brantman, manager, Member Services and Chapter Relations, at chapters@thoracic.org or 212-315-8633.  We look forward to receiving your applications!
---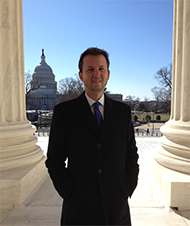 '
Fellow Jonathan Richards, MD
Louisiana Thoracic Society, 2014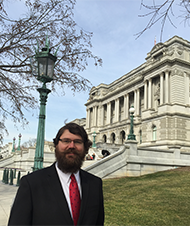 Fellow Brian Parker, MD
Louisiana Thoracic Society, 2015
Last Reviewed: December 2017