Outstanding Clinician Award
---
Each year, the ATS honors an exemplary clinician through its Outstanding Clinician Award (OCA). Thoracic Society Chapters (TSC) also may nominate an individual for their chapter OCA award. A recipient of the national and chapter awards will be:
A pulmonary, critical care or sleep clinician who spends 75 percent or more of his/her time providing direct patient care.
Recognized by patients and families as a caring and dedicated healthcare provider and by his/her peers as having made substantial contributions to the clinical care of patients with respiratory disease. Nominations must reflect excellence in this area above all else.
A member of the thoracic society chapter (TSC) for which they are being nominated as well as a resident of that state - to be considered for the TSC award.
A member of the ATS - to be considered for the national level award.
ATS members who wish to nominate an outstanding clinician should get the approval of the prospective nominee and then forward that individual's name and CV to the administrator of the chapter in the state where the nominee resides. Click here  for names of the 17 ATS chapters.  The ATS cannot accept direct nominations from individuals, and nominees can only be accepted from a state where there is a chapter.
Deadlines: Submit nominees to your local chapter by Wed., Oct. 18, 2017.  Completed applications for OCA nominees should be submitted by chapters to ATS by Mon., Dec. 4, 2017.
Questions? Contact May Ling Brantman, Manager, Member Services and Chapter Relations, at chapters@thoracic.org or (212) 315-8633.  We look forward to receiving your nominations!
2018 Outstanding Clinician Award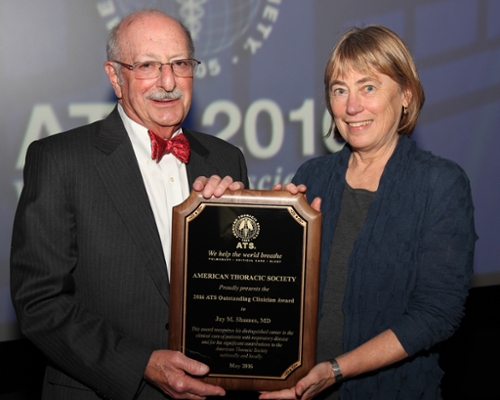 Jay M. Shames, MD (left), receiving the 2016 ATS Outstanding Clinician Award
from Polly Parsons, MD (right), Vice President-ATS, May 2016.
Past ATS OCA awardees are:
| | | |
| --- | --- | --- |
| 2017 | Jack H. Hasson, MD | Alabama Thoracic Society |
| 2016 | Jay Shames, MD | Louisiana Thoracic Society |
| 2015 | James P. Lamberti, MD | Metropolitan DC Thoracic Society |
| 2014  | Fredric Jackson, MD | Washington State Thoracic Society |
| 2013 | Allen Thomas, MD | Arizona Thoracic Society |
| 2012 | Eric S. Yaeger, MD | Colorado Thoracic Society |
| 2011 | Michelle Sue Harkins, MD | New Mexico Thoracic Society |
| 2010 | Richard A. Helmers, MD | Arizona Thoracic Society |
| 2009 | Walter Donat, MD | Rhode Island Thoracic Society |
| 2008 | Jeffrey S. Wagener, MD | Colorado Thoracic Society |
| 2007 | Louis S. Libby, MD | Oregon Thoracic Society |
| 2006 | Christine S. Fukui, MD | Hawaii Thoracic Society |
| 2005 | Eloise M. Harman, MD | Florida Thoracic Society |
| 2004 | Anthony M. Marinelli, MD | Chicago Thoracic Society |
| 2003 | Paul A. Selecky, MD | California Thoracic Society |
Acceptance speech from Dr. Jay Shames, 2016 OCA Awardee:
Thank you for this wonderful honor and meaningful award. I can think of nothing more special to me than being recognized by my colleagues for dedication and devotion to patient care.
I want to thank the American Thoracic Society Council of Chapter Representatives for my selection. I also want to thank Jaime Palomino and Steven Kantrow, and the Louisiana Thoracic Society for my nomination.
This award would also not be possible without the support of my families. I am happy that my wife Phyllis and my daughter Lisa Santopadre are here this evening. Also my other New Orleans family— the physicians, nurses and staff of internal medicine specialists, Touro infirmary, and the pulmonary disease section of Tulane University School of Medicine. Thank you!!
I believe it is a privilege to practice medicine and have to the opportunity to be of service to others. The doctor patient relationship is a bond of trust that is so very special and unique. Dr. Francis Weld Peabody expressed it nicely in his classic 1925 essay the care of the patient. His message endures today as a guideline –I quote "Time, sympathy and understanding must be lavishly dispensed, but the reward is found in that personal bond which forms the greatest satisfaction of the practice of medicine. One of the essential qualities of the clinician is interest in humanity, for the secret of care of the patient is in caring for the patient"
I believe no specialty is more interesting or exciting than pulmonary medicine.  I have been fortunate to practice medicine during a time of fantastic advancements and achievements. The diagnostic and therapeutic modalities available to a clinician are the best ever!!  The American Thoracic Society has been instrumental in this progress - through meetings like this, its guidelines, and publications- it has enhanced the education of pulmonary physicians.
The American Thoracic Society lives up to its mission to improve health worldwide by advancing research, clinical care, and public health in respiratory disease, critical illness, and sleep disorders.   Thank you so much for this award and thank you for being there for the practicing clinicians like me.
Last Reviewed: June 2017