Membership
---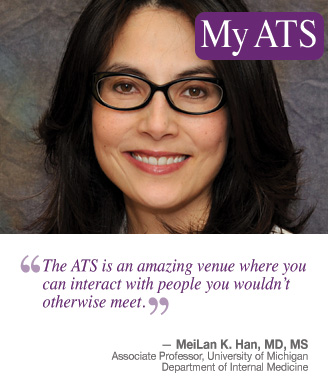 The membership of the American Thoracic Society (ATS) is composed of physicians, researchers, advanced practice nurses, respiratory therapists and other health-care professionals at all levels who are interested in fulfilling the Society's mission to understand, prevent and, ultimately, eliminate lung disease worldwide. The more than 15,000 ATS members work in academic institutions, private practices, hospitals and scientific research settings in more than 120 countries around the world.
ATS helps its members to:
Practice at the forefront with the ATS International Conference and journals;
Improve patient care with statements and guidelines, and the patient education series;
Advance their careers by networking with leaders in respiratory medicine, and through the many programs for early career professionals;
Advocate for public health worldwide through U.S. and international efforts;
Apply for grants from the ATS Foundation Research program;
Improve respiratory health worldwide with the international Methods in Epidemiologic, Operations, and Clinical Research (MECOR) course;
Develop leadership skills by partnering in committees, assemblies and chapters.
Contact the ATS Concierge/Customer Service Department at:
Email:    Membership@thoracic.org
Phone: +1 (212) 315-8684