Dr. Joseph H. Sisson, MD
---
University of Nebraska Medical Center, Omaha NE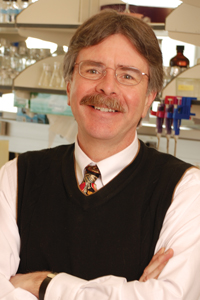 Joseph H. Sisson, M.D.
Larson Professor & Division Chief (1997-present)
Education & Training

MD (Iowa,1979)
Res. & Fellowship (U. Utah 1979-1986)
Research Post-Doc (NIH-Pulm 1986-1987)

UNMC Faculty (1987-present)

Intensivist, pulmonary clinic doc  
NIH- R01 funded PI (1991-present)
"Ethanol-mediated Cilia Motility Dysfunction"
Division Profile: Pulmonary, Critical Care, Sleep & Allergy
Personnel:
Faculty: 22  (18 MDs, 2 MD/PhDs, 2 PhDs)
Trainees:15 (11 fellows, 3 post docs, 1 grad student)
Staff: 27
Research: Our research mission is to define the mechanisms of and create treatment for airway diseases. These include COPD, asthma, cystic fibrosis (CF), dust inhalation, bronchiolitis obliterans syndrome (BOS) and acquired ciliopathies. We focus on the roles that aging, sex, lung transplantation, viral infection, alcohol consumption, cigarette smoking and agricultural organic dust play in the pathogenesis of these diseases. We are developing novel treatment strategies such as antioxidants, vitamin D, kinase, phosphatase & prostaglandin regulators and pro-resolvins. Our 7 clinician scientists and 2 PhD scientists currently hold 17 extramural grants (11 NIH, 2 CDC, 1 VA, 3 CFF) with total direct annual funding = $3,447,402.
Clinical: Our clinical faculty include 13 pulmonary & critical care specialists, 2 sleep specialists and 3 allergists. We have 8 advanced practice providers (APPs) to support our clinic and inpatient services. We practice at the UNMC campus, the Omaha VA, a community hospital and 2 clinics in the community.

• Our pulmonary expertise is focused on adult CF, pulmonary hypertension, interventional pulmonary, occupational lung disease, interstitial lung disease, graft-vs-host disease of the lung, and lung transplantation.

• Our critical care teams function in a "Closed ICU" model where division intensivists assume the total care of Medical and Neuro ICU patients. These teams provide 24/7 ICU care for 30-40 patents in close collaboration with our neurosurgeons, neurologists and medical oncologists.

• Our comprehensive sleep service provides evaluation and treatment of all sleep disorders and chronic ventilation support of ALS patients. We also direct our 6-bed sleep laboratory.

• Our allergy service provides comprehensive environment-specific allergy testing and treatment for adults and children. They have special expertise in severe asthma, hives, vocal cord dysfunction, eosinophilic esophagitis, drug desensitization and immunodeficiencies. Our allergy clinic sites include our main campus plus two clinic locations in the greater Omaha area.
Education: Our pulmonary & critical care fellowship has 4 fellows in each year (12 fellows total). All fellows have a required 8-12 month research rotation with extended research training of up to 2 additional years available for selected fellows. All fellows have their own weekly continuity clinics and participate in all subspecialty pulmonary, sleep and allergy clinics. They also run the inpatient pulmonary & ICU services at UNMC and VA.

• Our sleep fellowship is a 12-month program with 1-2 positions available each year.

• All faculty participate in medical student and resident and fellow education.

• We have an active faculty development curriculum that focuses on improving teaching skills and digital curriculum development.

• We provide regional and national CME training.
Service: We provide medical direction services for the adult CF program, the MICU, Neuro ICU and our community affiliate ICU. We direct the pulmonary & sleep laboratories, the allergy program, pulmonary rehabilitation and lung transplantation. We are peer-reviewers for multiple journals and serve on several study sections.
Last Reviewed: December 2016