2017 Best of ATS Video Lecture Series (BAVLS) Winners
---
1st Place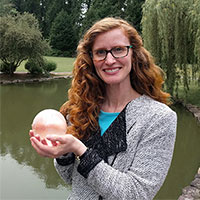 Title: Ultrasound Basics (click here to view video)
Authors: Amy E. Morris, MD; Shailaja Hayden, MD; Qian (Grace) Chu, RN
Institution: University of Washington
"Ultrasound Basics" is the first in a series of ultrasound training videos at the University of Washington, created by a multidisciplinary team including physicians and advanced practice providers in critical care, emergency medicine and radiology. Like many institutions, we are grappling with the rapidly increasing use of point of care ultrasound (POC US) in many clinical areas, and recognize the need for minimum essential skills in this widespread technology. Our "core curriculum" of online content consists of material we feel is essential for any level of provider using ultrasound for the most common applications. These are the first modules in that effort. Each is less than 10 minutes long, to be used either as a counterpart to hands-on training for novices, or as a refresher while on a busy clinical service. "Ultrasound Basics" is a simple powerpoint format with a voiceover; the other modules in the series were created using widely available video editing software (Adobe Premiere) and the assistance of Justin Andros and our colleagues in the WWAMI Institute for Simulation in Healthcare (wish.washington.edu).  
We are so pleased to be able to share our materials through the Best of the ATS Video Lecture Series. This is a wonderful resource for learners and educators alike, a way to both disseminate high quality educational materials and hopefully inspire others to create and share their own. We hope our experience will encourage others to explore multi- and interdisciplinary educational projects and enrich the pulmonary and critical care education community with their results.
2nd Place
Title: Tricyclic Antidepressant Overdose – Toxicokinetics, Toxicodynamics, and Management (click here to view video)
Authors: Ran Ran, MD; Gillian Beauchamp, MD; Robert Hendrickson, MD
Institution: Oregon Health and Science University
Tricyclic antidepressant (TCA) overdose continues to be an important topic in medical education. As an uncommon disease that can rapidly become fatal, medical providers must stay current on its pathophysiology and treatments. In today's era, memorizing guidelines can be more appealing to the busy learner than understanding mechanisms and physiology. This video is an 'electronic chalk talk' that aims to foster an understanding of TCA toxicity in order to guide management.
It's an honor to be recognized by BAVLS. Social media has dramatically expanded traditional methods of medical education and, I believe, will become the primary medium for the modern learning experience. The Video Lecture Series by ATS are pioneers in this pedagogical breakthrough. On behalf of all learners, thank you for advancing medical education.
3rd Place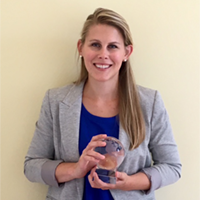 Title: Confirming a Diagnosis of Asthma (click here to view video)
Authors: Amber J. Oberle, MD, Jordan W. Whitson, MD & Mohamed H. Morad, MD
Institution: Indiana University School of Medicine
Asthma is a common diagnosis but can often be difficult to confirm amidst its non-specific and common symptoms.  This video assists the clinician in recognizing and confirming a diagnosis of asthma through the use of spirometry, peak expiratory flow and methacholine challenge testing.  I was fortunate to have the help of Mohamed Morad who has expertise in video graphics and editing.  We used green screen technology to film the presenter and used text, graphics and figures to reinforce learning points. BAVLS is a unique and innovative way to encourage a climate of education and teaching which is vital to the culture of medicine.  This is just the beginning of how technology can be used to spread knowledge across the world.
Last Reviewed: June 2017