Gozal to be Installed as 2013 ATS Secretary-Treasurer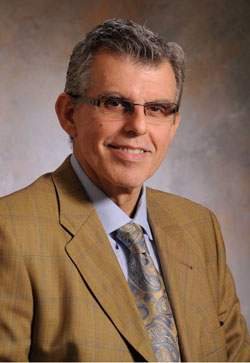 David Gozal, MD, chair of pediatrics at the University of Chicago and physician-in-chief of Comer Children's Hospital, will be installed as the new ATS secretary-treasurer at the Plenary Session at 11:30 a.m. Tuesday, May 21, during the ATS 2013 International Conference in Philadelphia. His term as ATS president will begin in 2016. Opposing candidate Gregory B. Diette, MD, MHS, withdrew from the race for professional and personal reasons.
"I am both elated and humbled by this vote of confidence, particularly considering the outstanding qualities of Dr. Diette, my esteemed and worthy opponent," Dr. Gozal says. "I look forward to serving the ATS and its membership to the best of my capabilities and, with my Executive Committee colleagues, addressing the many unique professional, educational, research, and public policy challenges that await all of us in the foreseeable future."
An ATS Member since 1991, Dr. Gozal is an associate editor of the American Journal of Respiratory and Critical Care Medicine and a member of the Assemblies of Sleep Respiratory & Neurobiology and Pediatrics. He was honored as an Amberson Lecturer and delivered the presentation "Neurobehavioral Deficits of Sleep-Disordered Breathing: Evidence For Developmentally-Regulated Brain Injury, Inflammation and Repair" at ATS 2002 in Atlanta. He served on the ATS Board of Directors as chair of the SRN (then RNS) from May 2001 to June 2003, and also served in the Planning and Evaluation and Health Policy Committees, and on the SRN Assembly Planning Committee.
In election statements, Dr. Gozal identified his top three goals for the ATS. "I believe that the three priority areas of focus for the ATS in the upcoming years should be investing and advocating on behalf of our future scientific generations; expanding the global positioning of our Society as the uncontested leading voice in our disciplines; and becoming a recognized entity in patient-centered care initiatives and a representative for the patient-based constituencies that we are called to serve in our profession," Dr. Gozal wrote.
Before joining the University of Chicago in 2009, Dr. Gozal established the Division of Pediatric Sleep Medicine and the Sleep Medicine Fellowship Program at the University of Louisville, and had also taught at Tulane University, University of California Los Angeles, and University of Southern California. Early in his career, Dr. Gozal helped to develop rural health care networks in Cameroon, West Africa, and was honored as a "Knight of the Order of Merit" of Cameroon.
Nominations and letters of interest are being accepted for 2014-15 secretary-treasurer. This individual will serve as president in 2017-18. For more information on responsibilities and qualifications, visit the 2014-15 secretary-treasurer webpage.