J. Randall Curtis: Remembering a Colleague, a Mentor, a Role Model, and a Friend
---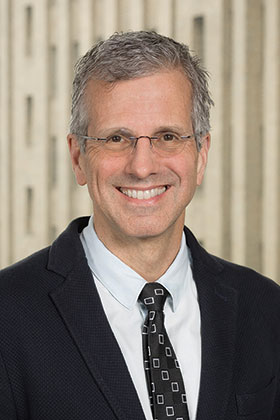 The ATS is much more than a medical specialty society – it is a community, a family of health care professionals dedicated to making the world a better place by helping people do the most basic of things … breathe. On Monday, Feb. 6, our family lost one of our dearest members, Randy Curtis.
In many ways, Randy personified the ATS. He was selfless, constantly giving of his time and energy to help others learn and grow, having mentored 22 current and former fellows and faculty, 15 residents, and seven other health professionals. He was an outside-the-box thinker, and his work in palliative care had an enormous, far-reaching impact on patients and their families. He was brave, never shying away from discussing amyotrophic lateral sclerosis, the disease that would take his life, instead choosing to use it as the ultimate teachable moment.
Randy was ATS president from 2009-2010. He was the recipient of the 2022 Outstanding Clinician Award and is the 2023 winner of the Edward Livingston Trudeau Award, which will be awarded posthumously at ATS 2023.
In recognition of Randy's contributions to the ATS this year we established an award in his honor, the J. Randall Curtis Humanism Award. It recognizes and celebrates individuals whose work reflects the ideals espoused by Randy throughout his career of compassion, humanism, and mentorship. The inaugural recipient will be recognized at the conference.
He leaves behind a legion of mentees, collaborators, and peers, all of whom have benefitted from his tutelage. As past presidents of the Society, we will miss his wisdom, humor, and tireless commitment to the respiratory community. Most especially, we will miss his unwavering friendship.
Our thoughts and prayers are with his wife and daughter during this difficult time.
2005-2006
Peter D. Wagner, MD, Past President
2006-2007
John E. Heffner, MD, Past President
2007-2008
David H. Ingbar, MD, ATSF, Past President
2010-2011
Dean E. Schraufnagel, MD, ATSF, Past President
2011-2012
Nicholas S. Hill, MD, Past President
2012-2013
Monica Kraft, MD, ATSF, Past President
2013-2014
Patricia Finn, MD, ATSF, Past President
2014-2015
Thomas W. Ferkol, MD, ATSF, Past President
2015-2016
Atul Malhotra, MD, ATSF, Past President
2016-2017
David Gozal, MD, MBA, ATSF, Past President
2017-2018
Marc Moss, MD, ATSF, Past President
2018-2019
Polly Parsons, MD, ATSF, Past President
2019-2020
James Beck, MD, ATSF, Past President
2020-2021
Juan C. Celedón, MD, DrPH, ATSF, Past President
2021-2022
Lynn Schnapp, MD, ATSF, Past President
2022-2023
Gregory Downey, MD, FRCPC, ATSF, President 
M. Patricia Rivera, MD, ATSF, President-Elect
Irina Petrache, MD, ATSF, Secretary
Jesse Roman, MD, ATSF, Treasurer
Karen Collishaw, MPP, CAE, Chief Executive Officer 
2007-2018
Stephen C. Crane, MPH, CAE, Executive Director
1998-2007
Carl C. Booberg, Executive Director