Assembly on Pulmonary Circulation Early Career Research Achievement Award
---
Meet the 2022 Winner:
Andrea Lee Frump, MS, PhD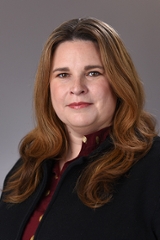 Andrea L. Frump is an Assistant Professor of Medicine in the Division of Pulmonary, Critical Care, Sleep and Occupational Medicine at Indiana University School of Medicine.  Dr. Frump received her undergraduate degree and Master of Science degree from the University of South Carolina, and her PhD in Cell and Developmental Biology from Vanderbilt University. She has been a member of the ATS Pulmonary Circulation Assembly since 2014. As a trainee, she received an American Thoracic Society Young Investigator Award to attend the Grover Conference (2011) and the Jane Morse Award for the highest rated abstract submitted by a fellow from the Pulmonary Circulation assembly (2017). She has served the assembly as Co-editor of the online Journal Club (2017-2021) and as a member of the Program Committee (2019-present), Early Career Working Group (2019-present) and Nominating Committee (2021-2022).
Dr. Frump's research interests lie in the discovery of molecular pathways underlying pulmonary vascular remodeling and right ventricular (RV) failure in pulmonary vascular disease, with the end goal of using these mechanisms to develop novel therapies for pulmonary hypertension (PH) patients with RV failure.  Survival in many groups of PH is heavily influenced by the function of the RV; however, most current therapies target the pulmonary vasculature indicating a significant therapeutic gap in the current treatment of PH. Her ongoing projects aim to address this treatment gap by leveraging the targets of apelin signaling to prolong RV function. A second focus of her research has been to identify molecular pathways that drive sex dimorphisms in PAH: women are more likely to develop PAH but have better survival compared to men. The goal of this research is to identify novel molecular pathways in females that may be beneficial to target in both sexes.
---
Description:
This award will be given to one individual with a promising career trajectory who has made outstanding scientific contributions relevant to the understanding of the vascular basis of lung disease, including basic science at the level of the cell and molecular biology, lung vascular physiology, translational biology, or clinical medicine. Awardees will be presented with a framed certificate at the annual PC Membership Meeting during the ATS International Conference.
Criteria:
Must be within 7 years from the start of first faculty appointment at the time of submission
Submission of a complete nomination package including 1) letters of support from 2 different members of the assembly describing the candidate's contributions, potential, and why the award is appropriate; 2) the candidate's curriculum vitae and 3) a copy of an abstract that will be presented at the ATS meeting on which the candidate is first or senior author.
Must be a PC Assembly primary member
---
2021 - Soban Umar, MD, PhD
2020 - Kara Goss, MD
2019 - Evan Brittain, MD
2018 - Rebecca R. Vanderpool, BS, MS, PhD
2017 - Joshua Patrick Fessel, MD, PhD
2016 - Vinicio De Jesus Perez, MD
2015 - Eric P. Schmidt, MD