NUR Member Profile
---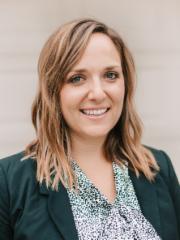 Breanna Hetland, PhD, RN
What is your position at your institution?
I'm an assistant professor in the College of Nursing at the University of Nebraska Medical Center in Omaha, NE.
How long have you been a member of ATS and how did you get involved?
I have been a member of ATS since 2012. I was encouraged to join when I was a student by my PhD chair, Dr. Linda Chlan. I attended my first ATS conference in Denver, Co in 2015.
Tell us about your involvement in the Nursing Mentorship Program.
Last year was my first year participating in the mentorship program. Dr. Barbara Polivka was my mentor. I joined the program to enhance my personal and professional development. I also wanted to learn more about the ATS Nursing Assembly and network with other members. I gained a lot from my first year and will be participating in the Nursing Mentorship Program again!
Did you find the program valuable? If so, how?
See response to #3 above.
What are you passionate about in your work?
First and foremost, I'm passionate about the ICU patients and family caregivers I work so closely with. It is my goal to bring a piece of humanity back to an often-inhumane ICU experience. I also very much enjoy engaging with other providers and embracing alternative perspectives to care. I find a multidisciplinary team approach to be the most encompassing and fruitful, especially in regards to research.
Tell us about a memorable patient or student, or a memorable experience in your nursing career.
Shortly after I completed my undergraduate degree, I began working in a Medical ICU in a small community hospital near my hometown in Illinois. I had the honor of caring for an elderly woman with recurring sepsis due to complications from peritoneal dialysis. Unfortunately, she had a multitude of chronic conditions that further exacerbated her illness. She was admitted to our unit several times in just a couple of months, and I seemed to always get her as my assignment. To make a long story short, I bonded instantly with her and her family. So much so that they requested I come into the hospital on Christmas; they had made me a very special personalized gift. I proceeded to care for her until her death almost a month later. I came in for an extra shift to be with her when she passed, and her family asked me to speak at her funeral. Eight years later, I still go home to Illinois once a year to have coffee with her husband. She will forever have a special place in my heart!
Tell us about your latest or favorite research or clinical project.
I have a couple of very exciting and fun projects that are gearing up for recruitment this spring. With funding from the American Association of Critical Care Nurses, I have spent the last year developing a mobile app that will provide family caregivers with an interactive orientation to the ICU. In addition, caregivers will learn how to assess and treat distressing symptoms often experience by ICU patients. Caregivers will chart their treatments and observations directly in the app while at the patient's bedside. I am also conducting a pilot trial in the pediatric ICU that is exploring animal assisted interactions during physical and occupational therapy sessions using a robotic animal.
Tell us about your family (2 and/or 4 legged) and what you do for fun.
I have been married to my husband, Tyler, for 6 years. We actually met for the first time at the Minneapolis airport while I was visiting Minneapolis to interview for the PhD Program at the University of Minnesota; it's a great story! We recently welcomed our first baby, Layla, in January 2019. We also have a very special, elderly 4 legged member of our family. Buddy, who is now retired, worked as a pet therapy dog with me in both adult and pediatric ICUs throughout the Midwest. We now spend most of our time tending to the old and new members of our family. In addition, we enjoy anything and everything there is to do outside, traveling, attending music concerts, suffering through Crossfit workouts, and pretending to be "foodies".
How has your view of Nursing changed over the years?
Each year, I gain more respect for the complexity and adaptability of the nursing profession. The more knowledge I gain, the more I realize I don't know. I continue to be humbled by my role and the individuals I care for.
Tell us about a mentor that has helped you navigate your career path.
I have so many fantastic mentors, it's hard to praise just one. However, Dr. Linda Chlan has been vital to my development as a researcher. She has patiently guided me and provided much wisdom as I have navigated through my transitions from PhD student, to postdoc, to faculty member.