NUR Member Profile
---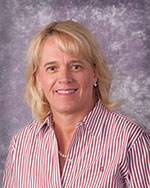 Kathleen Lindell PhD, RN
What is your current position?
Research Assistant Professor - University of Pittsburgh School of Medicine, Clinical Nurse Specialist & Nursing Manager – Dorothy P. & Richard P. Simmons Center for Interstitial Lung Disease at UPMC
What are you passionate about in your work?
Increasing awareness of IPF (Idiopathic Pulmonary Fibrosis) and providing education for these patients and their caregivers affected with IPF so they can be better prepared for the effects of this disease, with a future goal of translating this to other patients with advanced lung disease.
Tell us about a memorable patient or student that you worked with?
I have so many great memories of patients and their families, especially their kindness in light of a serious illness. I run our IPF support group and after one of our meetings, a patient came up and told me that he wanted to talk with me.  He said that he knew he was going to die soon (this was earlier in my IPF experiences, and I kind of gasped), and he placed his hand on my arm, and said "It's ok, I'm ready, BUT I want to give my lungs to your doctors when I die so they can do research on them to help future patients not suffer like I am". That was the start of our Tissue Donation Program and not only did he participate, but another 66 patients have, and it's been instrumental for our researchers in learning more about IPF and moving towards the cure.
Tell us about your latest or favorite research project?
Currently I am working on a grant to gather feedback from IPF patients and their caregivers, and even caregivers after their loved one has died, to help develop an intervention provided early after diagnosis to support these patients and their caregivers, as well as provide feedback to the clinicians on what's important to patients.
How do you spend your leisure time (yes, hopefully you have leisure time)?
Well, I do like to work – scary.  But I also like to have fun, and I work with a great group of people where we try to incorporate frequent FUN events to help deal with the stressors of work.  I also like to garden and do scrapbooking, and love the beach.  Oh, and yes… shopping.  I love shopping with my girls.
Do you have children? Tell us about them.
My husband David and I have 2 lovely daughters; Sarah is 24 and she works in Corporate Finance as an analyst, and Kristen is 21 and a college senior marketing major.  While my husband and I are both health care providers, we couldn't convince them to join us.
Do you have pets? Tell us about them.
We have 2 pets; London is our dog, he's a bichon and a lapdog, and has been very supportive when I work at home, always being at my side, and Beau is our cat.  He's supportive from a distance.
How has your view of nursing changed over the years?
I LOVE BEING A NURSE! And I've always loved being a nurse. I think it's an honor and a gift to be able to care and advocate for patients.
I also feel very strongly that I have to keep up with the times, especially digital and social media.  It's today and the future.
How long have you been a member in ATS?
22 years.  My first ATS meeting was in Las Vegas in 1988, and I joined in 1992.
Do you have a mentor that has helped you?
Dr. Leslie Hoffman was my mentor in graduate school in the 1980's and to this day, Leslie continues to mentor me and provide valuable expertise and advice.  I wouldn't be where I am if it wasn't for her.
What is the value of your membership in ATS?
ATS has been so helpful to me in my career.  I've been granted opportunities to work on committees, chair committees, and also be the Chair of the Nursing Assembly and the Board of Directors. 
I have been so lucky to meet other nurses, physicians and researchers from around the world and participate in helping patients with lung disease.  Plus I've worked with some amazing ATS staff!
Last Reviewed: June 2016