Focus on young investigators: a chat about the grant opportunities sponsored by ATS
---
Alessandra Adami, PhD
Assistant Professor, Department of Kinesiology, University of Rhode Island, Kingston, RI, USA – aadami@uri.edu – PhD and Basic & Translational Scientist Working Group Representative for the PR Assembly; and member of the PR Early Career Professionals Working Group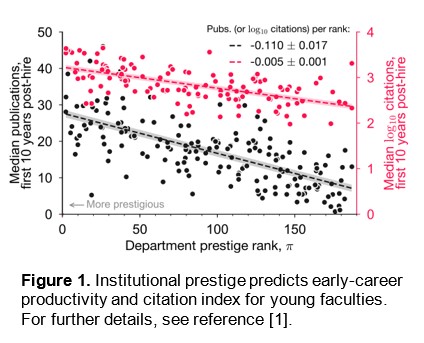 Productivity in academia, at whatever stage, is largely-exclusively measured by the number of scientific papers published, number of citations, scholarly awards received and by the typology of funding supports secured. These 'currencies' become crucial for those ranked as junior faculty or early-career members, i.e. tenure track assistant professors at, formally, the first stage of the academic career. For young faculties, the scientific productivity is driven also by the academic environment where they work: the more prestigious the institution, the larger the productivity (i.e. quantity and quality) of the scholarly outputs (Figure 1) [1]. However, whether the institution is a R-1 or R-2, the path toward securing a position passes through the achievement of similar expectations: excellence in research and teaching.
So, where to start?
When I became a junior faculty few years ago, I had not a clear idea what it meant to be a faculty and a junior investigator, but I was advised to follow what was written in my hiring letter: «[…] your duties will include teaching, advising, mentoring, service to community […] We expect that you seek and secure outside support for your research activities that will enhance your professional accomplishments and development»; and «The quality of research and teaching count most heavily. Service, while an important component of your duties, is given lesser weight. Excellence in one area, although necessary, is not sufficient for promotion and tenure».
Quite clear that, as Timothy Lightfoot mentioned in his book 'Surviving your first 5 years as a faculty member' – volume I was gifted with when I landed my tenure track - research and teaching «are overriding priorities throughout the first 5-years of the academic career» [2]. While the teaching load varies among junior faculties, and over time per each one of them (e.g. teaching load can be buy out when you receive an external research support), the path to gaining research independence and leadership in the field is very similar.
Therefore, how to build your research-agenda?
Whilst a new faculty usually receives a start-up package to support the initial lab installation, the application to either internal (i.e. sponsored by own institution) or external (e.g. governmental, non-profits foundation grants) research support is one of the first steps to consider. A second one should be attending grant writing workshops to up-level the grant writing skills (workshops are often sponsored by the University Research Office, Center for Translational Research, or governmental agencies).
Anyhow, if your research interests are related to pulmonary diseases, and you (or your mentor or collaborator) is a member of the American Thoracic Society (ATS), then applying for one of the grants sponsored by ATS is an opportunity not to ignore.
In Fall 2018, I was one of the fifteen recipients of the 1-year Unrestricted Grant sponsored by the ATS Foundation. The main purpose of this quarterly bite is to briefly introduce this funding mechanism; and to share few suggestions that are based on my experience in submitting a proposal to the ATS Foundation a few years ago.
What are the 'Unrestricted Grants'?
These are grants aiming to support young investigators conducting either basic, translational or clinical-based research focusing in one of the three pillars of ATS, i.e. pulmonary, critical care and sleep medicine, spanning from adult to pediatric medicine. The last call advocated for proposals focused on basic, patient-oriented, and public health, with special attention for projects exploring quality and safety of specific treatment and effectiveness of different therapies.
Every year, fifteen to seventeen proposals get funded for a 12-month period, receiving US$ 40K for covering salary (for my proposal both investigators and participants salaries were approved), supplies, or a combination of these two. No indirect costs are allowed. To note: the funding is disbursed in two installments over the 12-month grant period.
Who can apply?
Junior Investigator: an applicant that obtained the terminal degree (PhD, MD) within 12 years, and who never received any non-mentored grants > US$100K/year for at least 2-years. The ATS considers some exceptions for military and parent leave, but the applicant needs to contact the staff to check the eligibility criteria (researchprogram@thoracic.org) before submitting the letter of intent (see details below).
Can international applicants apply?
Yes, international applicants are welcome to submit a proposal, but I do suggest to carefully check the eligibility criteria and contact the staff before even starting to work on the application letter of intent.
What are the materials to prepare for submission?
The process starts with the preparation of a letter of intent (LOI), one per each proposal (multiple proposals can be submitted by the same applicant). Deadline is usually first week of September, but the LOI submission period opens few months prior.
The LOI form requests to provide a series of information – my suggestion is to start at least 3 months in advance - like: project name, applicant information (e.g. academic rank, geographical location, degree, certificate of employment), institution signing official and division chief contacts, eligibility criteria confirmation (e.g. years of experience, ATS membership, previous awards), description of the research proposal and specific aims, NIH-style biosketches for all key personnel (I submitted for PI, mentor, Co-I, technician). The LOI has to be filled in directly on the dedicated website (see How to apply? for details), and LOI examples are available on the ATS website (see table below for link).
If the ATS Scientific Advisory Committee invites for Full application, then the applicant has 2 months to prepare the scientific proposal and provide: budget and budget justification, description of resources, technical abstract, lay summary, two letters of support (link to be sent to whom will write the LOS), eventually letter of support from mentor (I decided to request one from my mentor; reviewers commented upon the mentorship environment – at the end a young faculty is still 'in training' – thus, I do highly recommend to include one). A complete list of the application material is available on the website.
How to apply?
To submit an proposal, each applicant needs to create a profile on the Foundant Technologies website, which is used to submit any document related to the application (e.g. LOI, proposal, letters of reference): https://www.grantinterface.com/Home/Logon?urlkey=thoracic
How is the review process conduced?
The review has a NIH-style process. The ATS Scientific Advisory Committee is in charge of the revision, but external reviewers can be invited to evaluate specific proposals. Each proposal is scored on: overall impact, significance, investigator(s) background, innovation, approach and environment, by three reviewers. The scoring system uses a 9-point scoring range, where 1 is exceptional and 9 poor. Reviewers' recommendations are sent to the PI (I am assuming that is true for both the funded and non-funded proposals; I received very useful comments that helped preparing further proposals).
When is the grantee notification sent?
The anticipated timeline is sometimes in January – in my case was even quicker: I received an email communication by mid-November, signed the Letter of Agreement with the ATS Foundation by mid-December, and started officially the project on February of the following year.
How did the Unrestricted grant support my research career development?
This type of grant truly enables junior faculties the chance to develop their own research-agenda, supporting the transition to independent investigators. To me, the success in securing this grant had, and continues to have, a profound effect on my career and professional development. This was the first major project I received as PI, and it provided preliminary data for an R01 application that was awarded by NLHBI at the beginning of 2020. This ATS Foundation award has contributed significantly to my ability to build my own independent research program, and to establish a collaborative research network to benefit future grant application.
To note: recently the Unrestricted Grants passed from the ATS Foundation under the jurisdiction of the ATS Research Program, and info can be found under the program webpage: https://research.thoracic.org/grants/index.php.
As last, while ATS offers different grant mechanisms, the table below reports some additional links to retrieve other external funding opportunities *:
* this list is not comprehensive and refers to North America-based sponsors
** links to other funding opportunities available at this page
References:
Samuel F. Way et al., Productivity, prominence, and the effects of academic environment. PNAS 2019; 22:10729-10733

Timothy J. Lightfoot. Surviving your first 5 years as a faculty member: Living and prospering in Academia, Book 2. Presyncopal Press; 2019. ISBN 0-578-57735-6