Women in Critical Care
---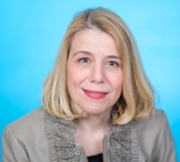 WICC Chair
Dr. Karen E. A. Burns
Chair:  Karen Burns, MD, MSCR, FRCPC, MSc 
The Women in Critical Care Interest Group is comprised of a diverse group of individuals (women and men) engaged in various facets of critical care practice worldwide, and includes academicians involved in research/clinical care/administration, private practitioners, junior, mid-level, and senior faculty. The purpose of the group is to encourage women from various career tracks to engage in ATS activities, and also to address issues that are important to ensure equitable representation of women in the field of critical care. The interest group (formed in 2019) stems from the Women in Critical Care working group that has been active since 2014.
Goals and Objectives
Ensure that women are equitably represented in critical care programming for the international ATS meeting, including in critical care-sponsored programming, including representation in chairing sessions, providing lectures, and being selected for awards.
Involve women in ATS programming and opportunities not related to the IC, including such activities as critical care assembly projects, design/production of materials on the internet, and on-going mentorship avenues.
Recognize and promote women who have contributed to the success of ATS through formal ATS awards and grants.
Support career development of women physicians in critical care at all levels through formal and informal networking opportunities both at the ATS international conference and throughout the year.
Partner with other minority and under-represented groups within ATS to enhance ATS diversity, scholarship, and representation. 
How can I get involved?
We will be meeting at ATS time and place to be determined. There are opportunities to become a WICC member and become involved.
Sign up to be included in the WICC mailing list!
We are creating a list of Critical Care Assembly members interested in participating in ongoing or future WICC-related projects. The purpose is to facilitate involvement in Critical Care Assembly activities (including the annual conferences). We invite Critical Care Assembly members to provide information about their experiences, interests and goals for participation of women in the Assembly. Please email tzahir@thoracic.org, if you would like to participate.
Interested in becoming a WICC mentor? Interested in having a WICC mentor? Please sign up through Critical Care Assembly.
Publications, Abstracts, and Documents
Lundberg G, Tamirisa K, Le E, Wood M, York M, Singh T. Addressing Gender Equity in Cardiology. Am J Med. 2020;133:1113-5.
Narayana S, Roy B, Merriam S, Yecies E, Lee RS, Mitchell JL, Gottlieb AS. Minding the Gap: Organizational Strategies to Promote Gender Equity in Academic Medicine During the COVID-19 Pandemic. J Gen Intern Med. Published on-line Oct 6, 2020.
Medepalli K, Johnson-Paben R, Purdon S, Glassberg M, Burnham EL, Gershengorn HB. Variable Access to Girl Idols may Negatively Affect Academic Pursuits: The Association of Faculty and Trainee Sex in Academic Internal Medicine Specialties.
Spring J, Abrahams C, Ginsburg S, Piquette D, Kiss A, Mehta S. The impact of gender on clinical evaluation of trainees in the intensive care unit.
Khan YA, Ali A, Bell CD, Ratan D, Datt S, Mehta S. Women, visible minorities and residents of Lower-Middle Income Countries are underrepresented in leading Respirology and Critical Care
Vranas K, Ouyang D, Stanford AL, Slatore S, Kerlin M, Liu K, Baron R, Calfee C, Ware L, Halpern S, , Matthay M, Herridge M, Mehta S, Rogers A. Gender disparity in authorship of Critical Care literature.
The ATS Policy for Diversity and Inclusion—was approved on Jan 9, 2019 for the entirety of the ATS organization. Thanks to you all for your support in the preparation and vetting of this document.
WICC advocated to make gender a mandatory field for all authors (first, contributing, last) who submit abstracts to the ATS (beginning in 2019)
Beeler WH, Mangurian C, Jagsi R. Unplugging the Pipeline – a Call For Term Limits in Academic Medicine.
Hu YY, Ellis RJ, Hewitt DB, Yang AD, Cheung EO, Moskowitz JT, Potts JR, Buyske J, Hoyt DB, Nasca TJ, Bilimoria KY. Discrimination, abuse, harassment and burnout in surgical residency training.
Burns KE, Straus SE, Liu K, Rizvi L, Guyatt G. Gender Differences in grant and personnel award funding rates at the Canadian Institutes of Health Research Based on Research Content Area: A Retrospective Analysis.
Juengst SB, Royston A, Huang I, Wright B. Family Leave and Return-to-Work Experiences of Physician Mothers.
Carethers JM. 2019 Association of American Physicians Presidential Address. Diversification Fuels Growth.
Lerchenmueller MJ, Sorenson O, Jena AB. Gender differences in how scientists present the importance of their research: observational study
WICC Sub-Committees
Gender Related Research, lead by Karen Burns, and Liz Viglianti
Mentorship, lead by Jenny Han, and Janice Liebler
Social Media, lead by Dina Khateeb
WICC within ATS plus workshop, lead by Sarah Jolley, Abigail Chua, and Kelly Vranas
WICC outside ATS, lead by Alison Fox Robichaud, and Nilam Mangalmurti
Resources
Have a Tweet relevant to WICC to share?
Email tzahir@throacic.org to share!
Other ATS working groups and interests groups