Diana Kelm, MD
---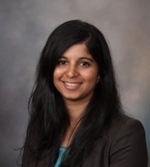 Why did you decide to make education your career path?
I fell in love with medical education during my Internal Medicine Chief Residency. I really enjoyed being part of resident education – curricular design and development, competency assessment, even the logistics…all the things we don't see as trainees. During a grant writing workshop in my first year of fellowship, I had an "aha" moment – I realized that there was a science to understanding medical education which could be tested in similar ways to other types of research. With the support of my fellowship program, I was able to create a medical education research year which allowed me the opportunity to develop an education research study from start to finish. With the success from that experience, I realized my career goal was to become a clinician-educator and education scientist. I feel very fortunate to have the support of my Division to pursue my passions.
What roles do you have in the education of trainees or patients?
I am an Assistant Professor of Medicine at Mayo Clinic in Rochester, Minnesota. I serve as the Associate Program Director for the Mayo Pulmonary and Critical Care Medicine Fellowship program. I am also the medical ICU education coordinator for the Mayo Internal Medicine Residency. I work in the medical ICU, outpatient pulmonary clinic (fellows clinic as well as specialized clinics in vasculitis and ILD), and the chronic ventilator unit. With these various roles, I work with medical students, residents, and fellows.
Who have been your career mentors and how have they helped you?
Kannan Ramar: my first rotation as an intern was in the medical ICU and Dr. Ramar was my attending. From day 1, he was so kind and approachable. He has remained my mentor since then. As my fellowship program director, he was 100% supportive of my interest in medical education even though most of our fellows participate in basic science or translational science during the research year. He has always been encouraging, accommodating, and inspires me to be the best I can be.
Thomas Beckman: Dr. Beckman is my education mentor. He is well known in education research, but he wouldn't tell you that – he is humble, kind, and very thoughtful. He has taught me a lot about education research. He challenges me to think along the lines of education science and how to best incorporate my research interest (procedural education) into something methodologically and educationally sound. He has been very supportive, encouraging, available, and a wonderful promoter for my career. 
Cassie Kennedy: Dr. Kennedy has been my research mentor since the intern year. Even though our specific interests differ (she is a fantastic lung transplant researcher), she has been supportive and encouraging of my passion for medical education. She is a great advocate – opening up new opportunities for me that I wouldn't have thought of because she knows how to think outside the box and is very resourceful. She challenges me to think like a researcher especially as we have been working on grant funding.
What have been the greatest satisfactions of being an educator?

There are so many but the ones that come to my mind initially include watching the learner improve based on the feedback I provided, simplifying a complex problem for trainees (i.e. ABGs), watching senior residents teach the interns on topics you previously taught them and successfully helping a trainee complete a bedside procedure. In addition, now as I have been in a mentoring role for trainees, I have enjoyed getting to know my mentees both professionally and personally. Their successes bring me great joy!
What have been some of the challenges to your career as an educator and how have you overcome them?
Two of the biggest challenges for me (and many others) have been time and money – we need both to conduct education research and provide high-quality teaching. I still have a lot to learn, but I have found a few tricks to help overcome these obstacles:
Make the time – When I am on service, I set the expectation that we are going to do teaching daily, even if that is just for 5-10 minutes.
Be persistent – I have been told "no" many times, but that doesn't stop me from asking the same question. With persistence, I have been able to get internal funding for my education projects and created new simulation courses for our residents.
Ask for help – I have learned that I can't do it all (especially with limited time and money) so I rely on my colleagues for help. I am the chair of our PCCM Medical Education Research group which includes both faculty and fellows. We meet monthly to review ongoing and future education projects. This group loves to help and often participates in the various teaching activities and education projects I have initiated.
What do you think are the most important characteristics of an educator?
To be an effective educator, I think you need to be passionate, enthusiastic, and humble.
Passion: As clinician-educators, we spend much of our time working on grants, on papers, on abstracts, etc. – and this includes some of our free time. We are also reviewing grants, papers, abstracts, etc. for our mentees. All of this takes time and effort. So if we aren't passionate about our work, then this becomes a chore or something on our long to-do list. However, if we are passionate about what we do, then it becomes something more than that. I have a lovely family at home and try not to work much when home, but when I do, I am thankful that the work I do is something I love and brings me joy.
Enthusiasm: It is always more fun to learn when the educator shows enthusiasm…and not the fake kind! As educators, we need to teach our trainees that learning can be fun. We can do this in various ways in how we deliver the content, such as didactics, simulation, online modules, chalk talk, etc. Our enthusiasm can cause a positive downstream effect for the learner – enthusiasm can help increase learner engagement which will hopefully result in better comprehension and retention of the material.
Humility: I don't know everything and I clearly tell my learners that. Our learners are so knowledgeable and have a lot to teach us. I usually learn at least a few things from them during rounds. I encourage everyone on the team to teach each other, including respiratory therapists, pharmacists, nurses, etc.
How had the ATS assisted you?
ATS has been such an amazing resource for me in my career as a clinician-educator. I have really enjoyed participating in the Section of Medical Education. Everyone has been so welcoming. It is nice to find a "home" with like-minded individuals outside of my institution. I have taken advantage of the SOME pods and the mentorship program. With the pods, I have gotten to meet so many great clinician educators around the world. I love collaborating and learning from others. Plus we have been academically productive with a manuscript and a conference workshop session. Through the mentoring program, I was connected with Dr. Rosemary Adamson and Dr. Basak Coruh. These ladies are amazing and opened up new opportunities for me as a clinician-educator.
What advice would you offer others who are considering or have committed to a career as an educator?
Don't give up! There will be times when you will feel like giving up, but don't! If you are passionate about medical education, then fight for it. Seek out good mentors – at your institution and elsewhere. Create a mentorship team. Think outside the box…mentors don't have to be in Pulmonary and Critical Care – actually, it may be good to get an outside perspective. ATS has so many opportunities to get involved…ask to do a webinar, podcast, blog, etc. Lastly, you can do this, but it will take a village so ask for help – you can count on me to back you up!