Edward Kilb, MD
---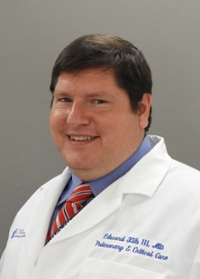 Why did you decide to make education your career path?
I found my passion for medical education while serving as a Chief Resident for my Internal Medicine training program. I had always been drawn to teaching at the bedside with interns, students, and other healthcare professionals. During my Chief year, however, I was able to see the larger impact that I could have through investing in curriculum design, practical service design, implementation, and mentorship. I am lucky enough to be well supported to pursue this passion and I continue to push myself daily to try to be a thought leader at my institution, regionally, and nationally. 
What roles do you have in the education of trainees or patients?
I have had the honor of serving as the Program Director for the combined Pulmonary and Critical Care Fellowship at the Medical University of South Carolina (MUSC) for the last 3 years. In 2017, I started the stand-alone Critical Care Medicine Fellowship and still serve that program as an Associate Program Director. I am the Course Director for the mandatory Critical Care rotation for the medical school. In addition to these leadership positions, I serve on many educational committees for both the College of Medicine and the Graduate Medical Education offices to help shape the way we deliver education.
Who have been your career mentors and how have they helped you?
I have been blessed to have many mentors in my career. I would start with E. Benjamin Clyburn, MD, who was my Program Director for Internal Medicine and still advises me from his positions as the Chair of the Department of Medicine and DIO for our GME. He has always encouraged me to pursue education. He has always been willing to make time for me and connect me with the right people to make positive changes. Nicholas Pastis, MD was my Program Director during my fellowship training and someone for whom I could never have imagined taking over. His calm, measured, and thoughtful approach to management of the training program really provided a steady hand for all of us to flourish in our burgeoning careers. He encouraged me to take over his position when he had the opportunity to lead other ventures, and anyone that knows him knows that I truly have big shoes to fill. Dee Ford, MD, my current Division Chair and longstanding mentor for both clinical practice and personal career mentorship, has been immensely important on a daily basis as I navigate the world of education. She has encouraged me to pursue significant opportunities and, importantly, has protected me from overextending myself. Finally, Lynn Schnapp, MD, my previous Division Chair, really pushed me to aim high, be innovative, and continue to try to take our training program to new heights. While she has moved on from our institution, I know that she is still rooting for me, our fellows, my colleagues, and our institution.  
What have been the greatest satisfactions of being an educator?
I am a people person, so I definitely get the most satisfaction from the relationships that you build with the learners. I enjoy seeing them succeed whether it is on a small scale (nailing a difficulty diagnosis, successfully managing an airway, etc) or a much larger and personal scale (getting their choice residency, fellowship, or dream job). It is easy to celebrate their victories and the small role you may have played in helping them get there, but having a deep relationship with your learners allows you be an outlet and advocate for them when they are experiencing difficulties (professional or personal), and to help them get through them. Those times are difficult, but rewarding in a different way.
What have been some of the challenges to your career as an educator and how have you overcome them?
For a successful career in education, one must manage time carefully. There are endless learners and projects with which an educator could potentially be involved, let alone busy clinical practices and scholarly pursuits. Two suggestions I would have for those pursuing a career in education: 1) Identify revenue streams to fund and support protected work time for being involved in educational projects and leadership. 2) Learn how to say "no;" a powerful way to control your time and maintain your own wellness.  By their nature, most educators are somewhat altruistic. Hence, these are two things that I think a lot of educators deal with and are an ongoing struggle to maintain an appropriate balance.
What do you think are the most important characteristics of an educator?
To be an educator, you must be passionate, patient, flexible, and innovative. Passion and innovation speak to the things that will drive you to a satisfying career. Patience and flexibility recognize that you are working with early career professionals who will enter at different levels and progress at different speeds. As an educator, there is this dichotomy you must navigate: you need to be the engine that makes thing go, but you can't leave any person behind. 
How had the ATS assisted you?
The ATS is a great organization that provides so many layers of opportunity. I have been attending the national meetings since I was in training and have always found great value and a real sense of community in the SoME. Locally, I have been able to have a real impact in education statewide through leadership in my local chapter of the ATS. As the Vice President of the South Carolina ATS, we host educational events to help all pulmonary and critical care providers in the state to stay updated on current guidelines, standards of care, and cutting-edge research. By having a national group of passionate and experienced educators to learn from, I have been able to help translate that into tangible improvements for my community. 
What advice would you offer others who are considering or have committed to a career as an educator?
Don't be afraid to pursue your passion. Identify areas of need that align with your goals. Pursue opportunities that interest you and make you happy. Find mentors who will support your mission and help identify avenues that will make your road easier. Practice what you preach. If at the end of the day, you are happy, well, and find meaning in your career, you will be setting the standard for your trainees to model.