Erin Narewski, DO, FCCP
---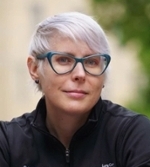 Why did you decide to make education your career path?
I had been away from work for vacation, and when I returned I felt overburdened by catch-up work. Research, Clinical Care, and Medical Education needs all felt overwhelming. Diligently, I worked through the day. When I looked up, it was evening! As I prepared to leave work, I reflected on what I had accomplished that day and what was left for tomorrow. I realized that, without intending to do so, I'd prioritized the Medical Education work above all the other tasks on my plate. I chose to work first on what I missed the most while I was away. I went home and told my husband, "I think Medical Education is what I want to do with my life." He looked at me and said, "I could've told you that!" 
What roles do you have in the education of trainees or patients?
I have a passion for resident and fellow education, but particularly for mentorship and development. I serve as an Associate Program Director for the Internal Medicine Residency at Temple University Hospital, which currently provides exemplary medical education to over 120 residents. I work as the Director of Resident Development and am lately busily rewriting the Simulation Curriculum to include burnout-reducing tools that will help residents manage stressful situations. Recently, I became a member of the ATS Medical Education Committee, where I am eagerly getting involved in several initiatives.
Who have been your career mentors and how have they helped you?
Mentorship is not something I have ever wanted for. I am so grateful to the people who have been kind enough to provide their support and guidance. Gilbert D'Alonzo, DO, inspired me to become an educator and convinced me that it was possible. Jamie Garfield, MD, guided me in to port at my current academic position. Marissa Blum, MD, sees something in me worth promoting, and has pulled open every door she can reach. It is not possible to name everyone, or give them adequate thanks.
What have been the greatest satisfactions of being an educator?
It may seem counterintuitive, but my greatest satisfaction arrives only after great difficulty. Working with a struggling resident or fellow is always stressful. It's hard to sit with a high-performing, capable, and intelligent person who has worked harder than can be imagined, and to tell them "We're concerned about your performance." After these difficult moments, often there comes a moment of relief, when the struggling learner is able to, for the first time, open up about the battle they've been fighting, whatever it may be. These moments can lead to growth, and the offer of help to a provider in need, and they are very precious to me. 
What have been some of the challenges to your career as an educator and how have you overcome them?
Learning to say "no" has been the hardest challenge for me. I suffer from imposter syndrome. It is an honor to be asked if I would be interested in tackling so many challenges; each offer is a small reassurance that I am where I belong. However, my bandwidth is limited. I owe the tools I have been using to deal with this to the AAMC Early Career Women's Faculty Development Seminar. I cannot reccommend that seminar highly enough. 
What do you think are the most important characteristics of an educator?
A good educator has knowledge. A great educator has wisdom. The difference is as great as the difference between consulting an encyclopedia and consulting an oracle. We must meet our learners where they are. We must ask as many questions as we answer, if not more. This takes a genuine interest in the learner herself, a willingness to give her opportunities to audition her skills and reveal her weaknesses, and the patience to help her build her own tools rather than to hand her a set she does not know how to use. 
How had the ATS assisted you?
When I first attended the International Conference, I admit I was somewhat overawed by the scale and scope of the incredible scholarship and reach of our international ATS community. Now that I've become more involved and have started to participate in the work of the Medical Education Committee, the ATS feels like home. I am surrounded by others passionate about the same issues who want to work hard to make the world better. The ATS has given me so much more than the knowledge I've gained and the opportunities to share research. The sense of a community I am proud to be a part of is worth more.
What advice would you offer others who are considering or have committed to a career as an educator?
The best advice I can give is the same advice that I was fortunate enough to receive. If you can be brave enough to keep your focus narrow, and on what you are the most fervidly passionate about, you can't help but succeed. What you know is always less important than that you care.