Jared Chiarchiaro, MD
---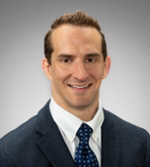 Why did you decide to make education your career path?
It's been an evolution. At first, I simply found a sense of accomplishment in teaching others and helping them attain their goal, however small. Now I think more about how I can develop and advance programs to improve the lives and careers of my trainees and help them become better doctors. I gain a great deal of personal and professional satisfaction in serving trainees as a mentor to help them find their path in academic medicine.
What roles do you have in the education of trainees or patients?
My main role is as the associate program director for the PACCM fellowship at the University of Pittsburgh. I also run the pulmonary course for the second year medical students and I oversee the entire second year organ-system curriculum for the medical school. My main educational focus is in communication skills. This is everything from high-stakes communication for seriously ill patients and their families to training in medical interviewing, feedback, learner evaluation, and behavioral interviewing.
Who have been your career mentors and how have they helped you?
John Kreit here at the University of Pittsburgh has been a major inspiration. He has provided me with career advice, advice on when to say yes and when to say no. Perhaps most importantly, he has provided me with a model of what a career in academic medical education looks like. Bryan McVerry is the fellowship program director here at Pitt and is a constant advocate and supporter of me being an educator in what is largely a basic science PACCM division. Other mentors are Trish Kritek at the University of Washington and Hank Fessler at Johns Hopkins. They too have provided me with models of academic medical education careers as well as inspiration, advice and national networking that has greatly influenced my career. I'm also influenced by behavioral economists like Daniel Kahneman, Dan Ariely and Richard Thaler. I think it is important for educators to draw inspiration outside of medicine.
What have been the greatest satisfactions of being an educator?
The greatest satisfaction is when I have played a role, however small, in helping a young physician find their career path in medicine. I strongly believe that one of the advantages to a career in academic medicine is that we can craft it almost anyway we like. I also find it very satisfying when I have been able to help a trainee become a better physician. One of the most rewarding moments is when a trainee or former trainee seeks me out to tell me how our time together influenced the way they practice medicine.
What have been some of the challenges to your career as an educator and how have you overcome them?
One challenge has been to convince others that a career in medical education is a viable academic and scholarly pursuit. To overcome this, I think it is important that we develop a model of what an academic medical educator looks like and set up some goalposts along the way. For example, some of these goalposts should be mentored teaching, scholarly activity, and involvement in national organizations like the ATS.
What do you think are the most important characteristics of an educator?
I think you need to have a genuine intrinsic motivation. This probably true for any pursuit but I think it is especially true for educators because there are often not the accolades and glamour that is associated with some other careers in academic medicine. We are the pragmatic problem solvers, the program builders. We have the most direct connection to influence and inspire the next generation of physicians. As an educator, that position should be motivating and humbling.
How had the ATS assisted you?
The ATS has assisted me most by developing national networking connections which have influenced and enriched by career and the way I think about medical education. The medical education community is a small and tight knit group. Getting involved at ATS is a wonderful way to develop national relationships with this community of educators. It is an absolute privilege to work with so many passionate and interesting people.
What advice would you offer others who are considering or have committed to a career as an educator?
It is ok to say no. Educators usually are people who like to do a lot of different things and it is ok to have a lot of balls in the air. There are usually only a small number of educators at any given place, so there will be many opportunities to do fun and interesting things. However, educators need to have a core focus to their educational program that allows them to build and innovate. This is important for scholarly productivity, promotion, and most importantly, doing something truly impactful for your trainees and the education community.