Lekshmi Santhosh, MD
---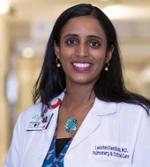 Why did you decide to make education your career path?
Immersing myself in medical education has truly been my calling, merging my passions for direct clinical teaching, curriculum development, leadership opportunities, and educational research. Throughout college, medical school, and residency, I experimented with different types of scholarship, including basic science, clinical research, and health policy research. I found that none truly captivated me as much as curriculum development and education research, forming a direct connection between clinical care and education. A mentor once joked to me that a career in education at my current institution would be a very difficult job to obtain – one that "doesn't exist and doesn't pay." I've been delighted to prove him and many other mentors wrong!
What roles do you have in the education of trainees or patients?
I serve as the Associate Program Director of the Pulmonary/Critical Care Fellowship at UCSF (University of California-San Francisco). I also serve as a teaching attending on the inpatient medicine wards service, one of the few subspecialists on a primarily hospitalist-run service. I attend in the outpatient general pulmonary clinic, in the medical ICU, and in the neuro-ICU. Through these roles, I teach fellows, residents, and medical students. I am also involved in CME at our institution, primarily teaching faculty hospitalists and internists about pulmonary and critical care topics.
Who have been your career mentors and how have they helped you?
I like to tell people I have a bouquet of mentors for different facets of my career. My mentors within the ATS Section on Medical Education (SOME) have been invaluable sources of support to me, including Drs. Graham Carlos, Trish Kritek, and Hank Fessler, among others. Graham, Trish, and Hank help me see the big-picture arc in my career as a medical educator and serve as sponsors keeping their ears out for valuable opportunities. I have also developed a number of peer and near-peer mentors through ATS SOME, including Drs. Michelle Sharp, Molly Hayes, and Stacey Kassutto. They serve as sounding boards for research and career dilemmas and share tips on how to balance different aspects of a rewarding career. I consider Drs. Jen Babik and Harry Hollander, two revered infectious diseases-clinician educators, as career mentors and role models at my institution. Lastly, my Program Director and mentor Dr. James Frank has been a cherished mentor throughout my fellowship and faculty experience and a day-to-day go-to person for dilemmas and decisions.
What have been the greatest satisfactions of being an educator?
Here are some of my favorite moments: Hearing another trainee independently tell you your own teaching framework on a topic (i.e. approach to hemoptysis, approach to ILD, etc.), not knowing that you taught the person who taught them that! Running into former students, residents, and fellows at conferences. Lifting up a trainee's spirits after a tough family meeting or a difficult procedure. Watching the a-ha moment on a trainee's face as a tough concept clicks. Watching a team that was struggling with rounds on a Monday turn into a well-oiled rounding machine by Wednesday. Seeing trainees later on in the month for team dinner. Cheering on a mentee at a poster or oral presentation. Hearing positive feedback about your trainees from the nurses. And so many more!  
What have been some of the challenges to your career as an educator and how have you overcome them?
One of the biggest challenges is preventing a clinician-educator career from becoming a "nights and weekends" job, where you are spending hours outside of work preparing teaching materials, curricula, educational research projects, etc. I have tried to overcome these challenges by applying for educational grants and educational leadership positions to enable me to get some protected time for these activities. Being firm with personal and professional boundaries is also important and often easier said than done.
What do you think are the most important characteristics of an educator?
Flexibility is key in an educator – if you planned a 15 minute mini-journal club discussion on a new article, but now you only have 5 minutes before a family meeting, you have to be able to adapt your content on the fly to fit the new space provided. Resist the temptation to indulge in nostalgia and think "When I was a student/resident/fellow…" and instead meet learners where they are at and engage them with patience and empathy. You do not need to be a content expert necessarily to be a great educator upon a topic – careful research, enthusiasm, and delivery can all go a long way.
How had the ATS assisted you?
Ever since I first attended ATS as a graduating resident at Resident Boot Camp, I have been absolutely hooked on the remarkable community of educators I have found in SOME. From incredible peer mentors to research working groups to collaborators to sponsors, I have found that ATS SOME is where "my people," fellow pulmonary/critical care med-ed nerds, reside. Since I do not have many colleagues at my home institution engaged in similar work, ATS SOME truly has become a home away from home for me.
What advice would you offer others who are considering or have committed to a career as an educator?
I get asked this question a lot…so much so that I decided to write an article about it! Our article entitled "Strategies to build a clinician‐educator career" was recently published in The Clinical Teacher: https://onlinelibrary.wiley.com/doi/full/10.1111/tct.13013 It is a wonderful career where every single day is different and exciting!