Michael McCurdy
---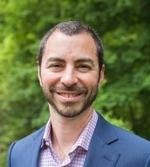 Why did you decide to make education your career path?
I come from a family of dedicated teachers, and since childhood I have recognized and admired this career path as one of the most effective means of meaningfully changing the world for the better.
What roles do you have in the education of trainees or patients?
According to Martin Luther King, Jr., "The function of education is to teach one to think intensively and to think critically. Intelligence plus character – that is the goal of true education." Having created the University of Maryland's critical care medicine (CCM) fellowship training program and taught and mentored medical students, residents, and fellows throughout my institution and in other institutions, I could not agree more. However, education (as both a provider and a recipient of it) should occur on a daily basis to ensure personal growth and the growth of those around you, and education can occur in any venue with anyone at almost any time.
Who have been your career mentors and how have they helped you?
Although many close friends and colleagues (e.g., Drs. Jeff Zilberstein, Dr. Paul Kluetz, Dr. Mike Winters) have been instrumental in providing me valuable advice and support over the years, my two main career mentors are Dr. Mike Rolnick (who created the Department of Emergency Medicine at Georgetown) and Dr. Mark Walsh (who has been a staple at University of Notre Dame for decades). Each has meaningfully contributed to my professional and personal growth by listening closely to key aspects of my situations and providing me with their perspective and sage guidance based on their assessments and experience. I am truly grateful for their support and loyalty, and their comments often serve as beacons of reason for me when I face difficult decisions.
What have been the greatest satisfactions of being an educator?
I take my instructive role in the formative years of physicians very seriously, and witnessing the growth of former trainees and mentees into roles where they too can make a positive impact is one of the most rewarding feelings possible from my perspective.  My personal goal for each of my fellows and mentees over the years has been for them to eclipse any small successes I've been able to accomplish – their successes are infinitely more important to me than any transient accolade that I personally could achieve.
What have been some of the challenges to your career as an educator and how have you overcome them?
Over a decade ago, I obtained ACGME approval to establish a dedicated 2-year CCM fellowship program at the University of Maryland Medical Center (UMMC). I then made a successful financial argument to the UMMC executive team for ongoing annual hospital funding for my fledgling program. After its initial ACGME accreditation and subsequent site visits, I secured the maximum ten years of accreditation and expanded its complement capacity to 12 fellows. As the program director of the 2-year CCM fellowship and as co-director of the emergency medicine/internal medicine/CCM training program, I created a multidisciplinary core curriculum for all of the critical care fellowships (i.e., medicine, pulmonary, surgery, anesthesia, and neurology). To share the high-quality educational content for my fellows and for other critical care clinicians around the globe, I highlighted our teaching efforts on Maryland.CCproject.com. Though daunting and new to me, each of those challenges presented an opportunity to demonstrate to others that these endeavors were worthwhile to pursue, and each served as further fuel to my fire to create the kind of successful training program that I knew be realized.
What do you think are the most important characteristics of an educator?
I think that the most important characteristics of educator include topic mastery, empathy, patience, humility, a good sense of humor, and a passion for the subject being taught.
How had the ATS assisted you?
The American Thoracic Society has assisted me in many ways along my journey as an educator. For example, it has provided valuable educational resources when developing a critical care curriculum for my fellowship program, and it provided a wonderful venue to feature the product of the efforts of a couple of my fellows at the time (i.e., Dr. John Greenwood and Dr. Jim Lantry) and me with the ATS "Innovations in Fellowship Education" award. Additionally, ongoing network opportunities continue to flourish at ATS conferences and relationships I've established through work with my fellow ATS members continue to be enjoyable and productive sources of research opportunities. Some of our work has been featured in ATS Scholar, which, under the editorial guidance of Dr. Nitin Seam, has served as a wonderful venue for pulmonary and critical care medicine educators to share their valuable high-quality research with others in the field. Finally, the affiliation between ATS and APCCMPD has enhanced the available educational resources and strength of our voice as educators.
What advice would you offer others who are considering or have committed to a career as an educator?
My advice for those considering a career as an educator is the same I give to anyone for any career… Seek a career that is intellectually challenging, enjoyable, and meaningful. Always work as hard as you can to learn all you can from both good and bad situations, as they all help you grow and mature. If you no longer experience those key emotions despite best efforts, then never be afraid of change – life is just too brief and random to not pursue what you've worked so hard to achieve.