Mukhtar Al-Saadi
---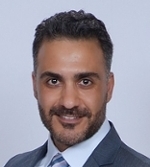 Why did you decide to make education your career path?
I decided to do that to learn, to teach next generations, and to have an impact that can be reflected in the care provided to patients and their families.
What roles do you have in the education of trainees or patients?
As a staff attending physician and program director of a fellowship training, my role is being a teacher, mentor, and leader, but most importantly a physician who provides care to critically ill patients and their families.
Who have been your career mentors and how have they helped you?
Many mentors and teachers have influenced my journey. Dr. David Graham, Dr. Hassan Makki, Dr. Nicola Hanania, Dr. Charlie Lan, to name few. They all provided outstanding guidance, insight and perspective on my career path.
What have been the greatest satisfactions of being an educator?
When you see a trainee acquires a new knowledge, skill, and/or attitude and starts to apply that independently and extends the learnings to others. When I receive a compliment about my trainees from patients, families, colleagues, or employees.
What have been some of the challenges to your career as an educator and how have you overcome them?
Having competing responsibilities of both work and life, and goals and vision that sometimes differ from those of the healthcare institution. I try to organize and prioritize my task-time, be efficient and effective, delegate, and communicate unified goals and vision.
What do you think are the most important characteristics of an educator?
Understanding that learners and generations differ on how and why they learn, and adopting unique strategies accordingly.
How had the ATS assisted you?
By providing incredible resources for learning and teaching, opportunities to develop, and venues to connect and network.
What advice would you offer others who are considering or have committed to a career as an educator?
To teach is to learn.