Nancy Stewart, DO
---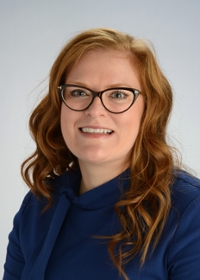 Why did you decide to make education your career path?
I absolutely LOVE teaching. And I LOVE learning. I learn just as much from my trainees as I try to teach them. I come from a family of educators and physicians and it was only natural for me to combine the two. In addition, had I not gone into medicine, I considered getting a PhD in education.
What roles do you have in the education of trainees or patients?
I am core faculty for our sleep and pulmonary/cc fellowships. I also am the Director of our Scholarship, Teaching, Academic Growth, and Research (STAR) program within our pulm/cc fellowship. I routinely have trainees on my inpatient services and in my clinics, and I weave education into every patient encounter. Education and knowledge are powerful tools, and providing these for patients can mean a huge life impact for them.
Who have been your career mentors and how have they helped you?
I am grateful to have several amazing mentors along my path, however Dr. Bill Mayo and Dr. Vineet Arora are two of my most influential. Dr. Mayo has been a guide,  mentor, and sponsor since my college days at the University of Mississippi. He is an ophthalmologist in Oxford, Mississippi and I worked for him as an ophthalmic technician the year before I went off to medical school. Early during my years in medical school, Dr. Mayo encouraged me to get involved with the American Osteopathic Association, and I ended up serving within the AOA on several committees and boards throughout my training years. Dr. Vineet Arora was my medical education fellowship director at The University of Chicago. I spent 2 years under her guidance as a fellow and early career researcher, and I'm blessed to have her continued mentorship and sponsorship today. She has been incredibly influential in my path as an educator, health services researcher, mentor, and clinician. I cannot express enough how grateful I am to both of them and other important mentors I've had along the way.
What have been the greatest satisfactions of being an educator?
The greatest satisfaction of being an educator is to know your trainees are loving learning when they are with you and around you on service. We all have such an incredible gift and privilege as physicians caring for patients, and each encounter is a learning experience. When trainees recognize and appreciate their time on service as an honor, and express this verbally, via feedback or to their trainee colleagues, it makes my heart swell.
What have been some of the challenges to your career as an educator and how have you overcome them?
One of my greatest challenges as an educator has been to try and break down the barriers of hierarchy. Every time I am with a team of healthcare workers and trainees whether in the clinic or in the ICU, I make it clear we are a TEAM. I make it clear there are "no stupid questions, and this is a safe space for learning". Allowing trainees to have a space for psychological safety is key for their growth.
What do you think are the most important characteristics of an educator?
The most important characteristic of an educator comes naturally to many educators- I think that is to love what you do. As educators, we all love teaching and this shines through and is reflected in our interactions and encounters with patients, colleagues, and trainees. Other important characteristics are availability and to be a good listener.
How had the ATS assisted you?
The ATS has allowed me to grow and network as an early career educator and researcher. I am grateful for all of the connections and friendships I have made over my years of being involved in the ATS. It has provided a supportive space for me and fosters collaboration in education and research.
What advice would you offer others who are considering or have committed to a career as an educator?
I would tell anyone to listen to their gut and follow their heart- sounds cliché, but its true. I don't think we "choose" to be educators, I think we are chosen, and I am honored to be an educator for my trainees and my patients. I tell my fellows, no matter what career path you choose within your specialty, you are in charge and you can grow and craft your career to fit you and your needs, wishes, and goals.