Viren Kaul
---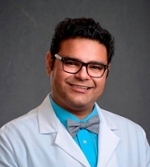 Why did you decide to make education your career path?
As a trainee at various levels, I felt challenged to think about the "why", "how", "what", "who" and "when" of the processes of imparting and imbibing knowledge. I learned that there was more to teaching than lecturing. Being able to influence a learner's experience by understanding, improving and innovating on the science and art of education is what drew me to a career in medical education.
What roles do you have in the education of trainees or patients?
I am an Assistant Professor in Medicine at Crouse Hospital/SUNY Upstate Medical University and work mainly with the Pulmonary and Critical Care Fellows and the Internal Medicine Residents.
Who have been your career mentors and how have they helped you?
This is a difficult question to answer as I have been blessed with the support of fantastic mentors, but this trio of physicians has truly impacted my growth as an educator:
Alice Gallo: Astute guide, a professional mirror. As an early-career physician herself, she has been a role model on how to navigate the challenges while maintaining productivity. She's my professional twin and she inspires me with her ability to multitask. My guide to staying on top of things!
Chris Carroll: Provides unbiased feedback, pushes me to be better as a professional by modeling high quality of produced scholarship at all times. My digital media in medical education mentor, a supporter of creative thinking including how to surpass barriers innovatively.
Graham Carlos: It makes me believe in myself no matter the situation, always available to discuss, provides a safe space for me to discuss challenges, encourages me to continuously build up my skill set.
What have been the greatest satisfactions of being an educator?
Being able to adapt to the needs of learners and seeing their enthusiastic response when I engage them halfway. Example: Received resoundingly positive feedback appreciating the effort to share evidence discussed on rounds in an accessible manner via Whatsapp! Also, being able to support International Medical Graduates in advancing their careers brings me joy.
What have been some of the challenges to your career as an educator and how have you overcome them?
My biggest challenge has been to carve out the time from clinical responsibilities to work on projects I am passionate about. At Dr. Gallo's suggestion, I've been employing a to-do strategy that allows me to place tasks in a situational bucket. Example: To-dos to complete during morning commute: This allowed me to review a podcast I was editing, prepare for teaching on rounds, and dictate the methodology for my next research project while conserving time for the rest of my day.
What do you think are the most important characteristics of an educator?
The ability to adapt to the learners, the changing landscape of education in terms of delivery methods, and accepting feedback without getting defensive are the top 3 characteristics in my opinion.
How had the ATS assisted you?
ATS provided me with the first step to get started in the world of medical education. I attended a meeting of the Section on Medical Education and pitched an idea for a session. Not only was that idea implemented, but I also got support to develop the idea into a "speed mentoring" session for the International Medical Graduates. Since then, I've been invited to engage in many scholarly activities and along with my educator colleagues and we have produced more than 10 products ranging from abstracts to publications.
What advice would you offer others who are considering or have committed to a career as an educator?
Keep your mind open to various ways for creating educational impact, identify your area of interest early, stay passionate about the area even if it feels there isn't much traction, find collaborators within national organizations such as the ATS and on social media and finally, always be courteous and gracious as a collaborator.