Virtual Student Scholars Program
---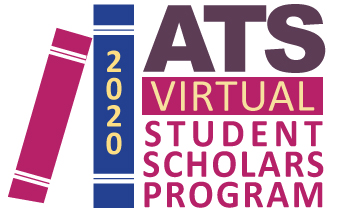 The Members in Transition and Training (MITT) committee hosted two virtual Student Presenting at ATS (SPATS) sessions and a virtual PAR Path to continue to provide our students with opportunities to present.
What is SPATS Program?
SPATS stand for Student Presentations at ATS. Students who signed up for SPATS participated in a 3-minute thesis (3MT) competition where they had three minutes to present a compelling oration on their thesis and its significance. The judges scored each presentation based on 3MT criteria created by Queensland University. An important aspect of the competition was the People's Choice prize. Following all presentations, the audience was asked to vote on who they thought gave the most convincing 3MT presentation. This was accomplished through an online survey / audience response system. A finalist can be the winner or runner-up and still receive the People's Choice award. Certificates will be awarded to the Winner, Runner-up, 3rd place and People's Choice.
SPATS Recordings:
PAR Path:
 Congratulation to all the SPATS winners!
SPATS 1 WINNERS:
1st Place: Tharusan Thevathasan
2nd Place: Thomas Mahood
3rd Place (tie!): Will Okoniewski and Chandler Annesi
People's Choice Winner: Noel Britton
SPATS 2 WINNERS:
1st Place:  Niyati Borkar
2nd Place: Sophia Levan
3rd Place: Brett Curtis
People's Choice winner(s) (tie!): 
Sophia Levan and Niyati Borkar