36-Year-Old Woman with Chronic Cough and Pulmonary Nodules
---
Reviewed By Clinical Problems Assembly
Submitted by
Maria Elena Vega Sanchez, MD
Fellow
Pulmonary and Critical Care Medicine
Temple University School of Medicine
Philadelphia, Pennsylvania
Nathaniel Marchetti, DO
Assistant Professor of Medicine
Temple University School of Medicine
Philadelphia, Pennsylvania
Submit your comments to the author(s).
History
A 36-year-old Caucasian woman presented to her primary care physician complaining of approximately 12 months of nonproductive cough. She also reported intermittent sharp, pleuritic anterior chest pain. She has had night sweats for the past year without documented fevers and she also reported weight loss. She had received antibiotics in the past with no improvement of her symptoms. She denied shortness of breath or hemoptysis and she denied tuberculosis exposure. A previous PPD was negative. The rest of the review of systems was negative.
Her past medical history was significant for thyroid carcinoma diagnosed 5 years ago. Her past surgical history included thyroidectomy and hysterectomy.
Family History was significant for her father dying of a myocardial infarction at age 40 and her mother who had hypertension. She smoked 1-2 packs per day for the past 24 years. She denied alcohol and drug abuse. She had been a New Jersey resident all her life. She was a maintenance person and worked as a plumber and electrician but did not report any significant exposures. She was not married and had no children. She denied foreign travel and history of sexually transmitted diseases. 
Her medications included levothyroxine 75 mg daily and sertraline 25 mg daily. She had no known drug allergies.
Physical Exam
On examination, she was afebrile, her blood pressure was 100/61, heart rate was 80, and she had an oxygen saturation of 98% on room air. She was in no distress. Lungs were clear to auscultation bilaterally without wheezes or rhonchi, no dullness to percussion and no pleural rub. Her cardiac, abdominal and extremities examination were unremarkable.
Lab
She had a normal complete blood count and basic metabolic panel. TSH was 1.4. ESR was 20. ANA, C-ANCA and anti GBM were negative. Rheumatoid Factor was normal, and alpha-1 antitrypsin level was normal. The sputum culture grew normal respiratory flora, fungal sputum culture had no growth, and three sputum samples were negative for acid fast bacilli. CT scan of the lungs is shown in Figure 1.
Figures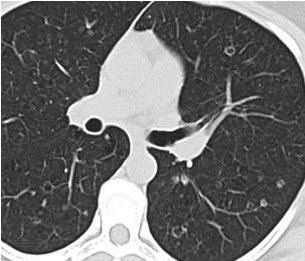 Figure 1: High-resolution CT scan of the lungs showed multiple sub-centimeter pulmonary nodules, most of which showed central cavitations, scattered throughout both lungs, largest measuring about 7 mm. There were also numerous blebs bilaterally in the upper lobes and superior segments of the lower lobes. No significant adenopathy was appreciated.
---
References
Vassallo R, Ryu JH, Colby TV, et al. Pulmonary Langerhans'-cell histiocytosis. N Engl J Med 2000; 342:1969-1978.
Attili AK, Kazerooni EA, Gross BH, et al. Smoking-related interstitial lung disease: radiologic-clinical-pathologic correlation. RadioGraphics 2008; 28:1383-1398.
Vassallo R, Ryu JH. Pulmonary Langerhans'cell histiocytosis. Clin Chest Med 2004; 25: 561-571.
Abbott GF, Rosado-de-Chritenson ML, Franks TF, et al. From the archives of the AFIP: Pulmonary Langerhans cell histiocytosis. RadioGraphics 2004; 24:821-841.
Kulwiec EL, Lynch DA, Aguayo SM, et al. Imaging of pulmonary histiocytosis X. Radiographics 1992; 12:515-526.
Vassallo R, Ryu JH. Tobacco smoke–related diffuse lung diseases. Semin Respir Crit Care Med 2008; 29:643-650.
Akira M. Imaging of occupational and environmental lung diseases. Clin Chest Med 2008; 29: 117-131.
Rusch VW. Lung metastasis. In: Abelloff M, Armitage J, Niederhuber J, Kastan M and McKenna W, editors. Clinical oncology, 4th ed. Philadelphia, PA: Churchill Livingstone Elsevier; 2008. p 873-884.
Tomashefski JF, Khiyami A, Kleinerman J. Neoplasms associated with pulmonary eosinophilic granuloma. Arch Pathol Lab Med 1991; 115:499-506.
Egeler RM, Neglia JP, Puccetti DM, et al. Association of Langerhans cell histiocytosis with malignant neoplasm. Cancer 1993; 71:865-873.
Vassallo R, Ryu JH, Schroeder DR, et al. Clinical outcomes of pulmonary Langerhans'-cell histiocytosis in adults. N Engl J Med 2002; 346: 484-490.
Auerswald U; Barth J; Magnussen H. Value of CD-1-positive cells in bronchoalveolar lavage fluid for the diagnosis of pulmonary histiocytosis X. Lung 1991;169:305-309.