ATS Review for the Pulmonary Boards
---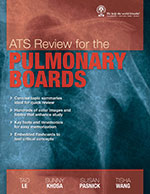 The ATS is pleased to offer the first edition of the ATS Review for the Pulmonary Boards for fellows-in-training and practicing physicians. The new ebook is a high-quality, in-depth, and conceptually driven study guide for the ABIM Pulmonary Disease Certification exam.
Chapters include:
Sleep Medicine and Neuromuscular/Skeletal Disorders
Critical Care
Obstructive Lung Disease
Diffuse Parenchymal Lung Disease
Quality, Safety, and Ethics
Epidemiology and Statistics
Anatomy and Physiology of the Respiratory System
Common Respiratory Symptoms, Pulmonary Imaging, and Procedures
Lung Transplantation
Pulmonary Vascular Diseases
Infections
Lung Neoplasms
Pleural Disease
The eBook is FREE for ATS members and $200 for nonmembers.
For free ATS member access:
Go to My Account.
Click "Login with my ATS Membership account".
Click the "Free for Members" tab on your account assets page.
Non-members:
Non-members can purchase the eBook on the ATS Store.
Visit our Membership page to become an ATS member.
Last reviewed: February 2015