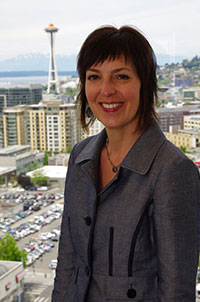 Assembly Chair
Lynn F. Reinke, PhD
Welcome to the Nursing Assembly website. The Nursing Assembly has more than 200 international members, with specialists in the 3 pillars of ATS: pulmonary, critical care and sleep and beyond including pediatrics, gerontology, allergy, home care, telehealth, health information technology, psychology, rehabilitation, education, occupational health and palliative and end-of-life care. We are researchers, clinicians, and educators who practice worldwide across a variety of settings brought together by our common interests of improving the respiratory health of patient, families and communities through research, practice, education and training, and advocacy.
The Nursing assembly adopted the following new mission and vision statement in May 2012 which serves as the foundation of our assembly's work.
The ATS Nursing Assembly is committed to fostering an international nursing network dedicated to building the scientific foundation for nursing practice that is translated and implemented to deliver patient-centered, interdisciplinary care for people affected by respiratory, critical care or sleep-related conditions across the lifespan and care settings.
The focus of our members' research and practice:
Preventing disease and disability related to respiratory, critical care and sleep-related conditions
Improving management of symptoms resulting from and associated with respiratory, critical care or sleep-related conditions
Enhancing end-of-life and palliative care.
Examples of areas of interests in health promotion and disease prevention include reducing the risks of respiratory disease associated with health disparities, tobacco use, and work-related exposures. Areas of interest related to the management of chronic respiratory disease includes disease self-management, symptom perceptions and experiences, and clustered co-morbidities. Areas of interest related to enhancing palliative and end-of-life care include end-of-life communication with providers and patients, improving health-related quality of life, and improving the dying experience.
Members of our assembly lead and serve on several projects on behalf of ATS. Some examples include: Palliative Management of Dyspnea Crisis, co-sponsored with BSA.  Virginia Carrieri-Kohlmanand Lynn Reinke serve as co-chairs. Updating the ATS Document Withdrawal of Ventilatory Support which also addresses ethical issues. Kathleen Lindell, University of Pittsburgh represents the Nursing Assembly.
The Nursing assembly has a strong emphasis on building inter-professional collaborations. Ann Schneidman co-chairs the Clinician's Advisory Committee (CAC). The CAC has an interprofessional working group charged to promote value for interdisciplinary members and enhance visibility of ATS non-physician members.
If anyone has interest in participating in committee work (please see link), please let us know. Involvement in ATS committee and projects serves as a learning experience and is fun. It also increases the visibility and talent of our members, leads to rewarding networking and future opportunities.
While many members of the assembly are nurses, membership is NOT restricted to those trained as nurses. Doctorally prepared (PhD or professional doctorate) members pay full dues. There is an ATS membership category available for members that are not doctorally prepared and is ideal for advanced practice nurses. This reduced fee provides all membership privileges except receipt of mailed journals. For nurses without a baccalaureate degree who have an interest in the activities of the Society, there is an affiliate membership category. However, affiliates are not permitted to vote or hold office.
We welcome all respiratory health professionals and researchers who share the interests of the Nursing Assembly. As an ATS member, you can choose the Nursing Assembly as your primary assembly, or as a secondary assembly. You can designate up to two secondary assemblies, and there is no additional cost for adding a secondary assembly.
The Executive Committee for the Nursing Assembly includes:
Nursing Executive Committee
Email
Assembly Chair
Lynn F. Reinke, PhD
Edmonds, WA
reinkl@u.washington.edu
Incoming Assembly Chair
DorAnne M. Donesky, PhD
Benicia, CA
doranne@sbcglobal.net
Program Chair
Cynthia French, RN, MS
Boylston, MA
frenchc@ummhc.org
Program Chair-Elect
Margaret L. Campbell, PhD, RN, FPCN
Detroit, MI
m.campbell@wayne.edu
Planning Chair
Linda Chlan, PhD, RN
Lakeville, MN
chlan001@umn.edu
Nominating Chair
Huong Q. Nguyen PhD,RN
Seattle, WA
huong.q2.nguyen@kp.org
Web Director
Catherine A. Vitari BSN,RN
Pittsburgh, PA
vitarica@upmc.edu
Assembly Liaison
Kathleen O. Lindell, PhD, RN
Pittsburgh, PA
lindellko@upmc.edu
Thank you for your interest in the Nursing Assembly. We look forward to an exciting future and encourage your participation. For more information about the Assembly contact us at nur@thoracic.org.