---
Welcome Message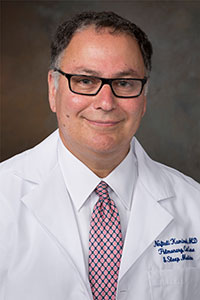 Assembly Chair
Naftali Kaminski, MD
Welcome to the website of the ATS Assembly on Respiratory Cell and Molecular Biology (RCMB).  The RCMB Assembly serves as the home of ATS members interested in research that helps advance our understanding of the biological basis of lung health and disease.  Here, physicians, scientists, educators, trainees, and healthcare advocates come together to promote research and research funding in many important fields.  These scientific areas include fibroblast and epithelial cell function, extracellular matrix biology and tissue remodeling, cell signaling, stem cell biology and cell-based therapies, regenerative medicine, and lung development and aging.  Genomics/proteomics, epigenetics and microRNAs, gene regulation and therapy, mucins, ions and channels, and surfactant biology are also a focus of our membership.
The RCMB membership is interested in elucidating the fundamental processes that regulate the function of lung cells through cell and molecular biology research with the intention of advancing discovery that will translate to the clinical arena to cure or, at the very least ameliorate, suffering due to lung disorders like pulmonary fibrosis, acute lung injury, chronic obstructive pulmonary disease, and lung cancer, among many others.
To accomplish the above, RCMB members engage in activities that advance our mission through the dissemination of novel information, the education and mentoring of trainees and junior faculty, and the promotion of research.  The dissemination of information occurs mainly through our website.  You can see our Website Committee at: http://www.thoracic.org/assemblies/rcmb/website-committee.php you can also read our newsletter at: http://www.thoracic.org/assemblies/rcmb/news/index.php.  However, our main efforts in this area are driven through our Program Committee, which is in charge of organizing post-graduate courses, symposia, poster sessions, and general lectures for the International Conference.
Our Planning Committee sets the long-term strategy of the Assembly through the development of specific projects.  In addition, it oversees the efforts of several working groups in Stem Cell and Cell-Based Therapies, Aging, and Pulmonary Fibrosis, as well as the Junior Professionals Working Group.  The RCMB Assembly also provides strong support for the Thoracic Oncology Section.
In addition to the above, the Nominating Committee is responsible for nominating candidates for key positions within our Assembly, and the Executive Committee provides leadership and overview of all Assembly functions.  These standing committees meet throughout the year to ensure that the Assembly remains active and that it adequately represents its members.
Our strength is in the diversity of our membership.  Therefore, we hope to continue to expand through the addition of both junior and senior scientists, trainees, and international researchers.  I look forward to hearing from you and seeing you in Philadelphia next year.
Sincerely,
Jesse Roman, MD
RCMB Assembly Chair
---
We are looking for RCMB Assembly members who are interested in becoming facilitators for Thematic Poster Sessions, Poster Discussion Sessions, and members of our program committee and special interest groups (pulmonary fibrosis, stem cells, lung aging, and career development). We wish to involve both junior and senior members and we need to know your area of expertise. Your participation is important to us.
Questions or Comments?
Please email us at the RCMB Assembly mailbox at: rcmb@thoracic.org