James Beck, MD
---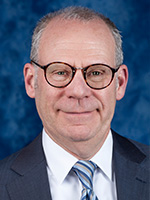 Biography, experience and qualifications
I am Chief of Medicine for the VA Eastern Colorado Health Care System, Professor of Medicine in the Division of Pulmonary Sciences and Critical Care at the University of Colorado, and Vice-Chair for Veterans Affairs in the University of Colorado's Department of Medicine. I received my undergraduate degree in psychology from Tufts University and am an AOA graduate of the University of Pennsylvania School of Medicine. After residency at the University of Pennsylvania, I completed fellowships in Pulmonary and Critical Care Medicine at the University of California, San Francisco. I joined the faculty at UCSF in 1990, and then moved to the University of Michigan in 1995. At Michigan, I served as the Associate Director of the Internal Medicine Residency Program. I was recruited to Colorado in 2012.
My research interests include HIV-related opportunistic infections and the emerging field of lung microbiome research. Most recently, I was a Principal Investigator for the NHLBI's Lung HIV Microbiome Project. My clinical achievements have been recognized by selection for Best Doctors in America annually since 1994. I have strong interests in resident and fellow education, and was elected to the University of Colorado's Academy of Medical Educators in 2014.
Vision for ATS
My vision for ATS is to continue our journey to become the international leader in respiratory disease, critical illness, and sleep disorders. We must be the membership organization of choice for clinicians, researchers, and educators, and we must focus on the interdisciplinary nature of our endeavors. We must continue to enroll and mentor the next generation of leaders in our field by demonstrating the value of membership.
Responses to key questions.
1.  What qualifies you to be ATS president?
I have held multiple leadership positions within ATS and so feel I can advocate for all constituencies within our Society. The ATS has been a major component of my professional identity since 1987; 2016 will be my 30th International Conference. My contributions to ATS have been acknowledged with Presidential Citations for educational innovation (2012) and for planning (2014). 
Multiple ATS leadership positions provide me with a detailed understanding of ATS. I understand the assembly structure well, having served as MTPI Assembly Chair. I have served as Chair of the International Conference and Education Committees. I am currently the Chair of the Planning and Evaluation Committee and serve on the Finance Committee. I have an excellent working knowledge of ATS governance through three terms on the Board of Directors. Most recently, I have been a co-leader of efforts to create a home for clinician-educators, assisting in the transition of our working group to the new Section on Medical Education. 
2.  What are your top three goals for the ATS and how would you implement them?
Understand who we are and what our members need
Our ability to anticipate opportunities and challenges is limited by lack of data. At the most recent Leadership Summit and Board of Directors meeting, multiple committees called for a comprehensive survey to understand who we are and what members need.  These data will assist us as we plan for the future.
Strengthen our research leadership and support
I am a strong supporter of the ATS Foundation and have contributed every year since its inception. We will need to continue to partner with other organizations to leverage our research funds. We still have many members who do not see value in supporting the foundation, and we need to redouble our efforts to demonstrate the benefits of contributing.
Continue to innovate in education
ATS provides outstanding educational programming and was far ahead of our peers in offering Maintenance of Certification activities. Our International Conference is successful and continues to grow stronger. However, there are constituencies within ATS who feel frustrated because it is so difficult to secure sessions at the conference.  For example, many of our members self-identify as clinician-educators. I would like to see an increase in sessions focused on clinician-educators at the International Conference.
3.  What would you identify as strengths of the ATS?
Our greatest strength is the dedicated group of ATS members who sustain the organization through the thousands of hours they donate. Second, the ATS staff's dedication to our mission is outstanding. Third, the ATS journals present the Society's face to the medical community. Fourth, our strong relationships with our Public Advisory Roundtable partners set us apart from other societies and help focus us on the patients we serve.
4.  What would you identify as weaknesses of the ATS?
I think that there are instances in which the ATS is not as nimble as it could be, internally and externally. This is improving because our staff works closely with assembly and committee leadership, as well as with the Executive Committee.  
5.  What do you see as present and future opportunities for the ATS?
ATS should lead in the development of education (professional, patient, and family) and Maintenance of Certification resources, and we have great opportunities to expand interprofessional education and training. We must increase our research commitment through the Foundation. We should continue to strengthen the International Conference, emphasizing that our meeting provides unmatched opportunities for networking and career development. We should increase our advocacy efforts and develop more effective member communications. 
6.  What are some of the threats you see to the ATS now and in the future?
A major threat is competition from other societies. Given limited amounts of time and funds available to members and conference attendees, ATS must build on its considerable strengths to compete effectively. However, there is also room for collaboration with other societies, if done in a way that benefits both organizations. 
7.  What role should ATS play as an international organization?
The ATS has many strong relationships with international societies. As Chair of the International Conference Committee, I participated in several ATS/ERS retreats that identified opportunities for collaboration, and we should continue to do so. ATS has established a strong international presence with our successful MECOR program, which we must do a better job promoting.   
8.  What should the ATS do for its membership?
We should invest more extensively in the next generation of ATS members, by expanding the assemblies' mentorship programs and providing more opportunities for junior members to acquire leadership skills. We also need to strengthen involvement and leadership opportunities for nurses, non-physician researchers, respiratory therapists, and other allied health professionals.
9.  How do you plan to advocate for membership needs?
We have a diverse membership, and each constituency has different needs. I believe the ATS has the ability to attract and retain members from all constituencies. Given the size of our International Conference, we should continue to find "neighborhoods" within the larger meeting where individuals with similar interests can interact.
10.  What personal leadership qualities would you bring to the role as an ATS officer?
I am a 2014 graduate of the VA's Health Care Leadership Development Program, an intensive executive training that taught me valuable leadership and management skills. I am a leader who values transparency and accountability, who rewards achievement, and who listens and collaborates well. I'm perceived as being calm under pressure (the combined result of being an ICU attending and leading a large department), being able to turn challenging interpersonal interactions into positive outcomes, and using humor to resolve conflict. 
11.  How do you envision making time for this new leadership role?
My candidacy comes with enthusiastic support from my superiors. If elected, I will serve in my university role and not as an official of the Department of Veterans Affairs. I've worked closely with many Executive Committee members during my terms on the Board of Directors and so have a solid understanding of the required time commitment.  I manage my time efficiently and have the energy, dedication, and enthusiasm to be an effective ATS leader.