ATS Mentoring Programs
---
Enrollment for the 2023 ATS Mentoring Program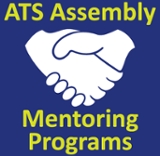 Benefits of ATS Mentorship
The ATS Assembly Mentoring Programs' mission is to engage ATS members in the Assemblies, connect early to mid-career professionals with senior members of their respective Assemblies, and create a supportive community for career development and networking.
This program is designed to foster mentoring connections through individualized attention and matches mentees with mentors based on their areas of interest (e.g., clinical practice, medical education, research, scholarship, work-life balance, networking within the Assembly, and more).  
ATS facilitates a one-time mentoring experience, participants can connect either in person at the ATS International Conference or virtually. Mentorship can extend beyond the initial meeting if the mentor and mentee choose, but this is not mandatory and is at the discretion of the mentor. 
Currently, all fourteen ATS Assemblies are offering mentoring programs including the Section on Medical Education (SoMe) and the Health Equality and Diversity Committee's underrepresented in medicine (URM). 
Click on the links below to view each Assembly's Mentoring Program's goals and expectations. If you are interested in a medical education mentoring match, apply through your primary Assembly*
 The deadline to sign up is Apr 17, 2023.
Guide to finding your 2023 mentee/mentor match
BENEFITS OF THE MENTORING PROGRAM AT THE ATS INTERNATIONAL CONFERENCE
This year at the ATS 2023 International Conference in Washington, DC we will once again offer a designated meeting space exclusively for mentors and mentees to connect in person. This space will be near the convention center, open from 7 am- 7 pm to meet at your convenience and refreshments will be provided throughout the day. 
Mentoring Program Meeting Space
Location: Renaissance DC  (Room: Redbud)
Dates: Sunday, May 21 and Monday, May 22 from 7 a.m. – 7 p.m.
---
Please note: Applicants can sign up for medical education mentoring through their primary Assembly and may be assigned to a mentoring match outside of their Assembly based on their medical education interest. As an active ATS member, you can sign up as a mentee and mentor on an annual basis. Both mentees and mentors must be ATS members to participate. If you did not sign up for an assembly, you can do so at any time by visiting the ATS website, clicking on the members tab then selecting "Update Your Profile". Changes will update in the ATS database in one hour. Mentees can only sign up for one assembly's mentoring program, whereas mentors can sign up for multiple assemblies. 
We look forward to your participation in the ATS Assembly Mentoring Programs! For more information contact Tanasia Peacock