Section on Genetics and Genomics
---


Distinct Cancer-Promoting Stromal Gene Expression Depending on Lung Function
Author: Christine Wendt, MD
Description: Chronic obstructive pulmonary disease is an independent risk factor for lung cancer, but the underlying molecular mechanisms are unknown. The hypothesis of this study is that lung stromal cells activate pathological gene expression programs that support oncogenesis. This was explored by conducting a multiomics analysis of nonmalignant lung tissue to quantify the transcriptome, translatome, and proteome. The authors identified the activation of two distinct stromal gene expression programs that promote cancer initiation; and determined that which one was activated was dependent on lung function. In subjects with normal to mildly impaired lung function, the mammalian target of rapamycin (mTOR) pathway served as an upstream driver, whereas in subjects with severe airflow obstruction, pathways downstream of pathological extracellular matrix emerged. This work has important implications both for screening strategies and for personalized approaches to cancer treatment.
---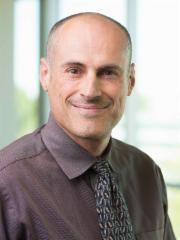 Section Chair
Anthony N. Gerber, MD, PhD
Chair: Anthony N. Gerber, MD, PhD Co-Chair: Victor Ortega, MD, PhD
Welcome to the website for the Section on Genetics and Genomics. The Section on Genetics and Genomics welcomes all ATS members who are interested in genetics, genomics, and other "omics" technologies (proteomics, metabolomics, etc.) as they pertain to the diverse array of diseases encountered in pulmonary, critical care, and sleep medicine. We encourage members of any ATS assembly to join our section. Although the Section on Genetics and Genomics resides within Allergy, Inflammation, and Immunology, our current members derive from multiple other assemblies.
Genetics and genomics are at the forefront of scientific research and medical practice in the 21st century. Although pulmonary diseases are diverse, 'Omics-based research studies have common themes, and interactions between researchers across topics can be very beneficial in informing research approaches that encompass cutting edge techniques. As detailed in our mission statement, in addition to providing a forum for the exchange of ideas among researchers in genetics and genomics, the section aims to increase knowledge and understanding of genetics and genomics across the broader pulmonary, critical care, and sleep communities. We also aim to encourage fellows and trainees to pursue research in these exciting fields. To accomplish these goals, our section's major emphases are on highlighting genetics and genomics research at the ATS International Conference and teaching genetics and genomics concepts through symposia, seminars, and post-graduate courses at the ATS International Conference