Nursing
---

---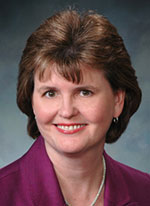 Assembly Chair
Eileen G. Collins, PhD
Welcome to the Nursing Assembly website. The Nursing Assembly has more than 200 international members, with specialists in the 3 pillars of ATS: pulmonary, critical care and sleep and beyond including pediatrics, gerontology, allergy, home care, telehealth, health information technology, psychology, rehabilitation, education, integrative therapies, occupational health and palliative and end-of-life care. We are researchers, clinicians, and educators who practice worldwide across a variety of settings brought together by our common interests of improving the pulmonary health of patient, families and communities through research, practice, education and training, and advocacy. We currently have active working groups focused on career development and membership, international collaboration, and supporting clinical research coordinators.
If you are interested in participating on a committee or working group, please contact one of the Executive Committee members with contact information listed below. Involvement in ATS committees and projects serves as a learning experience, increases the visibility and talent of our members, and leads to rewarding networking and future opportunities.
We welcome all respiratory health professionals and researchers who share the interests of the Nursing Assembly. While many members of the assembly are nurses, membership is NOT restricted to those trained as nurses. We welcome anyone who is interested in building interprofessional collaboration or shares our passion for excellence in research, teaching, and patient care across a wide variety of settings. Doctorally prepared (PhD or professional doctorate) members pay full dues. Advanced practice nurses and other members who are not doctorally prepared qualify for a reduced fee that provides all membership privileges except receipt of mailed journals. Nurses without a baccalaureate degree who have an interest in the activities of the Society are welcomed as affiliate members; affiliates are not permitted to vote or hold office. As an ATS member, you can choose the Nursing Assembly as your primary assembly, or as a secondary assembly. You can designate up to two secondary assemblies, and there is no additional cost for adding a secondary assembly.
The Executive Committee for the Nursing Assembly includes:
Assembly Chair

Eileen G. Collins, PhD

Mount Prospect, IL

Incoming Assembly Chair

Linda L. Chlan, PhD, RN

Lakeville, MN

Program Chair

Judith Tate, PhD, RN

Columbus, OH

Program Chair-Elect

Jill Guttormson, PhD

Wauwatosa, WI

Program Advisory Committee

Margaret Ann Carno, PhD, MBA, RN, CPNP

Rochester, NY

Huong Q. Nguyen, PhD, RN

Pasadena, CA

Planning Chair

Paula M. Meek, PhD, RN, BC

Denver, CO

Nominating Chair

DorAnne M. Donesky, PhD

San Francisco, CA

Web Director

Nina Bracken, MSN, ACNP-BC

Chicago, IL

Early Career Professionals Working Group

Lea Ann Matura, PhD, RN

Philadelphia, PA

Integrative Therapies Working Group

Tania T. Von Visger, APRN, CCRN, MSN, PCCN

Columbus OH

Ni-Cheng Liang, MD
San Diego, CA
nliang@ucsd.edu

Global Nursing Working Group

Rebecca Disler, MSc, BSc, BN, RN

Melbourne, Australia

 Zijing Chen, BSN
Seattle, WA
zijingc@uw.edu
Thank you for your interest in the Nursing Assembly. We look forward to an exciting future and encourage your participation. For more information about the Assembly contact us at nur@thoracic.org.
Last Reviewed: May 2018