Clinical Problems (CP)
---

Featured
Meta/ATS
The American Thoracic Society and Meta are pleased to bring you the latest published articles in allergy, immunology, & inflammation. The Meta/ATS Clinical Problems page is updated in real-time to show the top 20 new and impactful papers in allergy, asthma, genetics, and the pathogenesis of lung diseases. You can access it anytime - no registration or log-in required.
---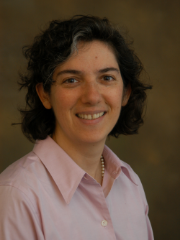 Assembly Chair
Sonye Danoff MD, Ph.D
We want to welcome you to the ATS Assembly on Clinical Problems website. We are a diverse group of adult pulmonologists, surgeons, and other allied health care professionals involved in the care and research of the patients with a diverse array of underlying pulmonary diseases. The primary goal of the Assembly is to improve the care of pulmonary patients through research, education, and the dissemination of cutting edge information to clinicians and researchers.
The Assembly has Four Standing Committees:
The Planning Committee is responsible for developing the long-term strategy of the Clinical Problems Assembly. It is the place where members can have input into future projects and activities. The Chair of the Planning Committee is Georg R.Washko, Jr, MD.
The Program Committee is responsible for organizing the Clinical Problems Assembly Program of the International Conference. Clinical topics, clinical workshops, evening and pre-conference postgraduate sessions, and the review and organization of presentation of close to 1,000 abstracts are the major activities of this Committee. The Chair of this Committee is Jennifer L. Taylor-Cousar, MD, MSc, ATSF.
The Nominating Committee is responsible for nominating candidates for Chairs of the International Program Committee and the Clinical Problems Assembly. The Chair of this Committee is MeiLan k. Han, MD, MS.
The Executive Committee provides oversight for all Clinical Problems Assembly functions. It convenes monthly to discuss Assembly issues and to foster the development and integration of all Assembly activities. The Chair of the committee is Sonye Danoff, MD, Ph.D.
Our Assembly welcomes and actively supports new fellows, clinicians, researchers, and other health care professionals who are interested in the clinical care and research of pulmonary diseases.
Thank you for our interest in the Clinical Problems Assembly. Your input and feedback are always welcome. You may contact us at cp@thoracic.org with your thoughts and suggestions on how to improve the assembly. Please follow us on Twitter at https://twitter.com/ATSCPAssembly. We look forward to hearing from you and welcoming you to our annual Assembly meeting.