Respiratory Cell & Molecular Biology
---

Interested in joining the RCMB Assembly?
Send an email to membership@thoracic.org to join.
---
Welcome Message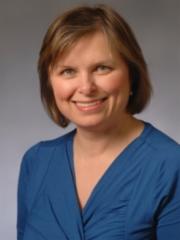 Assembly Chair

Irina Petrache, MD
Welcome to the website of the ATS Assembly on Respiratory Cell and Molecular Biology (RCMB).  Historically, the introduction of Cell and Molecular Biology to respiratory research marked the dawn of modern pulmonary science and medicine and revolutionized our understanding of lung biology in health and disease.  Over the years, RCMB has evolved to be the home for translational lung biology research at the ATS.  A home for MD and PhD researchers as well as trainees, RCMB provides a unique forum for basic and translational researchers focusing both on cutting edge, high impact research and on the creation of a community of peers. The research interests and topics of interest to most RCMB members include fibroblast and epithelial cell biology and function, extracellular matrix biology and tissue remodeling, cell signaling, stem cell biology and cell-based therapies, regenerative medicine, and lung development and aging.  Systems biology, genomics, transcriptomics, metabolomics, epigenetics and microRNAs, gene regulation and novel technologies and research approaches are also within the research fields covered by RCMB members. In most cases, this research is relevant to diseases such as pulmonary fibrosis, acute lung injury, chronic obstructive pulmonary disease, and lung cancer, among many others.
As part of the Assembly structure of the ATS, the RCMB Assembly serves as a hub for the intellectual and social interactions that enhance the respiratory science community and further the mission of both the ATS and the RCMB Assembly. RCMB members engage in activities that advance our mission through the dissemination of novel information, the education and mentoring of trainees and junior faculty, and the promotion of research.  The majority of the activities are channeled through our member driven committees: 
RCMB Program Committee –The Program Committee is the member driven committee in charge of programing RCMB-related activities in the annual ATS International Conference. Members review, score, and organize post-graduate courses, symposia, thematic and poster discussion sessions, and general lectures for the International Conference. The chair is elected by RCMB membership, and program committee members are expected to serve for three years. A third of members are replaced every year. The selection process takes into account the scientific expertise needed for the review.
RCMB Planning Committee –This committee sets the long-term strategy of the Assembly through the development of specific projects.  In addition, it oversees the efforts of our working groups in Stem Cell, Aging, and Pulmonary Fibrosis, as well as the Junior Professionals Working Group.  Since the success of trainees and junior investigators is critical to our mission, we consider the Junior Professionals Working Group key to improving our understanding of challenges facing junior professionals at the ATS. This working group helps design programs and plans that specifically address these challenges including, most recently, our unique RCMB mentoring program.
In addition to the Programming and Planning Committee, the Nominating Committee is responsible for nominating candidates for key positions within our Assembly. The Executive Committee provides leadership and overview of all Assembly functions and also has the important task of selecting the recipients of the RCMB awards. The Website Committee is responsible for the website content and the RCMB newsletter.  These standing committees meet throughout the year to carry out the functions of RCMB and ensure that it adequately represents its members.
Traditionally, the strength of RCMB has been based on its diverse membership with its strong interests in cutting edge, high impact, and innovative respiratory science, as well as our welcoming culture of openness and support.  We welcome the involvement of junior and senior scientists and physicians, trainees, and international researchers. The rosters of our committees, as well as leadership, reflect that. I would like to extend an invitation to all of you to join us and participate in our activities. I look forward to hearing from you and seeing you at the conference.
---
We are looking for RCMB Assembly members who are interested in becoming facilitators for Thematic Poster Sessions and Poster Discussion Sessions. We are also looking for members to join our program committee and special interest groups (pulmonary fibrosis, stem cells, lung aging, and career development). We wish to involve both junior and senior members, so please let us know your area of expertise. Your participation is important to us. Let us know if you would like to get involved!
Questions or Comments?
Please email us at the RCMB Assembly mailbox at: rcmb@thoracic.org
Last Reviewed: April 2018