Sleep and Respiratory Neurobiology (SRN)
---

---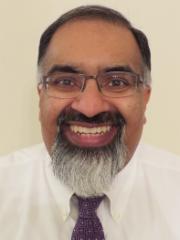 Assembly Chair
Sanjay Patel, MD
Welcome to the website of the Assembly on Sleep and Respiratory Neurobiology (SRN). Our Assembly focuses on clinical and research questions associated with sleep, sleep-disordered breathing, respiratory sensation, control of breathing, physiologic interactions during sleep, and the pathophysiologic effects of sleep-related exposures including hypoxia, hypercapnia, and sleep disruption.We aim to translate this knowledge into the prevention, diagnosis, and treatment of patients with sleep-related and in particular, sleep-related breathing disorders.
SRN has a diversity of members from both adult and pediatric spheres, including clinicians, researchers and educators. We also have a large and active international membership, that provides unique research and clinical perspectives from around the globe.
The ATS leadership is committed to sleep and actively supports our activities to make sleep one of the three pillars of the society.
Overview of the Assembly
The SRN Assembly has five standing committees: click here to learn more about the structure of the assembly. Several important activities of our assembly include:
Monthly Sleep Fragments feature on our website where you can check your sleep study acumen
A Journal club scheduled every other month where high impact and important publications in the field of sleep medicine are presented and discussed by the authors and leaders in the field.
Podcasts which feature short discussions with sleep experts on topics of interests to our membership. 
The development of ATS documents related to sleep including Policy Statements, Research Statements, Workshop Reports, and Clinical Practice Guidelines.
Educational materials related to sleep for patients as well as trainees such as pulmonary and sleep fellows.
Connecting junior clinicians and scientists with a more senior member of the Assembly to serve as a remote mentor.
Programmatic content for the annual ATS International Conference related to sleep.


We actively welcome the involvement of our trainees, new fellows and young investigators who are the future of our research and clinical sleep community. We encourage all young investigators to apply for:
The James B. Skatrud New Investigator Award, awarded each year to the new investigator whose career accomplishments to date show future promise of continued excellence in advancing the field.
An annual Sleep Fragment award, awarded each year to an early career member whose Sleep Fragment contribution was judged to be of the highest quality.
A number of travel awards offered each year to the International Conference.
Interested in joining the SRN Assembly?
Click here and update your member record today
Do you have any Comments, Ideas, Suggestions or Questions for the SRN?
Please contact us at srn@thoracic.org. We look forward to hearing from you and welcoming you at our Assembly Meeting.
How to Make an Assembly Donation for the ATS SRN Assembly
Assembly Donations
Donations can be made to your assembly by clicking here.
Last Reviewed: February 2019