Assembly on Sleep and Respiratory Neurobiology James B. Skatrud New Investigator Award
---
Meet the 2021 Winner:
Anna Michelle May, MD, MS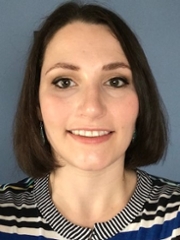 Dr. May is a pulmonary, critical care, and sleep medicine physician and researcher in the VA Northeast Ohio Healthcare System and Assistant Professor at Case Western Reserve University. She graduated with a Bachelor of Science in Chemistry and Biology from the University of North Carolina at Chapel Hill and earned a medical degree from the Ohio State University College of Medicine. After an internal medicine residency at MetroHealth Medical Center, Dr. May completed two clinical fellowships at University Hospitals Cleveland Medical Center: Pulmonary & Critical Care Medicine and Sleep Medicine. She completed a research fellowship during which she earned a Master of Science in Clinical Research. Dr. May is supported by a Clinical Research and Development VA Career Development Award. She was previously supported by the ATS ASPIRE fellowship, a University Hospitals Data Analytics and Informatics Pilot Grant and Louis Stokes Cleveland VA Medical Center Research and Education Foundation award. Dr. May's research focuses on patient-centered solutions to optimizing obstructive sleep apnea care. Recent projects explored differential adherence patterns based on sex and race. Current projects focus on evaluating consequences, predicting, and improving suboptimal positive airway pressure (PAP) therapy adherence with particular focus on use of breathing patterning and a broad range of electronic medical record data. Dr. May is extremely honored and most grateful to receive the 2022 James B. Skatrud Award and thankful for having phenomenal mentors, an encouraging family, and  supportive colleagues.
---
Description:
The award is intended to recognize the career accomplishments to date and future promise of a new investigator working in the broad area of respiratory neurobiology and sleep, which includes control of breathing, sleep mechanisms, and sleep-disordered breathing. This may include work at the basic, clinical, epidemiological, or other levels.
This award recognizes a new investigator who is beyond formal training, but not yet fully established. It is not intended for well-established investigators. It is also not intended as recognition for a single project, but rather for overall accomplishments and future potential. There are no citizenship requirements for this award.  The awardee will be expected to make a short presentation about their research at the SRN Assembly Membership Meeting. The awardee will receive a check and a framed certificate.
Criteria:
Nominees cannot be at a rank higher than Assistant Professor (or equivalent).
Ph.D. or other non-physician scientists should be no more than seven years beyond the completion of their doctoral or terminal research degree at the time of application.
Physician-scientists (M.D.) should be no more than seven years beyond clinical training (residency, fellowship) at the time of application
Exceptions may be made for Nominees who have taken significant time away from their academic career; however, this must be pre-emptively discussed with the Planning Committee Chair.
Nominees should have more than one first-authored paper that is considered to advance the science of respiratory neurobiology or sleep.
Nominee and Nominator(s) must be ATS members.
Nominee must be able to attend the ATS International Conference.
Nomination of international candidates or those from underrepresented minority groups is encouraged. Details may be provided in the nomination letter and/or the candidate's statement.
Application Submission Documents:
A summary of the candidate's accomplishments in the attached bio-sketch format.
A statement by the candidate of his/her career goals and the potential of his/her research to advance the field of sleep and respiratory neurobiology (maximum 1 page). Candidates are encouraged to explicitly describe their achievements in terms of the scoring criteria (e.g., total grant funding, publications, SRN/ATS participation or leadership).
Nominating letter by a mentor (or mentors), which directly addresses the scoring criteria and academic potential
Scoring Rubric:
(The online application scoring platform uses 1 (lowest) to 5 (highest). 
0.2 (Grant Funding)
0.1 (Publications - total (quality & quantity))
0.3 (Publications - original research – first, senior or corresponding author)
0.1 (Nomination Letter(s))
0.1 (Personal Statement)
0.1 ((Participation in SRN and ATS)
0.1 Leadership Potential
---