ATS PR Assembly Reimbursement
---
Goals:
Address reimbursement gaps and inequities.
Improve opportunities for PR payment, awareness, and access.
What's New?
Newly updated Pulmonary Rehabilitation Reimbursement Toolkit & Resources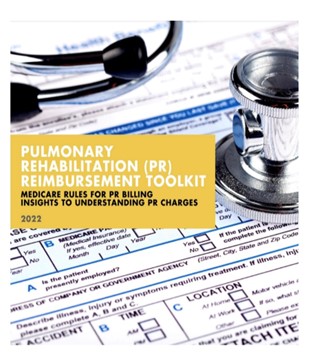 PR is reimbursed at <50% of cardiac rehabilitation despite established effectiveness in patients with significant symptom burden, multi-morbidity, and higher risk of frailty and hypoxemia. Low payment is at least in part due to hospital charges that don't represent the complexity of comprehensive PR and its patients. The charge for comprehensive PR should include all direct and indirect PR costs in the PR session.
Medicare uses claims data to set PR payment rates based on information submitted by hospitals for PR CPT codes 94625 & 94626(31-90 minutes per unit).
94625 (PR; without continuous oximetry) & 94626 (PR with continuous oximetry)
Diagnoses: (1) GOLD COPD stage 2-4 and (2) confirmed or suspected COVID–19 + persistent symptoms + respiratory dysfunction for > 4 weeks ).
The amount charged by hospitals can be confusing, e.g., hospitals often charge 4-7 times the payment rate for most services e.g., PFT, EKG, etc.
| Service | Procedure Code (per unit)* | Payment |
| --- | --- | --- |
| Pulmonary Rehabilitation | 94625,* 94626* | $56.85 |
| Cardiac Rehabilitation | 93797, 93798 | $118.55 |
*31-90 minutes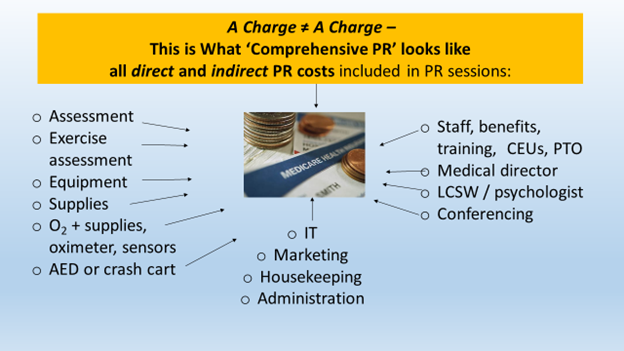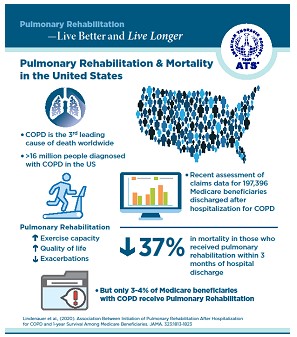 ADDITIONAL UPDATES
National social media campaign including infographic and social media blitz; " Live better and  live longer" in collaboration with:
Numerus professional and patient organizations
Resources
ATS Quarterly Bites
COPD SOS : Public Service Announcement Campaign by the Dorney-Koppel Foundation
Raise awareness of COPD, targeting undiagnosed who are unaware that they have COPD  and are at increased risk of serious outcomes from COVID-19
The need for appropriate screening and accurate diagnoses of persons at risk.
Effective COPD treatment including PR.
Equitable funding for COPD research.
Videos are available for social media use and other platforms.
Please support this vital initiative
Send the copdsos.org link to contacts – ask for their support!
Share on your social media page!
PR Program Directory – *newly updated
ATS and other PR resources
Awareness tools
Infographics
Partnership with ATS/Gawlicki Foundation
Legislative Activities and Updates
AACVPR is collaborating with partner professionals to improve access to PR as well as cardiac and intensive cardiac rehabilitation (PR/CR/ICR) services for Medicare beneficiaries. . 
MESSAGE:  Two Bills Together = Powerful Progress for Programs & Patients!
H.R. 3348: SOS: Sustaining Outpatient Services Act  will allow hospital outpatient PR/CR to receive the hospital reimbursement rate, no matter where the program is located – on or off campus. This bill would end the current 40% payment reduction if a program relocated to a new or different off-campus location.
H.R. 1956: Increasing Access to Quality Cardiac Rehabilitation Act of 2021 . Despite its name, this bill applies to PR as well as CR. . The will allow non-physician practitioners (NPPs) to independently order and supervise PR/CR/ICR services. This will increase access for PR and CR patients, particularly in rural areas, by expanding who can order and supervise PR and CR. This change is currently scheduled to occur in 2024. Passage of this bill will move the effective date to 2022.
HELP MAKE THESE BILLS HAPPEN –  TAKE ACTION HERE
Click on the link above and then  Send a Letter…and then follow the prompts!
Thank You! You have helped your profession, your program, and your patients.
The ATS PR Reimbursement Working Group encourages U.S. PR programs to have one or more members join  AACVPR  to get timely Medicare payment and regulatory updates.
ATS PR Working Group Members 
Chris Garvey – ATS, AACVPR
Trina Limberg – ATS, AACVPR, AARC
Brian Carlin – ATS, AACVPR, AARC, ACCP
Karen Lui – AACVPR
Rich Casaburi – ATS
Katy Menson – ATS
Judy Corn – ATS
Mike Nelson – ATS, ACCP
Rebecca Crouch – ATS, AACVPR, APTA
Miriam O'Day – AARC
Grace Anne Dorney Koppel – Dorney Koppel Foundation
Phil Porte
Gary Ewart – ATS
Carly Rochester – ATS
Mary Gawlicki – ATS, Gawlicki foundation
John Studdard – ACCP, AACVPR
Aimee Kizziar – AACVPR
 
*The Working Group thanks Alex Jenkins, Enya Daynes and Francois Abi Fadel for their expert help!