Assembly on Allergy, Immunology & Inflammation International Early Career Achievement Award
---
2021 Winner - Niki DJ Ubags, PhD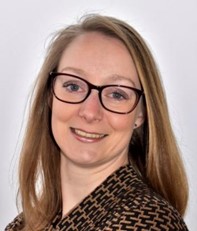 Dr. Ubags (Senior Scientist, Division of Pulmonary Medicine, Centre Hospitalier Universitaire Vaudois, Lausanne, CH) completed her PhD in a collaboration between Maastricht University (NL) and the University of Vermont (US) studying the effects of obesity and metabolic syndrome on pulmonary host defense. Following this, she pursued postdoctoral studies first in Maastricht on the effects of obesity on pulmonary epithelial barrier function and its role in the impairment of the pulmonary host defense, and then at University Hospital of Lausanne (CH) where she investigated the effects of host-microbe interactions in early life respiratory health and disease, with resulting publications in Mucosal Immunol, JACI, and Immunity. During this time, she received multiple awards from both the ATS and ERS, as well as a Kootstra Talent fellowship (NL), and funding from the Fondation Placide Nicod (CH) and Swiss Lung League (CH) to support her studies. In 2020, she became head of research in the division of respiratory medicine at the University Hospital Lausanne. Her independent research program is inspired by both her graduate and postdoctoral studies, in which she combines her knowledge on obesity-associated effects on immune function and microbiome-mediated early life immune maturation, to decipher the effects of early life exposures on immune cell seeding and susceptibility to respiratory disease development in infants and adulthood.
---
Description:
This award recognizes a junior faculty (see below) with their primary appointment outside of the United States or Canada with exemplary achievements in a scientific area of interest to the Assembly, and who demonstrates clear promise for a future of sustained productivity.  There is a single award given out per year in which the awardee will receive a framed certificate and make a 5-minute presentation of their work at the Assembly Membership Meeting. There is no monetary award for this recognition.
Qualifications:
The bulk of the awardee's research should have been performed outside the United States or Canada.
The awardee must be a Primary or Secondary AII member.
The awardee must be an Instructor level or Assistant Professor level (or equivalent) at the time of nomination.
Limited to nominees that are ≤ 10 years from terminal doctoral degree (PhDs) or completion of medical fellowship training (MDs or MD/PhDs).  Individual waivers of time rule will require a written statement as to the reason for waiver and will be considered on a case by case basis.
Previous awardees are not eligible for the same award.
Nominations:
Nominations will come from AII Primary or Secondary Assembly members.
Submit a completed nomination form summarizing what the nominee has contributed to impact their field thus far and why you believe they demonstrate clear promise for ongoing productivity/achievement.
Upload the nominee's NIH Biosketch or equivalent research CV, limit 5 pages – please make sure that this reflects all of the activities noted on the nomination form.
---
Past Recipients of the Assembly on Allergy, Immunology & Inflammation International Early Career Achievement Award:
2020 - Dong Keon Yon, MD
2019 - Kimberly Wang, PhD
2018 - Serge Grazioli, MD
2017 - Bamidele Olaiya Adeniyi, MBChB