Assembly on Allergy, Immunology & Inflammation Scientific Accomplishment Award
---
Meet the 2022 Winner:

Fernando Holguin, MD, MPH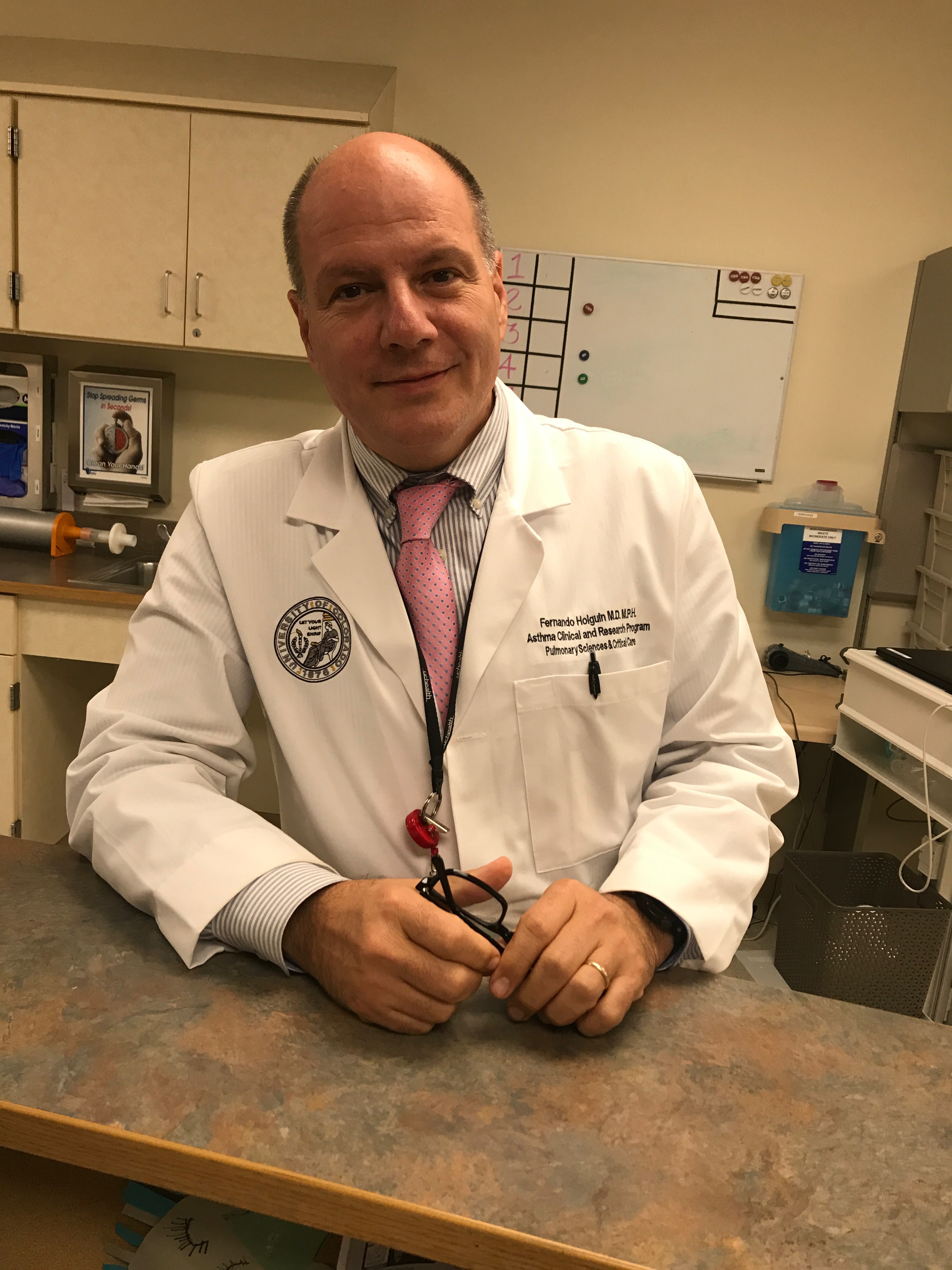 Dr Holguin is from Mexico City where he went to medical school at La Salle University. He subsequently continued his postgraduate education at Emory University in Atlanta Ga. There, he completed Internal Medicine, chief resident in medicine and pulmonary and critical care fellowship.  He then returned to Mexico where he joined the National Institute of Public Health and developed research programs on the effects of air pollution in respiratory and cardiovascular health.  Dr Holguin was recruited back to Emory University as assistant professor and also joined the Centers for Disease and Prevention as a medical epidemiologist.  During his tenure as an Emory Faculty, Dr Holguin directed the Grady Hospital Asthma Clinic and obtained his master's in public health in epidemiology.  He continued his academic career as associate professor at the University of Pittsburgh, where he co-directed the Asthma Institute, directed the Clinical and Translational Research Center at Montefiore Hospital of UPMC, and funded the Pulmonary Translational Research Core.  Dr Holguin currently directs the Asthma Program at the Centers for Lungs and Breathing of the University of Colorado and the Pulmonary Translational Research Core.  He has won several teaching and research awards and has been funded by the CDC, EPA and the NIH among others. Has authored or co-authored numerous papers and is internationally known for his work in asthma and COPD; currently serves as the co-chair of the 2020 American Thoracic Society and European Respiratory Society Severe Asthma Guidelines
---
Description:
This award is intended for an established, internationally recognized investigator with a record of sustained exemplary achievement in the scientific areas of the Assembly. There is a single award given per year where the awardee will receive a framed certificate and make a 5-minute presentation of their work to the AII Assembly at the annual Assembly Membership Meeting. There is no monetary award given for this recognition.
Qualifications:
The awardee must be a Primary or Secondary AII member.
The nominee does not necessarily need to be an academic; investigators from industry or other settings are also eligible.
Previous awardees are not eligible for the same award.
Nominations:
Nominations will come from AII Primary or Secondary Assembly members.
Submit a completed nomination form summarizing how the nominee has impacted their field or advanced scientific discovery. Include examples (from manuscripts, quality improvement initiatives, etc.) that support why the nominee merits this honor.
Upload the nominee's NIH Biosketch or equivalent research CV,  limit 5 pages – please make sure that this reflects all of the activities noted on the nomination form.

---
2021 - Joseph Mizgerd, PhD
2020 - Sally Wenzel, MD, ATSF
2019 - Jeffrey L. Curtis, MD
2018 - Mitchell Olman, MD, MA
2017 - Serpil C. Erzurum, MD
2016 - Marc Peters-Golden, MD
2015 – John V. Fahy, MD
2014 - Jeffrey M. Drazen, MD