Assembly on Critical Care International Early Career Achievement Award
---
2021 Winner - Joanne McPeake, 
PhD, MSc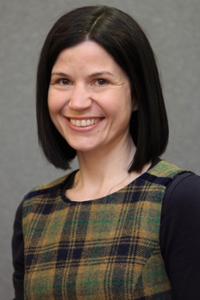 Dr. Joanne McPeake is a Nurse Consultant in Clinical Research and Innovation in NHS Greater Glasgow and Clyde, and an Honorary Senior Clinical Lecturer at the University of Glasgow.  Her research interests include long term outcomes following critical illness, with a specific focus on socio-economic reintegration following hospital discharge.  Joanne is involved in a number of national and international organisations including the Scottish Intensive Care Society and is one of the founding members of the Critical and Acute Illness Recovery Organisation (CAIRO), an international group formed to support patient outcomes following critical illness.  Her work draws on multiple methodological tools including mixed methods research and implementation science.  Joanne is Co-Lead for the Intensive Care Syndrome: Promoting Independence and Return to Employment (InS:PIRE) project in Scotland.
---
Description:
This award recognizes a junior faculty with their primary appointment outside of the United States or Canada with exemplary achievements in a scientific area of interest to the Assembly and who demonstrates clear promise for a future of sustained productivity. There is a single award given out per year where the awardee will receive a framed certificate at the annual CC Assembly Membership Meeting. There is a small monetary award for this recognition (note: this will not cover expenses of travel to the meeting). 
Criteria:
The bulk of the awardee's research should have been performed outside the United States or Canada.
The awardee must be a Primary Critical Care member.
The awardee must be an Instructor level or Assistant Professor level (or equivalent) at the time of nomination
Limited to nominees that are ≤ 10 years from terminal doctoral degree (PhDs or equivalent) or 12 years from completion of medical residency training (MDs or MD/PhDs or equivalents).  Individual waivers of time rule will require a written statement as to the reason for the waiver, and will be considered on a case by case basis.
Nominations must come from CC Assembly members
Submit a one-page essay summarizing what the nominee has contributed to impact their field thus far and why you believe they demonstrate clear promise for ongoing productivity/achievement.
Attach the awardee's NIH Bio-sketch (or equivalent research CV), limit 4 pages.
Previous awardees are not eligible for the same award.
---
Past Recipients of the Assembly on Critical Care International Early Career Achievement Award:
2020 - Fernando Zampieri, MD, PhD
2019 - No Award Given
2018 - No Award Given
2017 - Theogene Twagirumugabe, MD, MMed, FCCM