Alison Clay Early Career Educator Award
---
Meet the 2022 Winner: Stacey M. Kassutto, MD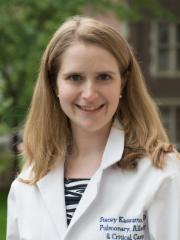 Stacey Kassutto, MD is the Undergraduate Medical Education Director of Simulation and Technology and Assistant Professor of Clinical Medicine in Pulmonary, Allergy and Critical Care Medicine at the Perelman School of Medicine at the University of Pennsylvania. Dr. Kassutto graduated summa cum laude with degrees in Chemistry and Music Performance from Franklin & Marshall College. She then received her medical degree from the Perelman School of Medicine and went on to complete her Internal Medicine residency and Pulmonary & Critical Care fellowship at Penn.
Since her appointment to the faculty at Penn in 2016, she has served in numerous educational leadership roles including Associate Director of the Medical Education Leadership Track, Director of Simulation Education for the Internal Medicine Residency, Associate Program Director for Ambulatory Education for the Pulmonary & Critical Care Fellowship, and Course Director for the Transition to Internal Medicine Internship course. She also serves as the Co-Director for the Measey Learning in a Virtual Environment Curriculum. As a result of her excellence in teaching and educational scholarship she was awarded the Association of Pulmonary and Critical Care Medicine Program Directors (APCCMPD) Emerging Educator Award in 2021. She also received the APCCMPD, CHEST and American Thoracic Society's Medical Education Research Award and the Darlene Buczak Award for Educational Excellence. She has published several original medical education research publications relating to curriculum development and use of novel technologies in education. Nationally she holds leadership positions as part of the ATS Section of Medical Education Executive Board, for which she is also the chair for medical education programming at the ATS International Conference for 2022. Dr. Kassutto also serves on the NBME's USMLE Step 3 Computer-Based Case Simulations Test Material Development Committee.
---
Description:
The Section on Medical Education is pleased to sponsor the Alison Clay Early Career Educator Award. Learn more about Alison Clay. This award will be awarded to an individual who has made significant contributions to education in pulmonary, critical care and/or sleep medicine and has demonstrated the potential for future success as an educator. We welcome nominations of physician-, nursing-, or basic science educators. Awardees will be presented with a framed certificate at the Section of Medical Education membership meeting at the ATS International Conference.
Eligibility:
The nominee must be a member of the ATS and the Section on Medical Education.
They must be an Instructor or Assistant Professor (or equivalent rank) at the time of nomination.
Consideration will typically be limited to nominees who are ≤ 7 years from completion of fellowship training, except under extenuating circumstances that should be explained in the nominating or a separate letter.
The nominee must spend a significant portion of their time participating in peer and/or trainee education, be recognized by her/his learners and colleagues as an outstanding teacher and be in the midst of building a career as an educator.  
Contributions to the Section on Medical Education in the form of Committee or Working Group Participation or leadership, and/or otherwise advancing the SoME's mission will be viewed favorably.
Self-nominations will not be considered for this award.
Nomination Packet:
A nomination letter from a member of the Section on Medical Education (3-page maximum) should address:

Excellence in teaching
Excellence in mentoring
Scholarly contributions in medical education
Educational innovation
Educational Leadership
Participation in the ATS and the Section of Medical Education

Curriculum Vitae for the nominee
---
2021 - Diana Kelm, MD
2020 - Lekshmi Santhosh, MD, Med
2019 - Margaret Hayes, MD