SGG Early Career Investigator Achievement Award
---
Meet the 2022 Winner: Rachel Kelly MPH, PhD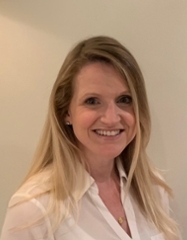 Dr Rachel Kelly is an Assistant Professor of Medicine and Associate Epidemiologist at the Channing Division of Network Medicine (CDNM) at Brigham and Women's Hospital and Harvard Medical School. Her primary research involves integrative-metabolomics in the study of the pathogenesis of respiratory phenotypes. Dr. Kelly has repeatedly been at the forefront of applying novel statistical methods to metabolomic data and has a particular interest in the derivation of multi-omic asthma endotypes. Dr Kelly has demonstrated success and productivity, with multiple funded respiratory-omics grants, 95 manuscripts, 25 invited talks and ten research awards. 
Dr. Kelly is passionate about the dissemination of respiratory-omic research; she has developed metabolomics courses and workshops at the Longwood Medical Area and for societies including the ATS. She is a dedicated mentor to several postdoctoral fellows and students and is on the committee for two PhD candidates, all of whom are working on respiratory-omic analyses. She also plays an active role in several committees and consortiums, including co-lead of the COMETS (https://epi.grants.cancer.gov/comets/) lung working group, which is conducting the largest ever meta-analysis of metabolomics data for thoracic outcomes. Dr Kelly has a deep knowledge of the ATS SGG executive committee having served for 6 years. She was responsible for the introduction of the LinkedIn page, and manages the Facebook, DocMatter and Publication Spotlight pages, keeping the membership up to date on the latest research from the Section and beyond. Last year Dr. Kelly served on the nominating committee of the Section. 
---
Description:
The award recognizes early career investigators with outstanding contributions to the scientific understanding of genetics, genomics, "omics" technologies, and systems biology applications in the fields of respiratory, critical care, and sleep medicine. The Awardee will feature such scientific contributions in a 5-minute presentation at the Section on Genetics and Genomics (SGG) Annual Meeting during the American Thoracic Scientific (ATS) International Conference. There is no monetary award for this recognition.
Eligibility:
Nominees must be members of SGG.
Nominees must be within 10 years of their first faculty appointment (or equivalent). An additional written justification is needed to request a waiver of this criterion and will be reviewed on a case-by-case basis.
Nominees cannot have previously received another ATS Early Career Award.
Active participation and contributions to the SGG and the ATS will be viewed favorably.
There are no nationality restrictions for this award.