The Robert B. Mellins, M.D. Outstanding Achievement Award
---
Meet the 2022 Winner: 

Christian Rosas-Salazar, MD, MPH, ATSF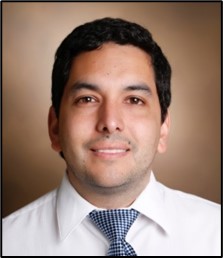 Christian Rosas-Salazar, MD, MPH, is an Assistant Professor of Pediatrics in the Division of Pediatric Allergy, Immunology, and Pulmonary Medicine and a clinical translational investigator at the Center for Asthma Research at Vanderbilt University Medical Center. He also co-directs the Specialized Program for Asthma Care in Kids, a multidisciplinary program that provides personalized care to children with severe asthma, at Monroe Carell Jr. Children's Hospital at Vanderbilt. Dr. Rosas-Salazar received his medical degree from the Universidad Autonoma de Guadalajara. He then completed a pediatric residency at Children's Hospital of Michigan and a pediatric pulmonary fellowship at Children's Hospital of Pittsburgh of UPMC. He is also a graduate of the Master of Public Health Program and the Career Education and Enhancement of Health Care Research Diversity Program of the University of Pittsburgh.
Dr. Rosas-Salazar is deeply committed to identifying and better understanding pre- and postnatal  risk factors for the development of childhood respiratory diseases with the ultimate goal of designing primary prevention strategies for these conditions. His research program focuses on examining the role of the early-life respiratory microbiome in the programming of the immune response, the severity of acute respiratory infections, and the origins of childhood asthma through a combination of next-generation sequencing, high-throughput immunoassays, and novel bioinformatics. His research contributions have been recognized by honors from the American Thoracic Society, the American College of Chest Physicians, the Society for Pediatric Research, and the Delta Omega Honorary Society in Public Health, among others. His research program has been supported by the Parker B. Francis Fellowship, the National Institute of Allergy and Infectious Diseases, the National Heart, Lung, and Blood Institute, and the Environmental Influences on Child Health Outcomes of the National Institutes of Health.
---
Description:
The Pediatrics Assembly is pleased to announce the Robert B. Mellins, M.D. Outstanding Achievement Award, given to a candidate at the Instructor, Assistant Professor, or early Associate Professor level, who is recognized for achievement in scholarship or research achievements over the course of their career to date. 
Criteria:
The candidate should be recognized for making seminal contributions to the science or practice of Pediatric Respiratory Medicine.
The candidate should be recognized by their peers as an outstanding clinician and/or researcher, teacher and mentor.
Contributions to the Pediatric Assembly in the form of Committee participation or Chairmanship will be viewed favorably.
Candidates in Pediatric Pulmonary, Critical Care, and Neonatal Medicine all will be considered.
---
2021 - Stephanie Lovinsky-Desir, MD, MS
2020 - Jennifer Wambach, MD
2019 - Gustavo Nino, MD
2018 - Don B. Sanders, MD, MS
2017 - Erick Forno, MD, MPH
2016 - Lucas R. Hoffman, MD, PhD
2015 - Eric D. Austin, MD
2014 - Lisa R. Young, MD
2013 - Robert Freishtat, MD, MPH