Assembly on Pulmonary Infections & Tuberculosis Rising Star Award for Basic Scientific and/or Translational Research
---
                                  Meet the 2022 Winner:
Katherine B. Hisert, MD, PhD

Katie Hisert is a physician scientist whose clinical practice and translational research program focus on helping people with cystic fibrosis (CF). Her over-arching research goal is to better understand chronic bacterial airway infections and associated inflammation that occur in the CF airway. Dr. Hisert grew up in Berkeley, California, received her Bachelor of Science in Biochemistry from Brown University, and then moved to Manhattan where she completed a combined MD-PhD degree at the Weill Cornell /Rockefeller/ Sloan Kettering Tri-Institutional MD- PhD Program. After medical school, Dr. Hisert performed her internship and residency in Internal Medicine at Columbia University Medical Center, and then moved to Seattle for fellowship training in Pulmonary, Critical Care, and Sleep Medicine at University of Washington. She joined the faculty at University of Washington in 2016, where she chose to focus her clinical practice on care of people with cystic fibrosis in the UW Adult Cystic Fibrosis Clinic, and on critical care medicine. In August 2019, Dr. Hisert joined the faculty of National Jewish Health as an Assistant Professor in the division of Adult Pulmonary, Critical Care and Sleep Medicine. At NJH, Dr. Hisert continues to treat adult patients with CF and to build her research program. She currently studies how heterogeneous monocyte and macrophage populations contribute to CF airways disease, and why people with CF demonstrate increased susceptibility to pulmonary nontuberculous mycobacterium infections.
                                  Meet the 2022 Winner:
Anukul Taranath Shenoy PhD, PhD, MS, BS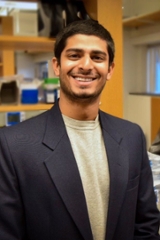 Dr. Anukul Shenoy completed his BS and MS in Biotechnology from Ruia College (University of Mumbai, India) and his doctoral training with Dr. Carlos Orihuela at Dept. of Microbiology at University of Alabama at Birmingham (UAB). Since 2018, Dr. Shenoy has worked as a postdoctoral fellow and then an Instructor of Medicine with Dr. Jay Mizgerd at the Pulmonary Center, Boston University School of Medicine. Here his work focuses on elucidating the cellular and molecular mechanisms underlying lung epithelial and resident CD4+ TRM cell communication in context of pulmonary immunity during health, infections and allergy.
Description:
This award is given to a PI-TB member with research contribution(s) in the area(s) of basic science, translational research, and/or "bedside to community" (i.e. implementation) research.  Up to two awardees will be chosen for this program.  They will showcase their research by each giving a 15-minute talk in one of two sessions featuring "Rising Stars."  Winners of the Rising Stars of Research Program from AII, PI-TB, RCMB, and RSF Assemblies will present their work at the Science and Innovation Center during the ATS International Conference. Certificates will also be awarded during that session. 
Criteria:
In-Training, Instructor, Assistant Professor, or equivalent
Within 10 years of having completed postdoctoral or clinical training, excluding time off for personal circumstances
PI-TB Assembly Member (primary or secondary)
Contribution(s) in basic, translational science, and/or "bedside to community" (implementation) research
Has presented an abstract at ATS within 5 years that demonstrates the nominee's research interests
Junior-level nominees may also be considered for a Rising Star Award, based on research.
Submission:
Nomination letter by sponsor(s) (2-page limit) 
Updated CV or biosketch of candidate
---
2021 - Priya Shete, MD, MPH, and Georgios Kitsios, MD, PhD
2020 - Leonardo Martinez, MD, and Lokesh Sharma, PhD
2019 - Jennifer R. Honda, PhD, and Robert P. Dickson, MD