Assembly on Respiratory Cell & Molecular Biology Andy Tager Award for Excellence in Mentoring
---
 2021 Winner - Steven Brody, MD, ATSF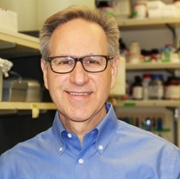 It is an honor to receive the Andy Tager Award for mentoring and be associated with Andy's memory. Mentoring is a two-way street; the colleagues that I work with are the bright lights who bring dedication and excitement to their pursuits.
Andy's own excitement for research and commitment to mentoring were exemplary. It is meaningful that the ATS supports mentoring as an essential mission for the society and our Assemblies.
---
Description:
Dr. Andy Tager was a remarkable physician-scientist who combined his talent as an astute and caring physician, with that of a creative and insightful scientist, and with a lifelong dedication to helping others. Dr. Tager received multiple national awards for his discovery of bioactive lipids as potential targets of therapy in interstitial pulmonary fibrosis and distinguishing himself as one of the few to fulfill the dream of taking his work from bench to bedside. He was a selfless mentor to trainees and colleagues at his home institution, caring for the careers of those he was mentoring at least as much as his own. Less obvious to others, through his many leadership roles at ATS, Dr. Tager helped promote the professional careers ATS of members, particularly the RCMB Assembly, from all over the world. The Andy Tager Award for Excellence in Mentoring is our tribute to the brilliant, caring man, whose selfless dedication touched so many hearts, in more ways than one.
Criteria:
Have mentored 5 or more individuals who have since completed their training with the nominee
Must be an RCMB Assembly member (primary or secondary)
Nominations may be submitted by either the nominee (self-nomination) or others.
Nomination must include:

Nominee's curriculum vitae
A 1-page narrative outlining the reasons for the nomination
3 – 5 letters of support from mentees in one PDF (no more than 5 letters will be reviewed)

The letters of support must:

Detail summary of the mentee's current job (position/title)
Explain how the nominee helped them with the mentee's career development
---
Past Recipients of the Assembly on Respiratory Cell & Molecular Biology Andy Tager Award for Excellence in Mentoring:

2020 - Thomas Mariani, PhD
2019 - Timothy S. Blackwell, MD
2018 - Naftali Kaminski, MD