Assembly on Respiratory Structure and Function Ann Woolcock Memorial Award
---
2021 Winner – Kimberley Wang, PhD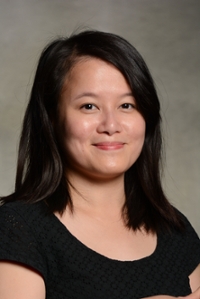 Dr. Kimberley Wang is a Thoracic Society of Australia & New Zealand / National Asthma Council – Asthma and Airways Career Development Fellow at The University of Western Australia. After completing a Ph.D. from the University of South Australia in only three years (2012) that examined the early life origins of cardiac disease, Dr. Wang relocated to Western Australia and made the strategic decision to change research direction to investigate fetal origins of respiratory disease, establishing a niche within the Australian research community. Her studies have provided evidence that airway remodeling is an independent contributor to airway disease and substantive studies demonstrating an early life origin of airway pathophysiology. Perhaps the most significant indication of Dr. Wang's intellectual achievement to date is receipt of the highly competitive NHMRC Early Career Fellowship in 2015 and an NHMRC New Investigator Grant in 2017. Reflecting her status as one of Western Australia's leading early career researchers, Dr. Wang has 17 career awards, 25 travel awards, and 27 publications 8 years into a postdoctoral career. Dr. Wang is also completing a Master of Public Policy at The University of Western Australia with the aim of increasing the impact of research findings through policy development.
---
Description:

This award honors the life of the late Ann Woolcock of Sydney University. She was an international leader in the field of asthma in areas of epidemiology, physiology, and medicine. We are grateful for the support of GlaxoSmithKline and of the Thoracic Society of Australia and New Zealand for providing an endowment that will enable this award on an ongoing basis. The award is intended for all areas of research on obstructive airway disease and is not intended for either predoctoral or postdoctoral students or for well-established investigators. It is also not intended as recognition for a single project, but for overall accomplishments and future promise.
The award will consist of $500 and a plaque. The award will be presented at the ATS International Conference.
The eligibility criteria have been designed to reflect what we know to be Dr. Woolcock's priorities during her long, prolific career.
Criteria:
A young investigator beyond formal training but not yet fully established, from any country and from any ATS Assembly.
More than one first-authored paper in a first-rate journal.
Early career accomplishments and future promise.
Efforts in the broad area of obstructive airways disease research. This may include work at the basic, clinical, epidemiological, or other levels.
Nominee's current curriculum vitae including a list of the nominee's publications
Nominator's letter of recommendation
Nomination for the RSF Ann Woolcock Memorial Award will also mean automatic entry into the Science Innovation Center's Rising Stars of Research Program. The two runners up to the Award (who have research in the area of basic/translational science) will be chosen for this program. The two candidates will showcase their research by giving a 15-minute talk in one of two sessions featuring "Rising Stars". Winners of the Rising Stars of Research Program from, AII, PI-TB, RCMB, and RSF will present their work at the Science and Innovation Center during the ATS International Conference this May. Certificates will also be awarded during the session.
---
Past Recipients of the
Assembly on Respiratory Structure and Function Ann Woolcock Memorial Award:
2020 - Corrine Kliment, MD, Ph.D. (University of Pittsburgh)
2019 - Matthew Drake, MD (Oregon Health and Science University)
2018 - David Chapman, BSc, Ph.D. (Royal North Shore Hospital)
2017 - Pawan Sharma, Ph.D. (University of Technology)
2016 - Amir A. Zeki, MD (University of California, Davis)
2015 - Jeremy Alexander Hirota, BSc, Ph.D. (University of British Columbia)
2014 - Jin-Ah Park, Ph.D. (Harvard School of Public Health)
2013 - Cindy Thamrin, Ph.D. (Woolcock Institute of Medical Research)
2012 - Tillie-Louise Hackett, Ph.D., BS (St Pauls Hospital)
2011 - Graeme R. Zosky, Ph.D. (Telethon Institute for Child Health Research)
2010 - Reinoud Gosens, Ph.D. (University of Groningen)
2009 - Deepak Deshpande, D.V.M., Ph.D. (University of Maryland Baltimore)
2008 - David W Kaczka, MD, Ph.D. (John Hopkins Hospital)
2007 - Janette Burgess, Ph.D. (University of Sydney)
2006 - Steven An, Ph.D. (Johns Hopkins University)
2005 - Parameswaran Krishnan Nair, MD, Ph.D. (McMaster University)
2004 - Julia K.L. Walker, Ph.D. (Duke University)
2003 - John Fuller Hunt, MD (University of Virginia)
2002 - Debra Turner, Ph.D. (University of Western Australia)