Assembly on Respiratory Structure and Function Joseph R. Rodarte Award for Scientific Distinction
---
                   Meet the 2022 Winner: 
Y. S. Prakash, MD, PhD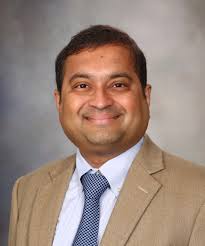 Prakash is Professor of Anesthesiology and Physiology, and currently serves as Chair of the Department of Physiology and Biomedical Engineering, and Associate Dean for Research, Midwest at Mayo Clinic where he has been for more than 30 years. Prakash is a senior physician-scientist with a background in Electrical Engineering, Biomedical Engineering, Physiology, and Anesthesiology. He directs a longstanding NIH-funded research program in airway diseases. With his unique background, he strives to provide translational perspectives regarding the impact of life events and disease triggers on airway structure and function. He is particularly interested in structural cells of the airway and their contributions to wheezing and asthma across the age spectrum.      
Prakash has been a member of ATS since 1997, and has been extensively engaged in the Respiratory Structure and Function (RSF) Assembly from the outset. He has extensively participated in and led RSF sponsored symposia, poster discussions and workshops over the years. He has been a member and also chaired the RSF Program and Planning Committees. In addition to ATS, Prakash is active in the American Physiological Society, American Society of Anesthesiologists, and the Association of University Anesthesiologists. He is currently Editor in Chief of Comprehensive Physiology (formerly Handbook of Physiology), and previously served as Deputy Editor of Am J Physiol Lung Cell Mol Physiol. He has served on and led the NIH LCMI study section. He has been inducted into the American Society of Clinical Investigation. 
Award Description:
This award honors the life of Joseph Rodarte, M.D.  Dr. Rodarte was a distinguished member of the American Thoracic Society and the Assembly on Respiratory Structure and Function.  Dr. Rodarte was an international leader in the field of respiratory physiology and medicine and made invaluable contributions to our scientific and medical communities.  RSF is proud to honor his memory with an award designated for an established investigator who has made distinguished contributions in the area of respiratory structure and function to the field of respiratory physiology and medicine.  Nomination of diverse candidates is encouraged. 
The award consists of a certificate and an honorarium, which will be presented at the ATS International Conference.  RSF gratefully acknowledges Medical Graphics Corporation (MGC Diagnostics) for their support. 
Criteria:
Associate professor, professor or equivalent with distinguished scientific achievement in area of respiratory structure and function that has had a sustained impact, over the nominee's career, on the field of respiratory physiology and medicine
Normally RSF Assembly membership, but suitable candidates from other ATS Assemblies will be considered
Nominee's current curriculum vitae including a list of nominee's publications
Nominator's letter of recommendation
Support letters, which are optional but recommended
Nomination/ support letters should describe nominee's:
Research contributions, including impact in respiratory physiology and medicine
Involvement in ATS, including any involvement in RSF Assembly
Service to the broader scientific or medical community
Mentorship or teaching record
---
2021 - Stephanie Shore, PhD
2020 - James Martin, MD
2019 - Jason Bates, PhD, DSc
2018 - Raymond B. Penn, PhD
2017 - William Thomas Gerthoffer, PhD
2016 - Andrew J. Halayko, BS(Hons), MSc, PhD (University of Manitoba)
2015 - Herman Meurs, PhD (University of Groningen)
2014 - Eric A. Hoffman, Ph.D. (University of Iowa)
2013 - Reynold A. Panettieri, Jr., MD (University of Pennsylvania)
2012 - Judith L. Black, PhD, MD (Institute Of Medical Research)
2011 - Susan J. Gunst, PhD (Indiana University School of Medicine)
2010 - Julian Solway, MD (University of Chicago)
2009 - Peter D. Wagner, MD (University of California At San Diego Medical Center
2008 - Solbert Permutt, MD (Johns Hopkins)
2007 - Rolf Hubmayr, MD (Mayo Clinic)
2006 - Wayne Mitzner, PhD (Johns Hopkins University)
2005 - Newman Stephens, MD (University of Manitoba)
2004 - Shared: Charlie Irvin, PhD (University of Vermont) & Gary Sieck, PhD (Mayo Clinic)
2003 - Peter Paré, MD  (University of British Columbia)
2002 - Jeffery Fredberg, PhD (Harvard University)