Thoracic Oncology Assembly Early Career Achievement Award
---
2021 Winner - 
Lori Sakoda, PhD, MPH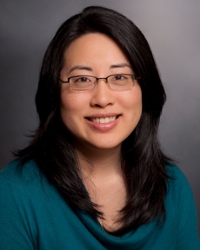 Dr. Lori Sakoda is a research scientist in the Division of Research at Kaiser Permanente Northern California. She completed her MPH in epidemiology/biostatistics at the University of California, Berkeley, and PhD in epidemiology at the University of Washington, Seattle. Dr. Sakoda's research program focuses on generating and applying empirical, real-world evidence to improve lung cancer control and outcomes, including reducing associated health disparities. Specific areas of focus encompass examining patterns of care and outcomes related to pulmonary nodule evaluation and lung cancer screening and treatment, investigating the application of risk prediction models in optimizing lung cancer screening, and identifying pleiotropy between chronic obstructive pulmonary disease and lung cancer and between multiple types of cancer. In this work, she incorporates the use of large-scale electronic health record data, as well as collected data and biospecimens from diverse and well-characterized study cohorts. Her dedication to advancing the field of thoracic oncology is exemplified in her combined record of scientific publication; funding support from the National Cancer Institute, the University of California Tobacco-Related Disease Research Program, and Kaiser Permanente; and service to the ATS Assembly on Thoracic Oncology and National Lung Cancer Roundtable.
---
Description:

The award will be given to the individual who has made outstanding scientific contributions in clinical, translational, or laboratory-based research relevant to the field of thoracic oncology. This award is to recognize individuals who have made these contributions early in his or her careers. Awardees will be presented with a framed certificate at the annual TO Membership Meeting during the ATS International Conference.
Criteria:
Must be at the Assistant Professor level or at an equivalent rank in a non-academic institution

Must be a TOA primary member

Must not have received a similar early career award from TOA or another ATS Assembly

The nomination package must include a 1-page letter from a member of the assembly describing the candidate's contributions and why the award is appropriate

Limited to nominees that are ≤ 10 years from terminal doctoral degree (PhDs) or completion of medical fellowship training (MDs or MD/PhDs).     
Scoring:
Applicant are scored on 2 criteria using a rating system across the following categories. 
Scientific Contributions/Products

Participation in Assembly and ATS Activities (administrative, committees, workshops etc.)
---
Past Recipients of the Assembly on 
Thoracic Oncology Early Career Achievement Award:
2020 -  Matthew Triplette, MD, MPH
2019 - Catherine R. Sears, MD
2018 - Viswam S. Nair, MSCR, MD
2017 - Seyed Javad Moghaddam, MD & Rajkumar Savai, PhD
2016 - Alex Balekian, MD
2015 - Nichole T. Tanner, MD