Case Studies of Services Restarting Pulmonary Rehabilitation Programmes Following the COVID-19 Pandemic
---
American Thoracic Society Pulmonary Rehabilitation Assembly
Case studies of services restarting pulmonary rehabilitation programmes following the COVID-19 pandemic
Pulmonary rehabilitation is an essential part of the management of people with chronic respiratory conditions, as it is the most effective non-pharmacological management to improve health-related quality of life, improve symptoms of dyspnea and fatigue, increase exercise capacity and reduce hospital admissions.  During the COVID-19 pandemic, most pulmonary rehabilitation programs around the world temporarily suspended their center-based, face-to-face programs due to concerns of infection and the need for physical distancing. More recently, services have started to reopen their programs. This document provides examples of how services around the world have restarted their programs including adaptations made to continue to meet the needs of their service-users in endemic times (information correct in September 2020). The case studies include inpatient and outpatient programs based in America, Germany, Australia, Canada and the United Kingdom.

We would like to express our gratitude to the following people for compiling the case studies:
Dr Surya Bhatt MD (University of Alabama at Birmingham, USA), Jason Hitchcock RN (University of Alabama at Birmingham, USA), Dr Rainer Gloeckl (Schön Klinik Berchtesgadener Land, Germany), Prof Jennifer Alison (University of Sydney, Sydney Local Health District and Faculty of Medicine and Health, Sydney, Australia), Professor Lissa Spencer (Royal Prince Alfred Hospital, Sydney, Australia), Dr Sally Wooton (Northern Sydney Local Health District, Sydney, Australia), Dr Renae McNamara (Prince of Wales Hospital, Sydney, Australia), Mrs Emma Chaplin (University Hospitals of Leicester NHS Trust, Leicester, UK), Matthew Florento RN (West Park Healthcare Centre, Toronto, Canada), Cindy Ellerton PT (West Park Healthcare Centre, Toronto, Canada), Suzanna Mangovski PT (West Park Healthcare Centre, Toronto, Canada), Prof Roger Goldstein MD (West Park Healthcare Centre, Toronto, Canada)

Reopening pulmonary rehabilitation in the University of Alabama at Birmingham, USA
 
Increasing local prevalence of COVID-19 infections led to shut down of both the Cardiac and Pulmonary Rehabilitation programs on March 16 th 2020, for an undetermined period of time. Rehab staff made phone calls to all the patients on the schedule for that week and informed them of the closure and that we hoped to be able remain in contact via phone or video telehealth. Staff were asked not to report for work on site until further notice. Within 7 to 10 days, all staff were able to establish remote access to the varied systems in order to connect with the electronic medical record (EMR) and document interactions with the patients. During this time, we initiated near daily midday team meetings to discuss next steps – with a focus on patient scheduling via phone or video telehealth, development of internal use session forms for documentation, discussion on how to incorporate this into the patient record, generalized planning and expectations for staff interactions with the patients, and what to accomplish during these sessions. We started with phone calls or video telehealth sessions similar to an outpatient session (where applicable). We assessed vitals for those patients with access to measurement devices, recorded any symptoms related to ongoing chronic conditions as well as symptoms related to COVID, medication compliance or other medication-related needs, and current exercise regimen. We provided guidance on increasing exercise duration and intensity. No group education classes were held. Patients not interested in a phone or video consult were discharged from the program, with the option of re-enrolling once the program was officially restarted. Patients were scheduled to interact with the staff for 15-30 minute sessions 1 to 3 times a week. Most patients opted for a 1 per week phone call over the video telehealth call. Of the smaller number of patients who participated in video sessions, several of them opted to interact 3 times a week.

All patients were informed that no charges would be made to their insurance company and that we simply wanted to provide a service to continue their involvement with the program. However, they were made aware every phone call of the intent of the call and their responsibility for any internet service charges that may be associated for telehealth visits that occurred due to streaming. Patients were asked to give verbal consent prior to participation.

During the week of May 4th, we began discussing a plan to reopen the center by May 20 th. We reached out to the Infection Prevention team, and decided that we would bring in no more than 4 patients at a given time. We set up 9 periods each lasting 1 hour with a 30 break in between for cleaning of equipment and setting up for the next session. We changed our hours of operation to accommodate the slow turnaround. Over the next 4 to 5 weeks, we continued to enroll new patients as well as provide screening for patients entering the facility to partake in our services. We ensured physical distancing by spacing patients at least 12 feet apart. Soon after, we required all patients to wear a mask while exercising, or to wear a face shield.  Staff also wore a mask and/or face shield.  Over the next 4 to 5 weeks, we increased our capacity to 6 per session and subsequently to 8 per session with a continued focus on maintaining spacing at 12 feet apart while exercising. This has allowed us to return to 87% of pre-COVID capacity for cardiopulmonary rehabilitation.  We also restarted our Yoga classes which accommodate up to 4 additional patients without compromising the in-gym volume of patients. We are now exploring offering group education classes via video to ensure safety. We continue to encounter new challenges and evaluate solutions as the pandemic evolves. We currently require post-COVID patients to have documented a negative test, but recognize that some persistently positive patients are likely not infectious. In summary, our team was outstanding with quick response to the changes in our typical day-to-day in-person care. They rose to the occasion, and we, and patients, learnt that we can quickly adapt to a "new way of doing things" in the rehabilitation setting.

Re-opening pulmonary rehabilitation programs in Schön Klinik Berchtesgadener Land, Schönau am Königssee, Germany
(Teaching Hospital of the Philipps University Hospital Marburg)

During the first acute phase of the SARS-CoV-2 pandemic our PR clinic which consists of 100 pulmonology beds for inpatient PR was completely closed from April to June 2020. After a cautious re-opening of the clinic our PR center currently runs with a patient utilization of about 70%. This was chosen to ensure the distance rule of 1.5 meters between people in the clinic. Since there are some bottlenecks like the dining room, waiting areas or therapy facilities it is currently not possible to run our PR center with 100% utilization.

Furthermore, a lot of adaptations were made to ensure the highest possible hygiene standard and to prevent potential SARS-CoV-2 infections within the clinic:
On the first arrival day: all patients receive a nasal swab to be tested for an acute SARS-CoV-2 infection. Patients are then isolated in their rooms until they receive a negative result from the swab analysis. Only then they get released to start the regular PR initialization process.


All patients get a daily measure of their body temperature to identify patients with fever (who would then receive a COVID-19 swab test)


Diagnostic procedures were adapted based on the (hygiene) recommendations from the Robert-Koch-Institute and the German Respiratory Society.


Waiting areas within the therapy department were structured with lines on the floor to ensure a distance of 1.5m between people that are waiting.


All patients have to wear medical face-masks in all public areas within the clinic (also during exercise training).


Patients are advised for strict hand hygiene when entering and leaving the clinic, the dining room, therapy facilities etc.


Patients now have strict time slots for dining (distributing people on 3 time slots per meal) or for using the gym (currently a maximum of 15 people is allowed in the gym simultaneously. After 45 minutes the next group enters the gym).


Patients need to disinfect parts of exercise equipment that they touched with their hands after leaving the device.


All therapy devices that are difficult to disinfect (like elastic rubber tubes) have been abandoned.


Re-opening pulmonary rehabilitation programs in Sydney, Australia
Background:
Pulmonary rehabilitation (PR) in Australia is predominantly delivered as a face-to-face program in hospital outpatient or community settings. However, the onset of the COVID-19 pandemic saw the suspension of face-to-face PR programs throughout Australia. In order to continue to provide rehabilitation for people with chronic respiratory conditions, the Lung Foundation Australia's Pulmonary Rehabilitation Network rapidly up-skilled clinicians to deliver evidence-based telehealth models of PR (i.e. real-time PR via videoconference (telerehabilitation)1 and/or unsupervised home-based PR with telephone support2. To assist the change to a telehealth model of PR, a document called 'Delivering pulmonary rehabilitation via telehealth during COVID-19'3 was developed to support clinicians.
For the majority of programs in Australia, a slow return to face-to-face PR has now commenced, and has primarily been guided by local protocols regarding return to non-essential hospital outpatient services in each Local Health District (geographical areas that include a cluster of hospitals). A 'Checklist for the re-opening of cardiopulmonary rehabilitation services'4 was developed to assist PR programs to demonstrate to their Local Health District executive that a risk assessment for a safe return to PR had been completed and that safety and infection control measures were in place for re-opening of PR programs.
Following is a brief description of three PR programs in Sydney, Australia, and the management plan for the re-opening of their PR programs. Each program is re-opening in a different way (ranging from no re-opening of face-to-face PR, to a return to full face-to-face PR program) and the challenges and barriers faced in a return to face-to-face PR.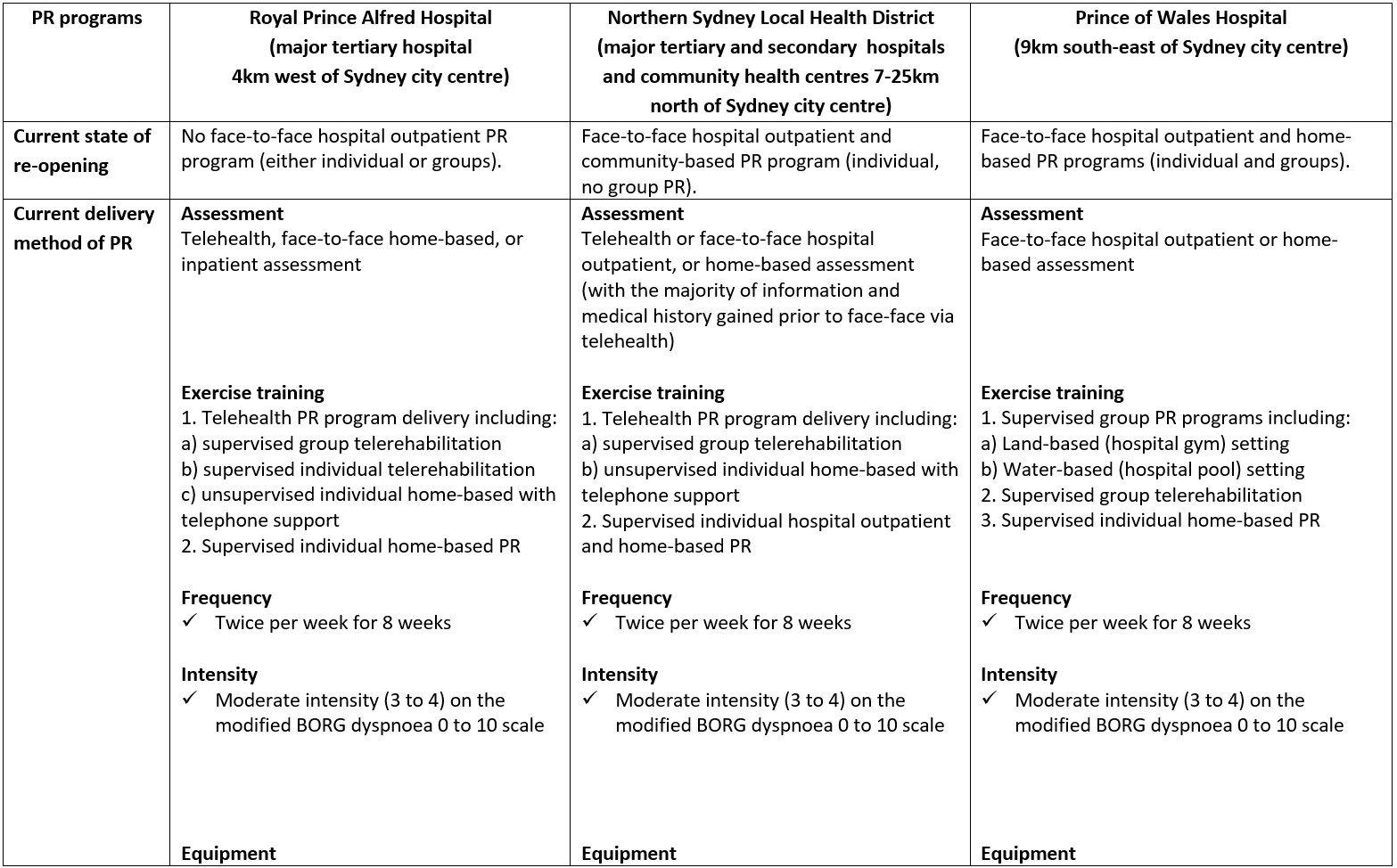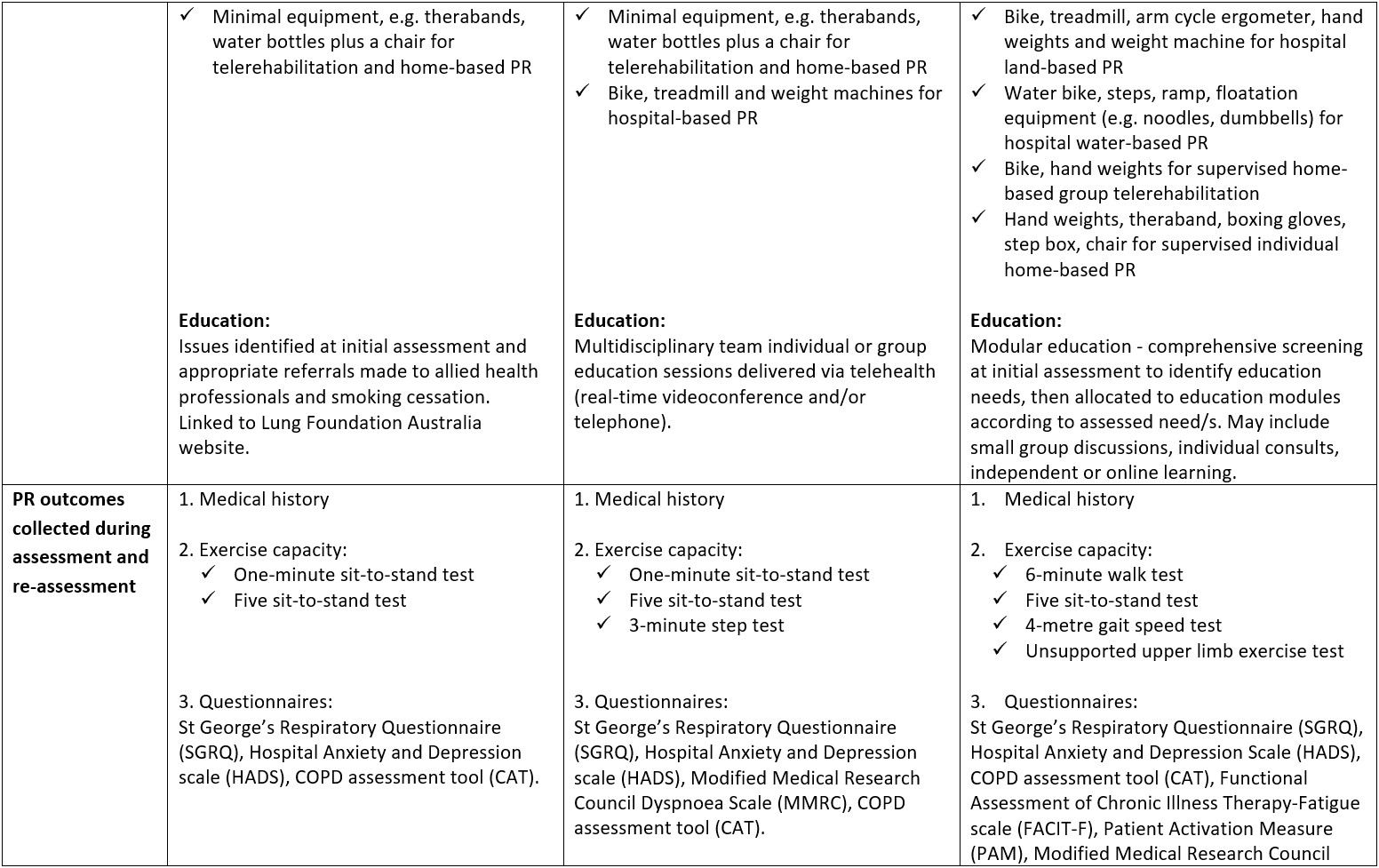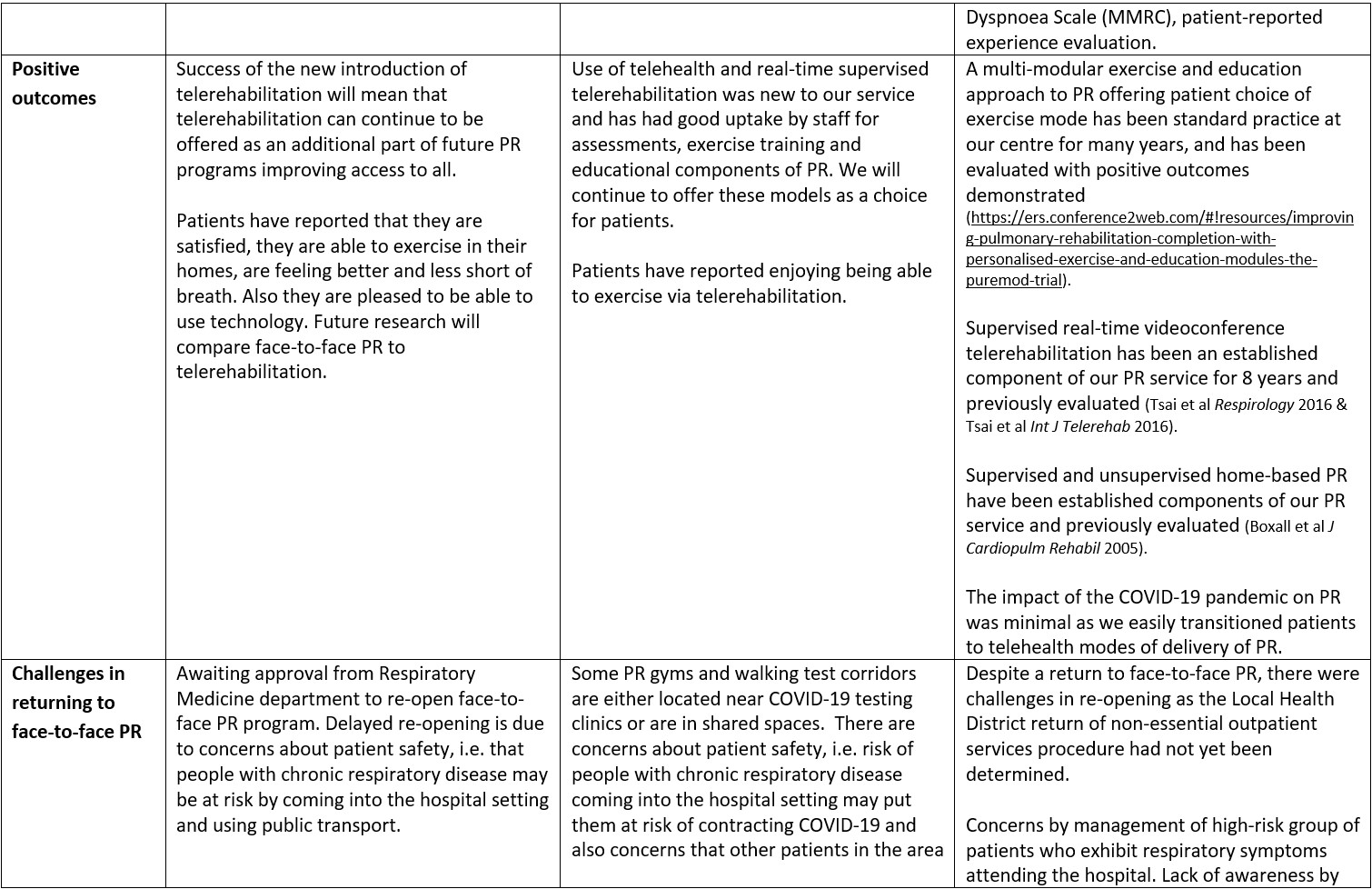 Reopening pulmonary rehabilitation services at University Hospitals of Leicester NHS Trust, UK
The COVID -19 pandemic has forced many) services to rethink the way they provide pulmonary rehabilitation (PR) for patients with chronic lung disease and, as services are slowly reopening this has provided the opportunity for services to redesign their clinical service.

The PR clinical service at Leicester is one of those reopening, providing patients with a wider menu based choice of rehabilitation. Our service follows the "BTS guidance for PR – reopening for services for the 'business as usual' participants" document (https://www.brit-thoracic.org.uk/about-us/covid-19-information-for-the-respiratory-community/).

Referrals that come into the department are still being screened for suitability; however patients are now being called to offer them either a telephone or video consultation. During this consultation the subjective element of an assessment takes place, including discussing the patients' needs and motivation to undertake PR.  Once a subjective history has been taken, patients will be asked to attend hospital for a face to face appointment to assess their exercise capacity and muscle strength.  If patients decline to attend a hospital appointment, quality of life questionnaires can be performed if the consultation is by telephone; a sit to stand (STS) test may be performed if the consultation is taking place over video and it's possible to assess the suitability for exercise of the home environment.

Patients who have performed exercise capacity tests will be offered a choice of rehabilitation interventions:
a home exercise programme with twice weekly telephone support
a self-management manual or web programme with HCP contact
a virtual class
a face to face class.
This allows patients to decide how much support they feel they would need in order to complete their course of rehab, the mode in which it is delivered and how comfortable they feel with attending a hospital setting in the current climate.

Leicester was in the fortunate position of already offering the self-management manual and website, SPACE for COPD®, to patients as part of normal clinical practice. The nature of face to face classes will be different to what we were used to, with class sizes reduced, social distancing within the gym space, cleaning equipment between individual patient use, patients exercising whilst wearing a mask if they are able to, staff wearing full PPE and unidirectional flow of patients through the space being utilised. Due to limited capacity within the classes, a rolling programme will be employed but with fewer new starters being introduced to the programme at one time and on a less frequent basis.

For the educational part of the programme, there is some uncertainty as to which approach to take. Those patients who choose to do a home programme will be sent out an education booklet alongside their exercise booklet and topics will be discussed during their scheduled telephone calls. Patients that opt for the self-management programme by manual or web will receive the educational material depending on which form of intervention they choose. Virtual classes allow for an education session to be delivered but will be dependent on internet platforms and connectivity. For face to face classes, there may be the need to provide an educational component with minimal contact until restrictions are relaxed and groups are allowed.

Although these have been challenging times, it has provided an opportunity for our clinical service to reassess the rehabilitation pathway that we offer our patients and look to provide choice and address some of the barriers previously encountered.


 Pulmonary rehabilitation in the time of COVID: West Park Healthcare Centre, Toronto, Canada

March 2020 - COVID led to a sudden and complete lock down in the rehabilitation center.  In-patient PR was closed as the beds were immediately required to offload stable ICU patients to accommodate the influx of COVID patients to the ICUs.  Out-patient PR was discontinued because of fear of COVID as well as the redeployment of staff to other parts of the respiratory program. The two populations in need of ongoing care were:
Non-completers (fewer than 15 of 20 sessions before lock down) and;
Maintenance (weekly 1.5 hour sessions for 6 months)
April - two part-time PTs began virtual care using either the Ontario Telemedicine Network or ZOOM.  Class sizes of 5 patients exercised twice weekly for PR and once weekly for maintenance.  Two early challenges were technological willingness (50% not prepared to participate even if they had technology) and home equipment (almost none).  The 30 minute class consisting of range of motion-flexibility with natural anti-gravity resistance, using controlled breathing, is available on line for daily use.  Weekly education was from our series of 10-20 minutes videos (www.resprehab.org) accompanied by downloadable fact sheets.
July - of the 24 pre COVID PR patients, 8 have completed ≥ 14 classes and offered virtual maintenance.
Many maintenance patients reported weakness, anxiety-depression as well as increased dyspnea at the time of virtual physician follow-up.  There are currently 55 patients enrolled in the virtual program, with weekly rolling enrollment.
August - we re-opened the 4-6 week in-patient PR program, with isolation (room activities) until the second COVID test (day 7) returned as negative.  Participants have no weekend leave.  The in room assessment is followed by daily breathing exercises and modified interval training with the educational component on line. We currently have 12 patients enrolled with a capacity of 18.
September - the new out-patient PR, (8 weeks, 10 patient maximum) includes initial and final in house assessments (1-2 days). The program comprises twice weekly virtual (45 min) PT led exercise sessions, alternating endurance and resistance training, each followed by 30 minutes of team member education. Adherence is encouraged through twice weekly follow-up calls; PT for exercise activity and RN for wellness and management. Patients may be booked for additional virtual or in person consultations.  Contraindications to virtual PR include: untreated exercise desaturation, risk of falls, cognitive issues, communication barriers and co-occurring cardiac or musculoskeletal conditions likely to limit participation.
October - In person out-patient PR is reserved for those unable to participate in a virtual program.  Distancing, hand washing and staff procedure masking at all times, with patient masking except for during aerobic exercise (cycle, treadmill) or leisure walking. Plexiglas partitions employed at desk top and between aerobic equipment. 
Communication - local team (weekly), nearby programs (monthly) and national colleagues (3 monthly) to discuss progress. Most interested to consider choice of outcome measures for virtual attendees, including self-administered quality of life, anxiety-depression, activities of daily living and self-efficacy.  Physical measures for strength and endurance including; sit to stand, gait speed, leisure walking.